This party planning checklist printable was originally part of a series called 30 Days of Printables.
Current subscribers can find it and others in The Vault, a resource library filled with printables exclusively for subscribers.
Not a subscriber yet? Want to be one? Click HERE.
No?…that's okay…no need to sign up you can get links to all 30 printables below.
FREE

Party Planning Checklist Printable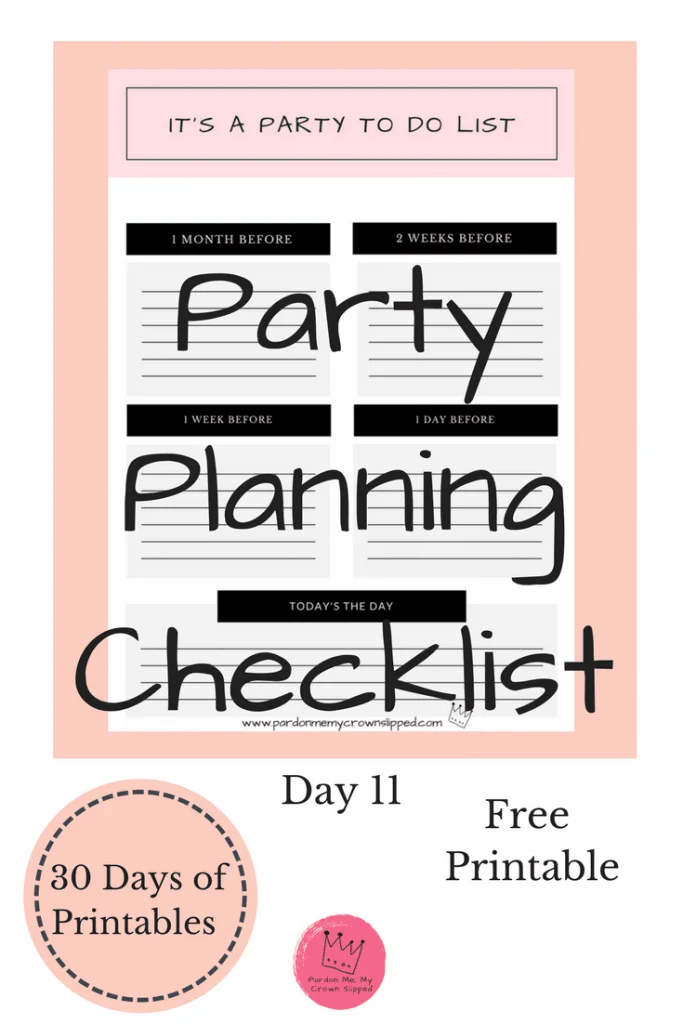 This post contains affiliate links. I will earn a commission at no additional charge to you if you make a purchase using my links. Click here to see my full disclosure policy.
Summer is the season for parties. Graduations, showers, weddings, and backyard barbeques.
But this printable would work just fine for holiday parties too.
Use this handy and beautiful party planning checklist to help plan your next event any time of year.
These fun decorations are a great way to display pictures of the guest or guests of honor.
Or these fun props for new memories.
No party is complete without great music. Don't forget the speakers.
RELATED:
Get today's Party Planning Checklist Printable …by clicking on the image below.
To make it easy peasy for you…here's a list of the 30 days of printables by day.
Day 1…30-Day Challenge Conquer It Grid
Day 2…Mother's Day Wish List
Day 3…To-Do Lists
Day 4…Weekly Menu Planners
Day 5...Chore Charts
Day 6…Grocery Lists
Day 7...Bill Reminder
Day 8…Teen Job Interview Checklist
Day 9…Teen Job Search Tracker
Day 10...Teen Job Interview Practice Questions
Day 11…Party Planning Checklist
Day 12...Party Menu
Day 13…Party Guest List Tracker
Day 14…Date Night Planning Checklist
Day 15…Declutter Checklist
Day 16…Yard Sale Planning Checklist
Day 17...Spring Cleaning Checklist
Day 18…Project Planner
Day 19...Staycation Brainstorming Sheet
Day 20…Staycation Bucket List
Day 21…Vacation Brainstorming Sheet
Day 22...Vacation Rental Checklist
Day 23…Places to Visit
Day 24...Vacation Bucket List
Day 25…Day Trip Checklist
Day 26...Vacation Packing Checklist
Day 27...Pet Sitter Checklist
Day 28…Kid Sitter Checklist
Day 29…Going Away Checklist
Day 30… Classmate Phone Number List