Photo by Oz Seyrek on Unsplash
Do you want to get rid of your unwanted hair without using harsh chemicals? If so, then you should try sugar hair removal paste!
This natural and affordable method is a great alternative to store-bought products.
In this blog post, we will show you how to make sugar hair removal paste at home. Keep reading for step-by-step instructions!
This post contains affiliate links. I will earn a commission at no additional charge to you if you make a purchase using my links. Click here to see my full disclosure policy.
Sugar waxing vs. traditional waxing
There are two main types of waxing: sugar waxing and traditional waxing. Traditional waxing involves using a sticky substance (usually made from resin) to remove hair from the root.
Sugar waxing, on the other hand, uses a mixture of sugar, water, and lemon juice to create a sticky paste. This paste is then applied to the skin and removed with a cloth.
Sugar waxing was used in ancient Egypt, the middle east, and India for centuries as a method of hair removal. It was only recently that sugar waxing became popular in the Western world.
Which is better? The truth is that both methods have their pros and cons.
Traditional waxing is more effective at removing hair, but it can be painful and expensive.
Sugar waxing is less painful and affordable, but it may not be as effective at removing hair. Ultimately, it comes down to personal preference.
Now that you know the difference between sugar waxing and traditional waxing, let's learn how to make sugar hair removal paste!
The following steps will show you how to create a thick, sticky paste that can be used on the face or body.
Sugar wax recipes work great for softer hair, such as hair on the legs, back, and chest.
Sugar waxing can also be used on sensitive skin areas, such as the eyebrows, upper lip, armpits, or bikini area.
Since doing sugar wax removal yourself may take a bit of practice, you may want to practice on less sensitive areas first.
Homemade Sugar Wax Recipe Ingredients: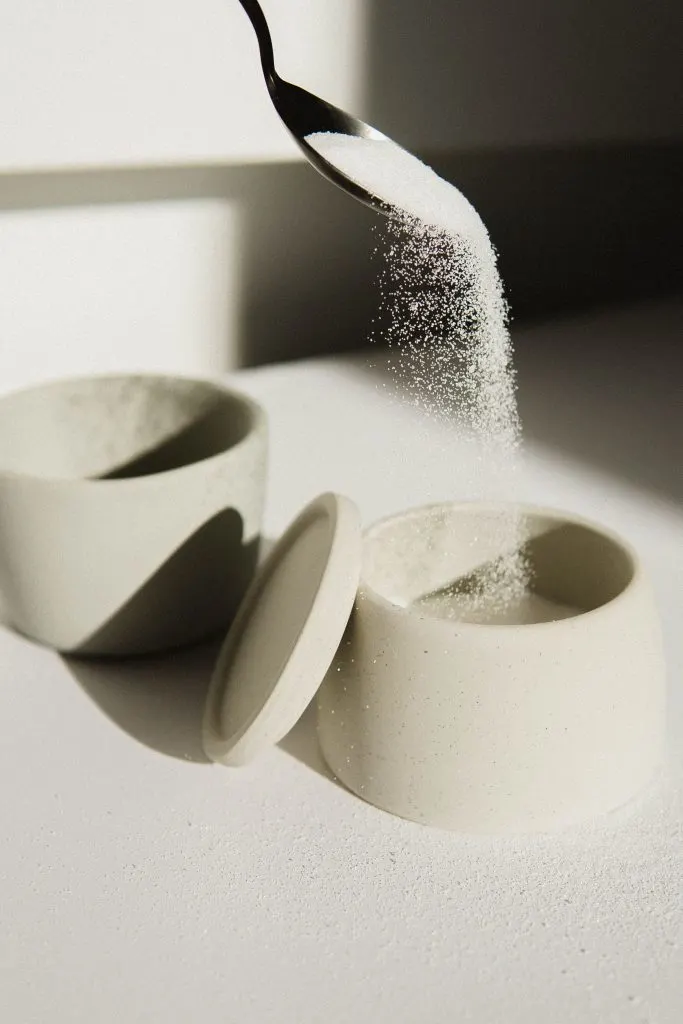 Fresh lemon or lime juice is great because it helps fight the bacteria that could cause breakouts, deeply nourishing the skin with vitamin C. It also acts as a natural exfoliator by removing dead skin cells that can clog your pores. Additionally, local raw honey can be added as a benefit to quicken healing time and combat bacterial infections.
1 cup of White Sugar
1/4 cup of Water
1/4 cup Lemon juice or Lime juice
Lavender oil or tablespoons honey (optional)
Other Materials
DIY Sugar Wax Instructions:
Step One: Combine one cup of sugar with 1/4 cup of hot water in a saucepan. On medium-high heat, bring the sugar mixture to a boil, then reduce the heat and simmer for three minutes. Stir in 1/4 cup of lemon juice.
Step Two: Remove the mixture from the heat and let the sugaring paste cool to room temperature for a few minutes. Stir in two drops of lavender oil or 2 tablespoons of honey if desired.
Step Three: Pour the mixture into a glass jar. Store in the fridge until ready to use.
Unlike traditional wax, the sugar paste does not need to be hot to use.
How to Prep the Skin
For best results, hair should be at least 1/8 of an inch long, ideally 1/4″ to 1/2″. If considerably longer, trim hair.
To avoid infection and in-grown hairs, wash your skin with warm water. Exfoliating 24-48 hours before can make a world of difference and help your wax get a better grip on the hair.
Dry skin completely. Adding a bit of baby powder or cornstarch can help to ensure it's good and dry.
How To Use Sugar Hair Removal Paste: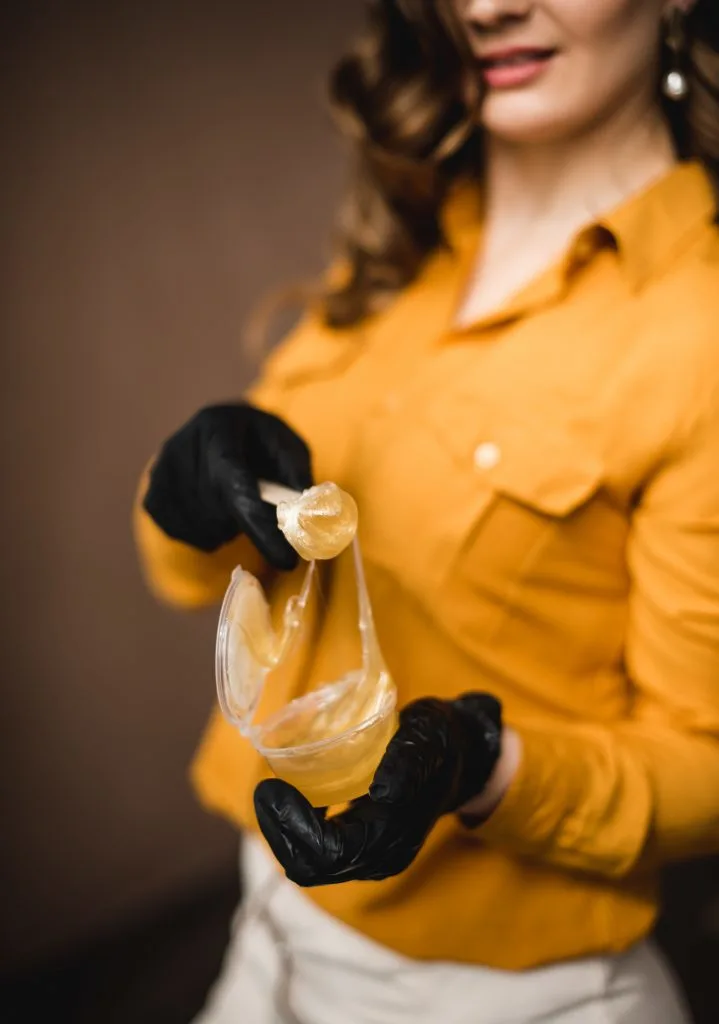 There are a few methods to choose from when using your sugar wax paste:
Method One:
Using a spoon, scoop a bit of sugar wax and roll into a ball. Spread the ball of sugar against your skin, going the opposite direction of hair growth. As you are pressing the paste into your skin, flick paste in the direction of growth.
Method Two:
You can also press the ball of paste again your skin, then pull it in the direction of hair growth. Each ball or strip of paste can be used a few times before discarding and getting fresh paste.
Method Three:
Similar to traditional waxing, you can apply the paste with a popsicle stick or tongue depressor and then press a cloth or wax strips on top of the sugar wax, leave until cool and remove.
Risks and Side Effects of Using Sugar Hair Removal Paste
Just like any other hair removal method, there are some risks and side effects associated with sugar waxing.
The most common side effect is skin irritation. You should test in a small area first before moving on to larger areas. In some cases, the skin may become red or swollen after using sugar wax. If this happens, stop using the paste.
Another risk is infection. Make sure to sterilize all of your equipment before using it on your skin. In addition, avoid waxing over open wounds or cuts.
Finally, there is a small risk of developing ingrown hairs after sugar waxing. To reduce the risk, exfoliate your skin before waxing.
Additionally, of course, be careful to avoid burns with hot wax by using a candy thermometer and allowing it to cool completely.
Overall, sugar waxing is a safe and affordable alternative to traditional waxing. With a little bit of preparation, you can achieve great results at home!
Sugar Waxing After Care:
To soothe the skin after sugar waxing, apply a cool compress or aloe vera gel. You can also take a cool bath or shower. Avoid sun exposure and tight clothing until the redness and swelling have gone down.
Avoid the use of lotions, hot water, or saunas for at least 24 hours.
Storing Leftover Sugar Wax
Sugaring wax should be stored in an airtight container.
Sugar hair removal paste is a great alternative to store-bought products. It is affordable, natural, and easy to make at home.
Give it a try today!