A man's retirement marks an important turning point in his life. It signals the conclusion of a lengthy and fruitful career and the start of a brand-new chapter that is full of leisure, exploration, and me-time.
A good approach to commemorate this significant event is to surprise a particular man in your life who is getting ready to retire with a thoughtful gift. I'll provide you with a range of choices to consider when choosing retirement gifts for men.
Whether he likes DIY projects, fitness, or travel, I have some thoughtful, useful, one-of-a-kind, and reasonably-priced gift suggestions that will make his retirement even more special.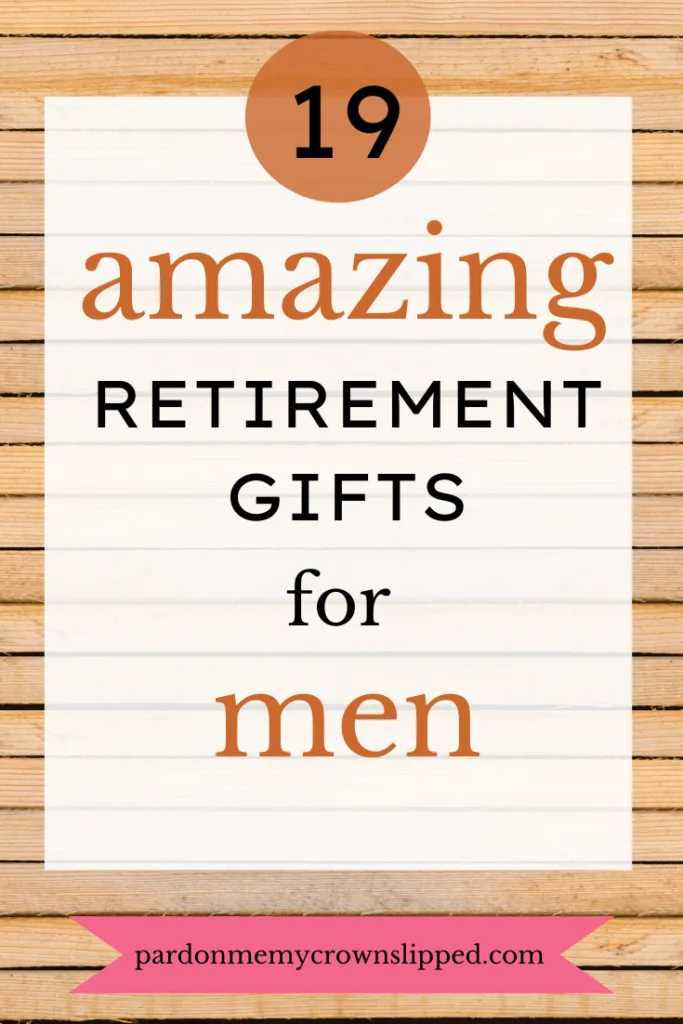 This post contains affiliate links. I will earn a commission at no additional charge to you if you make a purchase using my links. Click here to see my full disclosure policy.
The Significance of Retirement Gifts
A man has a special place in his heart for retirement gifts. They represent the start of a new chapter in his life and are given to him as a mark of appreciation for all of his years of sacrifice and hard work.
The appropriate present can make a retiree happy, thrilled, and fulfilled. It's a chance to express your admiration, love, and support for everything he has accomplished throughout his career.
A thoughtful retirement present can ease the transition into retirement and make it more enjoyable, laying the groundwork for a successful and content retirement.
Factors to Consider When Choosing Retirement Gifts for Men
It's crucial to take into account a man's interests, hobbies, travel plans, and general well-being when selecting a retirement gift for him. You may make sure that your present will be appreciated and meaningful by choosing something that is in line with your interests and goals.
The following elements should be taken into account while choosing the ideal retirement gift:
A man can indulge in his interests and discover new ones upon retirement. Choose a gift that goes along with his interests by taking into account what he likes to do for fun.
The majority of retirees have travel plans. If the man in your life is eager to visit new places, think about giving him a gift that will make his travels more enjoyable.
There are many things to pick from that will make his travels even more memorable, from personalized luggage tags and travel accessories to portable devices and travel literature.
A time to concentrate on health and fitness is during retirement. Giving the retiree something that encourages a fit and active lifestyle can help him start his new chapter.
Gifts that can improve his general well-being during retirement include fitness monitors, gym memberships, healthy cookbooks, and instruments for relaxation like massage chairs or meditation apps.
Gifts for retirement that are personalized have a greater sense of meaning and sentiment. If you want to make a gift truly memorable and meaningful, think about personalizing it with his name, initials, or a special message.
A customized present, whether it's a personalized watch, photo album, or piece of artwork, will demonstrate to him that you went above and beyond to make his retirement gift distinctive.
Personalized Retirement Gifts for Men
A personalized retirement gift is an ideal method to honor the retiree's achievements and express your gratitude for his dedication.
Here are some examples to get you motivated:
He will treasure a gorgeous watch with a personalized message inscribed on the back for years to come.
Create a stunning picture book from a collection of noteworthy photos from his personal and professional life. Create passionate subtitles and messages to make it even more special.
In addition to being useful, a high-quality leather bag with his initials monogrammed on it elevates his retirement adventures.
Practical Retirement Gifts for Men
Retirement gifts that are useful and thoughtful are practical. They provide for the retiree's needs and simplify his daily activities.
Here are some suggestions for useful gifts:
Give him a smart home gadget, like a voice-activated assistant or a smart thermostat, to help him embrace technology. These gadgets might make his life easier and give his house a more contemporary feel.
If he enjoys being outside, think of giving him useful equipment like a sturdy backpack, a transportable camping barbecue, or a cozy hammock. He will be inspired by these presents to embrace nature and make the most of his retirement.
The ideal time to take on home remodeling tasks is during retirement. Give him a set of top-notch tools that will be useful for whatever DIY project he takes on to help him get started.
Unique Retirement Gifts for Men
Consider these unusual retirement gift suggestions if you're seeking something out of the ordinary that will leave an impression:
Give him the experience of a lifetime by taking him on an exhilarating hot air balloon flight. Memories from this special experience will last a lifetime.
A set of fine whiskey bottles from several countries, along with tasting glasses and a whiskey-tasting manual, will be a special and enjoyable present for the whiskey connoisseur.
Name a star after him and give him the gift of ownership. He will feel special as a result of this symbolic act, which will also inscribe his name in the stars.
Thoughtful Retirement Gifts for Men
Choosing thoughtful retirement presents demonstrates that you care about the retiree's wants and objectives. These presents emphasize experiences and human development rather than material stuff.
Here are some suggestions for thoughtful presents:
Send him to a revitalizing wellness retreat so he can unwind and concentrate on his health. This present will help him begin his retirement on a happy note, whether it's a yoga retreat, spa weekend, or meditation retreat.
Enroll him in cooking lessons where he can learn different dishes, techniques, and cuisines if he has consistently expressed an interest in culinary arts. In addition to improving his cooking abilities, this present will give him a creative outlet in his latter years.
Find out what he has planned for the future and assist him in realizing one of his aspirations. This wonderful present will help him make moments that he will treasure forever, whether it is skydiving, bungee jumping, or swimming with dolphins.
DIY Retirement Gifts for Men
If you have a creative streak, think about making a sentimental and unique DIY retirement present. Here are some suggestions to get you going:
Handwritten letters with unique memories or messages for the retiree should be placed in a jar. He will be able to reflect on the past and recognize the love and support he has received throughout the course of his career, thanks to this gift.
Utilize his preferred materials and hues to create a one-of-a-kind photo frame. Include a picture of him and his loved ones together that will bring back fond memories for him.
Create a scrapbook that highlights the retiree's accomplishments, significant anniversaries, and standout moments from his career. To make it a truly unique gift, add photos, newspaper clippings, and personal keepsakes.
Budget-Friendly Retirement Gifts for Men
Celebrating retirement doesn't have to break the bank. Here are a few budget-friendly gift ideas that are thoughtful and meaningful:
Add a funny saying, his name, or a unique message to a coffee mug. He will be reminded of your affection and admiration each time he sips his morning cup of coffee.
Give him a collection of books by his preferred author or genre if he enjoys reading. He'll enjoy hours of enjoyment and relaxation thanks to this gift throughout his retirement.
Register him for a subscription box that is designed around his interests. There are subscription boxes available that will send carefully picked goods to his home each month, whether he likes wine, coffee, or gardening.
Retirement Gifts For Men That Are Funny
Depending on your relationship with the person who is retiring, maybe you want a joke retirement gift.
Conclusion
Celebration and introspection are common during retirement. You can add even more significance to this move into a new chapter of life by presenting the retiree with a meaningful and memorable gift.
You can select a unique present that honors his accomplishments or a useful gift that meets his needs. A thoughtful present that emphasizes personal development or a one-of-a-kind gift that generates unforgettable experiences are other options.
A DIY gift that demonstrates your creativity or an inexpensive gift that expresses your love and support can both make excellent presents.
Choosing a gift from the heart is the most crucial consideration you should make. For the man who has worked hard and deserves every bit of delight in his well-deserved retirement, let this be the time to experience the joy of retirement and make long-lasting memories.