Buckle up and get ready to find the perfect gifts for new drivers who've just hit the open road. It's an exciting milestone that deserves a celebration, and there's no better way to commemorate it than with a thoughtful and practical gift.
Whether it's for a newly licensed teenager or a friend who's just acquired their driver's license, this comprehensive guide is your go-to source for finding the ideal presents to enhance their driving experience, promote safety, and add a touch of style to their journey.
From must-have car accessories to memorable keepsakes, we've got you covered with a selection of gifts for new drivers that will rev up their enthusiasm for life behind the wheel.
So, gear up, because the road to finding the perfect gift starts here!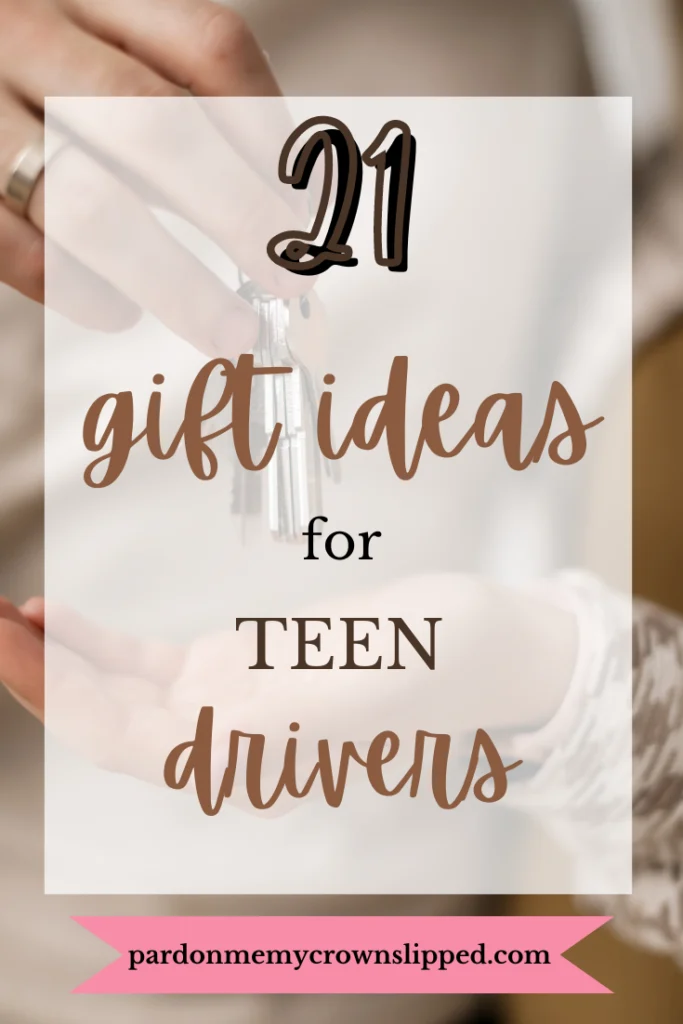 This post contains affiliate links. I will earn a commission at no additional charge to you if you make a purchase using my links. Click here to see my full disclosure policy.
Not just for new drivers but for their parents as well, AAA provides peace of mind in case of a breakdown. While new drivers should know how to change a tire and be sure that they always have enough gas, mishaps occur.
Many insurances have roadside services optional as part of their insurance but we found out the hard way that it doesn't always work out the way it should.
In addition to AAA, Life 360 can help soothe worried parents when their teens hit the road alone. This GPS locator With free and paid options, Life 360 shows the location of people in your circle.
Family driving summaries include trips taken, greatest speed, hard braking, and rapid acceleration.
I can tell how many times the phone has been used during the weekly trips as well, though I haven't determined if it can know who the driver was, perhaps they were a passenger and it's possible it was you, LOL.
Importantly, even the free version includes an SOS Help Alert that can notify everyone within the circle if activated.
We only have the free version, but 2 paid plan options offer crash detection, dispatch of emergency services, roadside assistance, towing and so much more.
We've located lost phones and even my son, who'd broken his leg while playing at a local park.
Whether they have a job or not, any new driver will certainly appreciate the gift of gas. Fuel is expensive and is a constant necessity once you're a driver.
The days of heading out with just a phone are over. Carrying even a simple wallet like this one ensures you have your license with you. One with a slim design that holds just the basics can go in a pocket or backpack. Add a gas card and it makes a perfect gift.
This book goes beyond driving school, covering a wide range of essential topics. From changing a tire to refueling, it offers invaluable tips to assist drivers at every stage of their journey, ensuring they're well-prepared for the responsibilities that come with a driver's license. Besides a little refresher never hurts.
You never know when the weather changes where you might be. Whether it's just a quick dash across a parking lot or an emergency on the side of the road, they'll be prepared.
There's no such thing as too many flashlights.
From jumper cables and flares to first aid supplies, this handy kit is perfect to keep in any vehicle.
It's sad to feel that alarms are a necessity for anyone out and about but especially women driving alone should have some way to alert people that they need help or at the very least scare away a would-be attacker. This one has a keychain attachment.
Although flashlights are useful, having both hands free to tackle a task is better. Changing a tire or looking under the hood at night just got a whole lot easier.
Everyone wants to keep their car tidy. This gel makes it into all the nooks and crannies.
this emergency keychain hammer provides peace of mind to yourself and your family on the road in case of car entrapment. The spring-loaded feature takes away the worry of not being able to have the strength to break the window yourself.
Pack of 2, leakproof organizer, and storage bin for cars can be used as a trash can or to hold other items. Handy adjustable straps secure it in place on the back of seats or hooked on the center console.
Protect the interior from UV rays and excessive heat with this sun shield.
With the joys of being a new driver, comes the shocking reality of having to clean off your car in the winter. Featuring dual-mount straps that secure the cover to your mirrors.
While it won't help if you have a blowout, at least if you notice a tire has a leak, drivers will be able to get to a service center or home without worry.
This lightweight hand vacuum has a HEPA filter. With 3 attachments this handy vac is perfect to get in all the crevices to keep vehicles clean after a day at the beach or on a trip with the pets. Uses a 12v aux outlet and features a whopping 16-foot cord.
While emergency thermal blankets are a great addition to any vehicle, having a blanket that can be used for the beach, park or outdoor movie is a versatile and thoughtful gift that ensures comfort and coziness no matter the occasion or location.
While no one should be on the phone while driving, these unisex gloves have added touchscreen fingertips which are perfect for keeping a firm grip on the wheel.
I have almost this identical keychain and I love it. Handy and comfortable around your wrist. Mine doesn't have the cardholder, but that's a nice new feature.
This keychain is a nice little reminder for anyone in our life that we are always thinking of them. Different text options are available.
From a simple headache to a more pressing situation, this portable first-aid kit has everything you need.
We all have the best intentions to head out the door with a fully charged phone, but the reality is, that usually doesn't happen. Having a dedicated charger in the car allows drivers to keep their phones ready in case of an emergency.
Final Thoughts On Gifts for New Drivers
Finding the perfect gift for new drivers is not just about celebrating their milestone, but also ensuring their safety and comfort on the road.
Whether they're eager teenagers embarking on their driving journey or newly licensed adults embracing the freedom of the open road, the right gift can make a world of difference.
From practical car accessories to thoughtful safety gear and driving essentials, the options are as diverse as the individuals receiving them.
These gifts not only symbolize the transition into a new phase of life but also provide peace of mind to those who care about their well-being.
So, as you embark on your quest to find the ideal gift for a new driver, remember that your thoughtful choice can enhance their driving experience and make every journey that much more enjoyable and secure.
Creating an Emergency Bag: Preparedness for Home, Car, and School
19 Handy Car Essentials Every Driver Should Keep in Their Vehicle