In an unpredictable world, being prepared for unforeseen emergencies is not just prudent; it's essential.
Disaster can strike at any moment, whether it's a natural calamity, a sudden evacuation, or a smaller-scale mishap.
Having an emergency bag that you can keep at home, in your car, or at school can make all the difference when you must swiftly gather your essentials and ensure the safety and well-being of yourself and your loved ones.
Other names for this emergency bag:
Emergency kit
72-hour kit / 72-hour bag
Bug out bag
Go bag
Evacuation bag/evac bag
Survival bag/survival kit
INCH bag ("I'm Never Coming Home Again")
GOOD bag ("Get Out Of Dodge"
Get Home Bag
Whatever you call it, this bag is to grab and go and have essential supplies to last at least 72 hours in the event you have to leave home in a hurry and don't know when or if you'll be able to return.
A smaller version is to help you get back home if something happens while you're out.
Most important are shelter, water, and food.
In this guide, I'll walk you through the process of putting together an emergency bag that's versatile and ready for any situation.
This post contains affiliate links. I will earn a commission at no additional charge to you if you make a purchase using my links. Click here to see my full disclosure policy.
Why You Need an Emergency Bag

Life is full of unexpected events, some of which may necessitate a quick departure from your home, school, or workplace. Having a well-prepared emergency bag at your disposal can be a lifesaver in such situations.
Here are a few reasons why having one is so crucial:
Natural Disasters
Earthquakes, floods, hurricanes, and wildfires can strike without warning, leaving little time for gathering essentials. An emergency bag provides you with a head start on your evacuation plan.
Accidents
Mishaps like car breakdowns, power outages, or getting stranded in your vehicle require immediate access to supplies that an emergency bag can provide.
School Emergencies
For students, having an emergency bag at school ensures that they are ready for lockdowns, evacuations, or other unexpected situations.
Peace of Mind
Knowing that you have a well-equipped emergency bag ready to go can alleviate anxiety in stressful situations, allowing you to focus on safety and well-being.
While this may seem like something a worry wart might put together, consider this, in the last month, within a 20-mile radius of us we've seen:
Torrential rain that resulted in 11 inches of rain within a short time, stranding hundreds of people on the highway for 6 hours, including a new driver we know (this is not typical for our area)
A tornado touched down (we do not live in Tornado Alley)
My mother in another state was hit by a hurricane which resulted in no power or water for more than a week
Someone who lost everything in a fire
A case of domestic violence that resulted in a death and a multi-day search of the suspect, causing shelter in place for some, and others unable to return to their homes for hours
I personally broke down alone with a flat tire at night
This doesn't even begin to cover what is happening across the country and worldwide.
What to Put In An Emergency Bag
Building an effective emergency bag involves careful planning and consideration. Here's a breakdown of the essential components to include:
Food and Water
Non-perishable food items like energy bars, and ramen, and small canned items like tuna, beans, and dried fruits. If canned goods are included, be sure you have a can opener.
Bottled water or a water purification system.
Portable cookware or a mess kit for heating food and boiling water. We have this portable stove from when my son visited the factory with the Boy Scouts.
First Aid Kit
Bandages, gauze, and adhesive tape.
Antiseptic wipes and ointment.
Pain relievers, allergy medication, and any necessary prescription medicines.
Tweezers, scissors, and a thermometer.
Disposable gloves.
Clothing
Sturdy clothing suitable for the climate in your area.
Extra socks and underwear.
Gloves, a hat, and a waterproof jacket.
Comfortable and durable footwear.
Shelter and Warmth
A compact tent or tarp.
An emergency sleeping bag or blankets.
Hand warmers or a portable heater.
Waterproof matches, lighter, or a fire starter.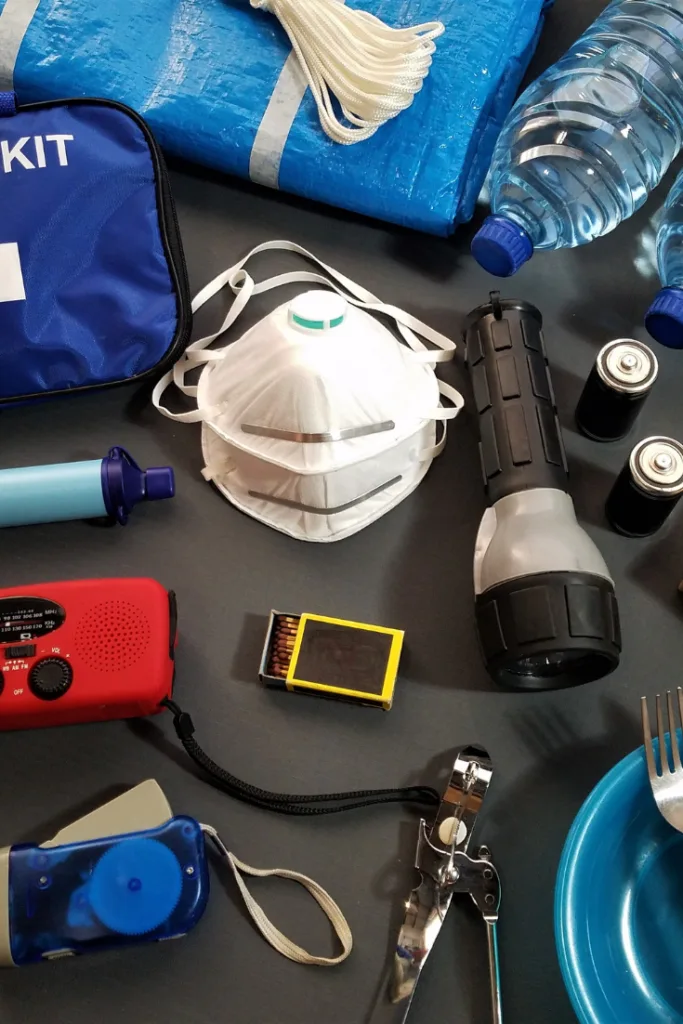 Hygiene and Sanitation
Hand sanitizer and soap.
Toilet paper and personal hygiene items.
Trash bags for waste disposal.
N-95 masks
Feminine hygiene products (if applicable).
DIY Emergency Period Kit for On-the-Go
Tools and Equipment
Multi-tool or Swiss Army knife.
Flashlight with extra batteries.
Solar lights, we've had this light for 9 years.
Portable radio and batteries or a hand-crank model.
Duct tape, zip ties, and a small toolset.
A compass
Communication
A fully charged cell phone and a backup power bank.
Emergency whistle.
A list of important contacts including phone numbers and addresses and a map of the area.
Cash in small denominations.
Personal Documents
Copies of essential documents such as ID, passport, birth certificate, and insurance policies.
Medical records and emergency contact information.
Digital backups of important files and photos on a USB drive.
Entertainment and Comfort
Books, playing cards, or small games to pass the time.
A comfort item, like a stuffed animal or family photo, to provide emotional support.
Specific Needs
Include items catering to the specific needs of family members, such as baby supplies, pet care items, or mobility aids.
Putting Together Your Emergency Bag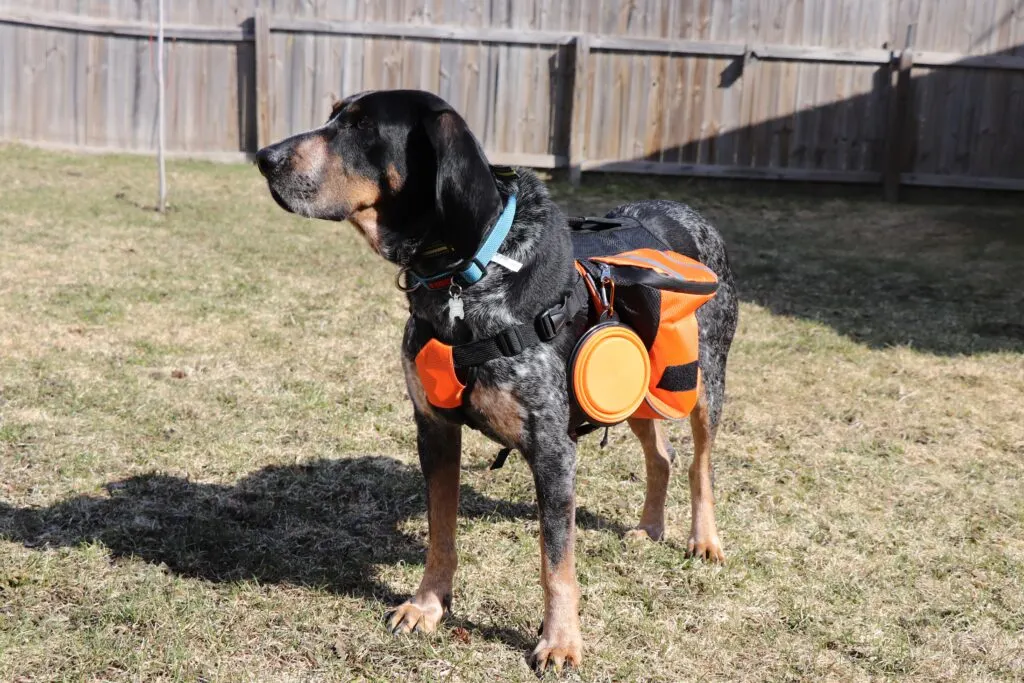 Now that you know what to include in your emergency bag, it's time to assemble it. Here's how to do it effectively:
Choose the Right Bag
Select a durable, waterproof backpack or duffel bag to store your emergency items. Ensure it's large enough to accommodate all your supplies without being too heavy to carry if forced to go on foot.
We chose these backpacks from High Sierra after my son owned the same one from third grade until going into his sophomore year. As in the exact same bag, singular, 1.
As moms, we know how hard kids, especially boys can be on backpacks. Many bags don't survive a whole school year, let alone 7 years!
The other one I've listed is based on over 90k 4.5-star reviews as well as the features of the bag including the amount of storage for essentials, the built-in USB charger, and its waterproof.
Organize and Label
Divide the bag's contents into compartments or labeled containers for easy access. Keep similar items together, such as first aid supplies, food, and tools.
Rotate Supplies
Periodically check and replace any items with expiration dates, like food, water, batteries, or medications. Make this a part of your regular maintenance routine.
Customize to Your Needs
Tailor your emergency bag to your specific circumstances. Consider the climate in your region, the number of family members, and any unique needs they may have.
Keep It Accessible
Ensure that your emergency bag is easy to grab in a hurry. Store it in a designated location that everyone in your family is aware of like in a closet near an exit if possible.
Where to Keep An Emergency Bag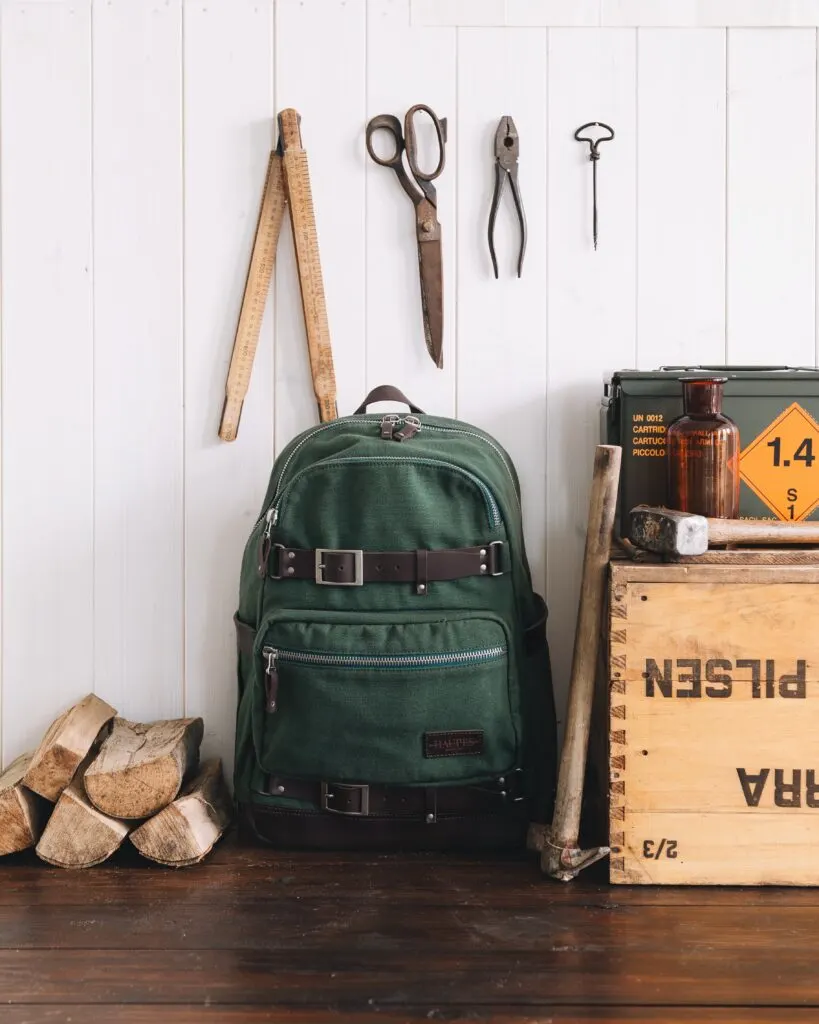 To be truly prepared, you should have emergency bags in multiple locations. Here's where you should consider keeping them:
At Home Bug Out Bag
Store your bug out bag in a readily accessible location, such as a closet near the front door. There should be one bag for each person, especially if they can carry one.
Get Home Bag for the Car
Keep a smaller, portable version of your emergency bag in your vehicle. This is essential for breakdowns or evacuations while on the road.
21 Must-Have Gifts for New Drivers Before They Hit the Road
19 Handy Car Essentials Every Driver Should Keep in Their Vehicle
Emergency Bag for School/Work
If you're a student or employed, it's wise to keep a compact emergency bag at your school or workplace. This ensures you have essential supplies on hand during extended stays or emergencies.
Final Thoughts on Creating an Emergency Bag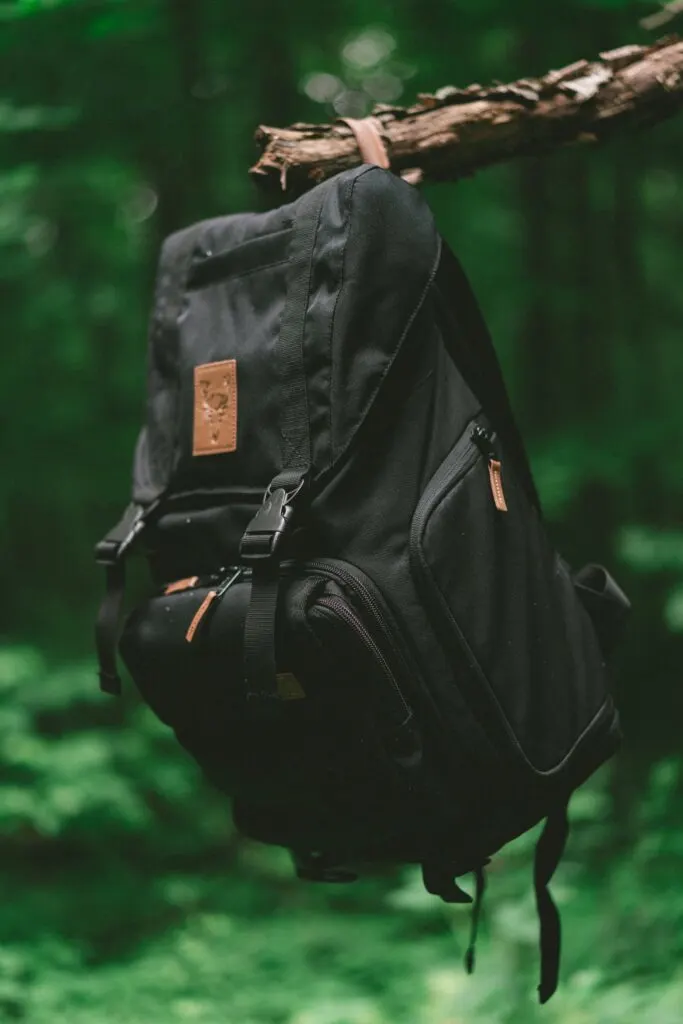 An emergency bag is your insurance policy against unforeseen events, providing you and your loved ones with the essentials to stay safe and comfortable during emergencies.
Whether you need to evacuate your home, survive a vehicle breakdown, or navigate a school or workplace crisis, an effectively prepared emergency bag can make a world of difference.
So, take the time to assemble your emergency bags, customize them to your specific needs, and rest easy knowing you're ready for whatever comes your way.