Do you ever feel like your period can never be predicted?
The sudden leakages, cramping, and general feeling of discomfort can make you feel like you can never be ready. But with a little bit of prepping and creativity, you can make sure you're always ready and never caught off guard by your period.
In this article, we will share tips and tricks on how to make your own DIY emergency period kit that you can take with you and be ready for anything your menstrual cycle throws at you.
From finding the right products to fit your needs to finding the perfect carrying case, you will be ready to take on your period without worry. Let's get started!
Once menstruation begins it's only a matter of time that it happens when not at home. An emergency period kit is the best way to be prepared.
If you don't have our period tracker yet… get it HERE…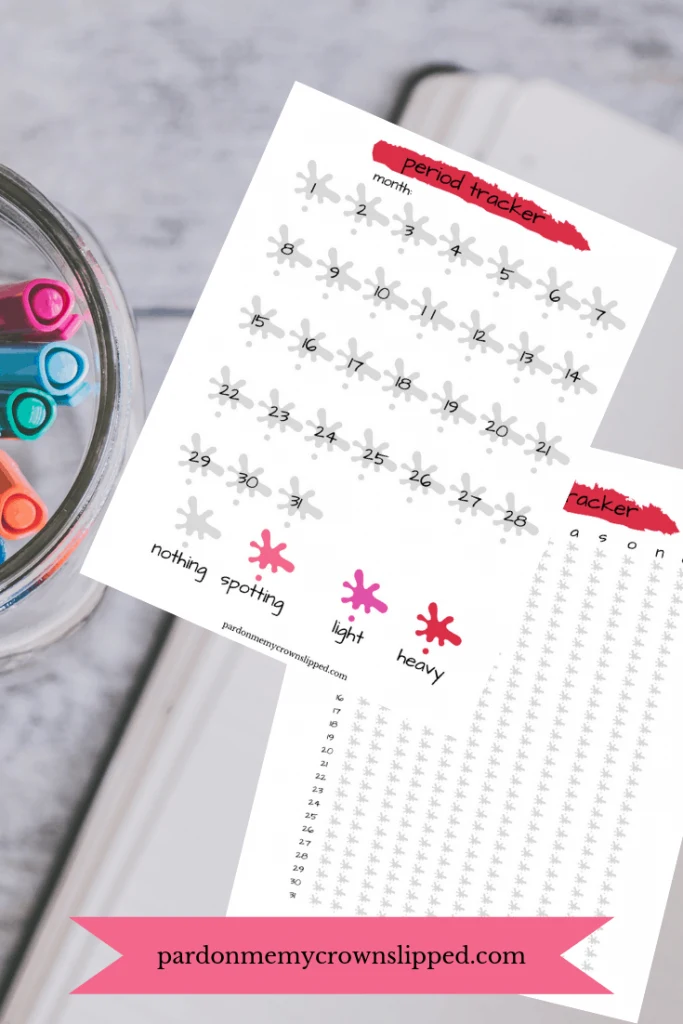 This post contains affiliate links. I will earn a commission at no additional charge to you if you make a purchase using my links. Click here to see my full disclosure policy.
Nobody likes to be caught off guard when Aunt Flo comes to town, especially when you're on the go. According to a recent survey, 3 in 4 women experience symptoms of pre-menstrual syndrome (PMS) each month during their menstrual cycle, and 62% of these women report that their period interrupts their plans or activities.
With a little bit of foresight and planning, you'll never have to worry about getting caught without the essentials you need when your period arrives.
It's not a bad idea to have a few emergency period kits.
Keep one in your:
car
school locker
school backpack
gym locker
workplace
For more locker essential ideas…go to this post.
If making one of your own isn't your thing….get a ready-made period kit HERE.
Or this one Dot Girl First Period Kit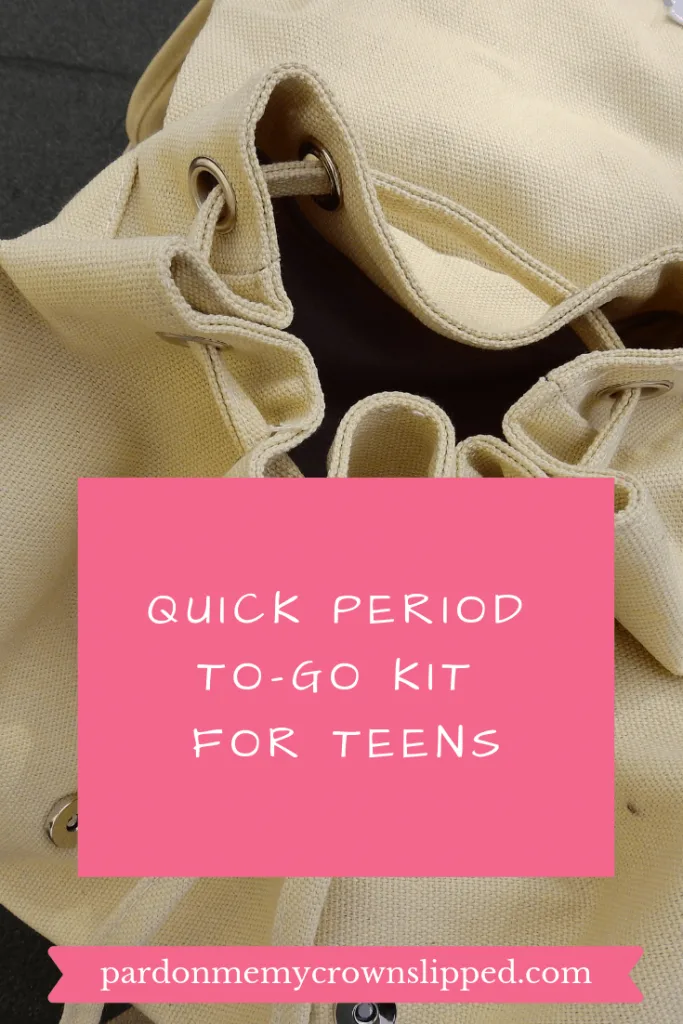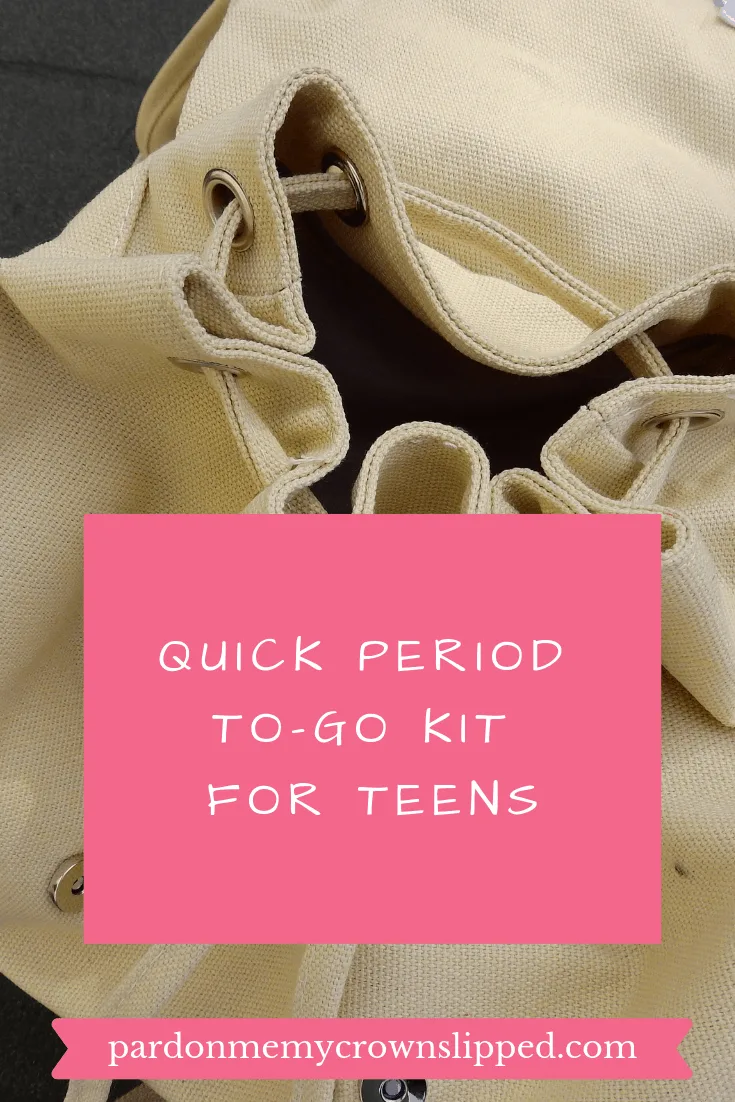 Unfortunately around the world, even in America, women and girls are made to feel uncomfortable for something that happens every month, is out of their control, and is perfectly natural. For more on this fascinating topic of human rights, in a movement that is spreading go to this article. #endperiodpoverty.
What should be in an emergency period kit?
SOMETHING TO CARRY EVERYTHING
To DIY a period to-go kit, start out with a cute bag, like this one.

As much as we can help them feel like it's no big deal, teens and tweens are still wondering…
Where can I hide my pads at school?
I LOVE this reader suggestion to use a pencil case made for binders to keep it less obvious and always with you.
Choosing the right period products for her
Add pantiliners, tampons, and pads…my daughter likes these pads for tween girls.
For feminine hygiene supplies that come right to your door, try Blume.
It's everything a girl could want in a self-care box, delivered to your door. And it's customizable.
You can purchase items individually like face wash deodorant, PMS oil, blemish treatment, and 100% organic pads and tampons.
But with the build-your-own box feature starting with a low entry price point, you can design your shipment.
You start off by choosing how many pads and or tampons you need each month.
From there you can add the self-care bundle that includes the face wash, the deodorant, and the blemish treatment.
Additional add-ons include the PMS bundle, The Treat Yourself bundle, and a surprise of something new.
Each of these add-ons can be monthly or quarterly.
Blume features products that aren't a threat to your body or the environment.
"In an industry where brands aren't required to disclose their product's ingredients, we'll tell you the truth about ours." – Blume website
Their tampons & pads are 100% organic cotton, "giving you inner peace for your inner lining."
PAIN RELIEF
A pain reliever for those first-day period cramps and headaches is a must.
But how does your teen deal with cramps and headaches when they aren't allowed to get meds without the nurse?
Sure going to the nurse is an option but how about trying this medicine-free solution using these or this cool invention for on-the-go.
Or another reader idea who uses these pain relief patches.
What can you do when you have leaks at school?
Be prepared because chances are period leaks will happen.
Whether you miscalculated your period start date, have an irregular period which is common especially for tweens and teens, or you just had a leak, don't panic.
Unfortunately, it happens to all women regardless of age so just realize it's something to take in stride and be ready just in case.
A CHANGE OF CLOTHES FOR EMERGENCY MISHAPS
A fresh pair of panties and a baggie for bringing home the stained pair or a washable wet bag like the kind you put wet bathing suits in.
How about these for avoiding those leaks in the first place?
A Guide to Period Underwear for Teens: Everything You Need to Know Now
No kit is complete without a quick spot remover in case it goes onto pants.
Or how about hydrogen peroxide in a travel-sized spray bottle?
Be sure to offer clear instructions on this one, LOL.
Having flashbacks to my favorite jeans vs. bleach incident of 1984. Then again, we were just entering the acid wash faze, so with a little more creative work I was able to still be able to wear them.
Some of my readers suggested I add feminine wipes to this list. And while I agree with the idea, in theory, some things are better left untouched.
And for many women, myself included, using any type of wipes causes discomfort. Even if they are designed for women or fragrance-free, my body says "No way".
A LITTLE SOMETHING FOR SOOTHING THE BEAST
Say what you will about cliches and stereotypes but they aren't called raging hormones for nothing.
A piece of chocolate, because, who doesn't feel better after chocolate? 🍫 Maybe it's salty that satisfies. Maybe it's both.
And a lip gloss because feeling pretty can't hurt. 💋
So much more comes along with dealing with periods and tween/teen issues.
For more on puberty changes go HERE.
or HERE to see what you can do about eye rolls and crabby teens. 🙄
Looking for books on puberty?
For a make your own period comfort kit for home…