**Originally published in July 2017, this post was last updated on January 14, 2022.
A period survival kit or first-period kit is a must-have for tween and teen girls before they start their menstrual cycle.
The sooner you have it ready the better.
A comfort care kit can help them feel better for that time of the month and learn how to navigate it from the first time to many more to come.
This post contains affiliate links. I will earn a commission at no additional charge to you if you make a purchase using my links. Click here to see my full disclosure policy.
>>>In a hurry?…..get a ready-made beginner period kit here for on the go….

They grow up so fast these days" seems so cliché, but seriously, it happens.
Now we've already talked about periods several times before.
I had already seen a great idea to make an easy at-home DIY period kit.
Guess what? We discovered Kotex tween pads like the ones shown here
.
Yeah, just their size, who knew.
The pads have hearts and stars on them…really!
** Update…some stores seem to be fazing out the tween version and opt for only the teen version instead. We like these too!

I know talking about periods can be embarrassing but if you can inject a bit of humor to get the conversation going it helps.
This is one thing I said…
Sorry, it doesn't really get better, but it still beats being a man. Sorry, it doesn't really get better, but it still beats being a man Click to Tweet
It made us laugh. I offer no apologies.
It's the truth.
I'm glad we can talk.
Around the world and even in America, women and girls are made to feel uncomfortable for something that happens every month, is out of their control, and is a perfectly natural part of life.
For more on this fascinating topic of human rights, #endperiodpoverty in a spreading movement go to this article.
There are 5 stages of puberty.
The onset of a period is usually the last stage.
Some young girls start puberty early due to medical conditions and others due to environmental factors.
What Should You Put in a Period Survival Kit?
Really any pre-made menstruation kit will do, but making one customized for your daughter does make for a conversation starter for one of those weird puberty talks.
Want to get a period kit that includes all the period essentials she needs and more? Done for you. So cool. AND keeps on coming?
Try one of these 1st period gift box subscription kits.
Feminine Hygiene Products
Depending on their age, you may not be even considering tampons. If you are, organic cotton, like these is a great choice.
These pads are perfect. Even though these are marketed for tweens and teens, for petite adult women, they might be just right.
Buy different brands and sizes. Let her figure out what types of feminine pads or other products she prefers.
Pantiliners are also an important thing to have on hand for light days, or for extra protection if tampons are going to be used.
What about menstrual cups for girls?
Most women have heard of them but just in case.
A menstrual cup is a small, flexible menstrual product that is inserted into the vagina to collect menstrual fluid. It is held in place by suction and when full, should be removed, cleaned, and replaced.
Because it's reusable, they are economical and reduce waste. They are typically made from silicone or rubber. Consider trying one yourself first before deciding if this is a good idea.
Period Panties
Something to consider is having specific panties to wear for days when she has her period since they will probably become stained with leaked blood or the surprise of irregular cycles.
Some girls might prefer black undies while some might like leak-proof period underwear for avoiding leaks altogether.
Related: A Guide to Period Underwear for Teens: Everything You Need to Know Now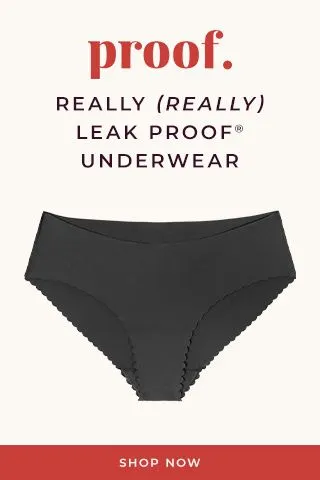 If you're a kid from the '70s or '80s no teen girl years are complete without the mantra of "We must, we must, we must increase our bust." and of course testing it out to see if it works, you know, just to be sure, in case it does.
If only. 😉
This coming-of-age book is a must-read. You can read our review HERE.
Something Yummy for Hormonal Cravings
You know your girl, so give her something good.
Maybe it's sweet like M & M's or salty like Pringles.
Or even a little of both like Dark Chocolate Pumpkin Seed with Sea Salt like these, mmmm.
Something Soft for Comfort
If you're already crabby and want to curl in a ball, a fluffy throw, extra soft sweatshirt or fuzzy socks is soothing.
This is one of my new favorites, I just can't put it down.
A New Journal for All Those Tween Thoughts and Emotions
At a time when everything seems weird and her world is changing, a journal can give her a place to sort out, well you know, stuff.
Growing up can be a scary thing.
This journal is so cute, don't forget a cool matching pen … or 10, like these with the crowns.
It can be one with prompts or a blank one.
You could even include quotes to give her a boost.
108 Quotes from Remarkable Women
It can be just for her, or a new way for the two of you to share your thoughts.
Writing back and forth with each other offers an opportunity to reflect back on the "conversations", give time for thoughtful answers, and provide a way for otherwise awkward conversations to turn into meaningful connections without embarrassment. For both of you 🙂
It's a great way to answer questions like:
What happens when you're on your period?
What's the best thing to use for my first period?
Warning signs your period is coming.
Embarrassment can lead to asking questions from their friends or the internet…and that's okay but bridging that gap is a wonderful experience that can last a lifetime.
Meeting them at their comfort level and enhancing that will be important when your teenage daughter has questions later on about harder subjects.
Need more info before diving into those conversations?
While there are quite a few blogs out there designed for women about periods, not many are written with tween or teen girls in mind.
However, here are a few you may find resourceful.
theperiodblog.com It does cover a lot of common questions girls might have, with tips and stories from other girls.
Helloflo.com while this one is not designed for tweens, it is all about
periods. The creator has also written a period book that is one of our favorites.
Girlology.com is designed for moms to support their daughters with all
sorts of issues surrounding their bodies.
firstperiod.org has information about periods and how girls around the world deal with periods in vastly different ways because of the culture they live in.
One of my favorite ways to learn more information for yourself and your teen is via YouTube Madge the Vag, created via ScaryMommy. She can also be found on TikTok.
Madge has awesome videos all about, you guessed it the vag. From learning how to take care of it properly to how to use a tampon, Madge, a women's health educator, not a medical professional, covers everything you ever wanted to know about hoo-has.
I would watch her videos first, to make sure you are comfortable with all the content before watching with your daughter.
Try out our new FREE Bullet Journal Tracking Worksheets and get a handle on what key areas of self-care makes a difference in mood swings.
Here's what one reader says:
"I started using the trackers and my mom really likes knowing what mood I'm in and when I'm down we talk it out and she understands me so much more now that she knows how I'm feeling. Thank you so much for the trackers!"
A Magazine for Tweens Just Like Her
Whether she's into fashion or still too young for makeup, she will enjoy a magazine.
My daughter really enjoys BYOU Magazine (Be Your Own You) sadly, no longer available, and I'm comfortable with the content.
Empowering messages and positive girl role models are a focus.
Finding a magazine I felt comfortable recommending that keeps positive messages throughout has not happened since BYOU stopped publishing.
I would highly recommend reading reviews before choosing one.
While all have some great content, they aren't consistent with leaving out articles that may be questionable for some readers, ages, and parents.
However, those same publications could be great to look at together to discuss topics they may encounter elsewhere.
Hot/Cold Pack for Menstrual Cramps and Comfort
Headaches, cramps, and backaches are all part of the deal, but that doesn't mean we have to suffer.
These are for heating in the microwave for cramps but for back pain or a headache sometimes cooled in the freezer works better.
For someone who has minimal sewing skills, these were so easy we even made some as gifts.
Here's one I made for our house. At 20″ x 7″, this one measures on the large size for extra comfort.
Learn how to make this reusable heating pad in this post HERE.
Don't worry this tutorial is for people who really do suck at sewing, like me, but if you'd rather buy a heat pack, try this
.
Water Bottle for Hydration
This awesome idea came from a reader.
Buy a special water bottle
just to mark the start of something new.
With this time comes the beginning of learning that taking care of herself involves many aspects.
Hydration is always important but during her period when she is more emotional and more tired, it will help. Water is also helpful to combat cramps and headaches.
More Pain Relief Solutions
For active girls, you can't always be lazing around with the rice pack or heated blanket (like I do).
So Acetaminophen, Ibuprofen or Naproxen are a must.
How about these pain relief patches for another alternative for when you're on the go?
Or this one below.
Adorable Emergency Bag
For when she's on the go and the unexpected happens.
An emergency period kit can be kept in the car or her school bag.
Here's an easy-peasy guide to making a DIY period to-go bag.
Speaking of school, check out this locker essentials kit that can be easily customized for girls or boys.
Make-up bags work fine but I LOVE this idea from a reader…
Using a pencil case, the kind with holes to put it in a binder, make a simple to-go bag they can attach inside a school binder so it's always with them during the school day.
We love this one since you can't see what's inside. Plus it's pretty 🙂
Besides dry pads, these go kits should include essential items like a wet bag or zip-top bag for soiled underwear, clean underpants, hand sanitizer, and pain reliever.
Don't forget to have another period survival kit and to-go kits if she divides her time between homes.
You may be expecting to be throwing snacks at her while she's curled up in her blanket with a magazine while growling.
Just like her perimenopause mama.
It's never too late to make a period comfort care kit.
Speaking of crankiness, if you've got a tween or teen with attitude in your house:
Have anything else that you'd include in a period survival kit for your daughter's first period? …. drop a comment below.
If it's all about puberty at your house I KNOW you'll LOVE:
REMEMBER TO PIN IT