A first period kit is a must-have for tween and teen girls before they start menstruating. The sooner you have it ready the better. Help them feel better for that time of the month
This post contains affiliate links. I will earn a commission at no additional charge to you if you make a purchase using my links. Click here to see my full disclosure policy.
Menstruation Kit – First Period Kit To-go! (Period Starter Kit with all Natural Pads)

They grow up so fast these days" seems so cliché, but seriously, it's happening around here. My daughter will be 11 in just a few weeks. She's only 48 pounds and 48" tall. Yet this week we got a huge surprise. She started her period. Holy crap. T-E-N
Now we'd already talked about periods several times before. She had just had the school health class version only the day before and wham. Of course like a typical guy and Dad in Denial, my husband asked if I was sure. Um, yeah, I'm sure.
I had already seen the great idea to make an easy at home DIY First Period Kit. But I thought I still had time.
Off we went on an emergency Walmart run since the pads I have would have been crazy big.
Guess what, we discovered Kotex tween pads like the ones shown here
. Yeah, just their size, who knew. The pads have hearts and stars on them…really!
Just Between Us: Mother & Daughter: A No-Stress, No-Rules Journal

The Teen Girl's Survival Guide: Ten Tips for Making Friends, Avoiding Drama, and Coping with Social Stress (The Instant Help Solutions Series)

Bunk 9's Guide to Growing Up: Secrets, Tips, and Expert Advice on the Good, the Bad, and the Awkward

Queen Bees and Wannabes, 3rd Edition: Helping Your Daughter Survive Cliques, Gossip, Boys, and the New Realities of Girl World

ZonLi Weighted Blanket (60"x80", 20lbs for 170-230lb Individual, Grey) for Adults Women, Men, Children | Premium Cotton with Glass Beads

Kidskin – Three-Step Acne Starter Kit for Kids, Tweens, Teens – Cleanser – Serum – Moisturizer – Breakout Prevention – Reduce Redness and Inflammation – No Paraben, Sulfate, Fragrance, Gluten

U by Kotex Tween Ultra Thin Pads 16 ea

The Dot Girl First Period Kit

Menstruation Kit – First Period Kit to-go! (Period Starter Kit with All Natural Pads) (Black)

CRAFTIVITY Dare to Dream Board Craft Kit

Oriya Stainless Steel She Believed She Could So She Did Necklace Bracelet Gift for Women Girl, Inspirational Necklace Bracelet

ZHOPPY Night Light Bluetooth Speakers, Touch Control Bedside Lamp Portable Table Lamp Color LED Outdoor Speaker Light Music Player Birthday Gifts

Nail Art Brushes, Dotting Pens Marbling Detailing Painting Striping Tools 20pc Kit Set with Roll-Up Pouch – Best for nail art and facial detailed painting – FREE eBook with Design Idea

This girls only trip gave us a good excuse to look at girls bras
. These are so cute by the way. Not those horrid white lacy itchy things we had to wear. Though 33 years after I insisted to my mom that I wouldn't hate wearing it one day, I still don't really need one and hate it when I have to. Which since I stay home is rarely.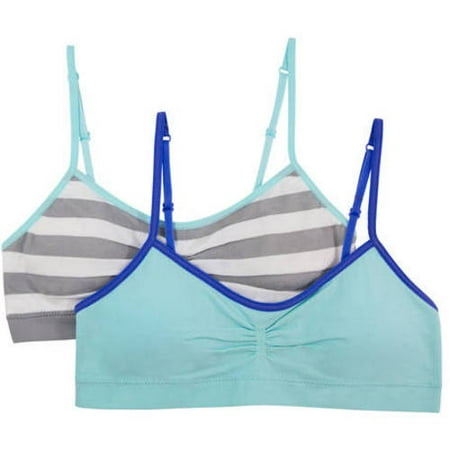 I am extremely proud of how my daughter handled her first period. Very mature. Open with questions and answers. [clickToTweet tweet=""Sorry, it doesn't really get better, but it still beats being a man."" quote=""Sorry, it doesn't really get better, but it still beats being a man.""]
It made us laugh. I offer no apologies. It's the truth.
**Update** If your daughter starts her period young, you may want to consult her doctor. Right after this post was written we went for a check up here's what we learned.
There are 5 stages of puberty. The onset of periods is usually the last stage.
Our daughter is not only small for her age, but she was only in the 2nd stage of puberty according to other body changes observed by her doctor. Because this would usually not be the timing for periods to start, we saw an endocrinologist to make sure everything was okay.
Some kids start puberty early due to medical conditions and others due to environmental factors. Luckily this was not the case. All other factors being normal, it was determined that our daughter most likely had an ovarian cyst that burst. Many women have cysts that come and go unnoticed every month and it is normal.
Thankfully, that seems to be all it was because we haven't seen Aunt Flo since.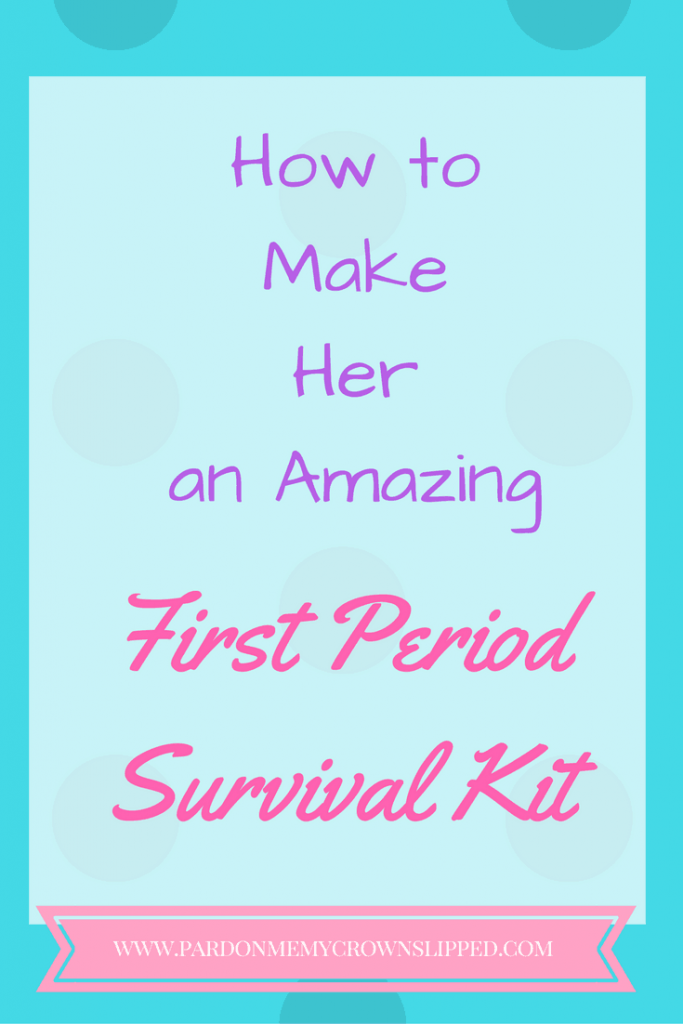 So what do you need to make a first-period kit?
Really just any period kit, but making one customized for your daughter does make for a fun conversation starter for one of those weird puberty talks.
Pads for tween girls
U by KOTEX Tween Pads 16

With her size and age, we aren't even considering tampons. These are perfect. Even though these are marketed for tweens and teens, as a petite woman, I actually like the way they fit myself.
Are You There, God? It's Me, Margaret (Paperback) – Common

If you're a kid from the 70's or 80's no teen girl years are complete without the mantra of "We must, we must, we must increase our bust." and of course testing it out to see if it works, you know, just to be sure, in case it does. If only. 😉 This coming of age book is a must-read. You can read our review HERE.
We also have this book in both girl and boy versions. For more of our favorite puberty books for girls….read this post.
The Girl's Body Book: Fourth Edition

Something Yummy for hormonal cravings
Bark Thins Snacking Dark Chocolate Pumpkin Seed with Sea Salt, 17 Ounce

You know your girl, so give her something good. Maybe it's sweet like M & M's or salty like Pringles. Or even a little of both like Dark Chocolate Pumpkin Seed with Sea Salt like these, mmmm.
Something Soft for comfort
If you're already crabby and want to curl in a ball, a fluffy throw, extra soft sweatshirt or fuzzy socks is soothing. This is one of my new favorites, I just can't put down.
Cozy Fleece Cozy Plush Throw Blanket, 50 by 60 Inch, Assorted

A New Journal for all those tween thoughts and emotions
At a time when everything seems weird and her world is changing, a journal can give her a place to sort out, well you know, stuff.
It can be just for her, or a new way for the two of you to share your thoughts. By writing back and forth with each other it offers an opportunity to reflect back on the "conversations", give time for thoughtful answers and provide a way for otherwise awkward conversations to turn into meaningful connections without embarrassment. For both of you 🙂
This journal is so cute, don't forget a cool matching pen … or 10, like these with the crowns.
Lollipop Tree Journal (Diary, Notebook)

&
Ballpoint Pen Crown Novelty Pens Noble Cute Gift Pen for School, Office, Family Use Pack of 6

Try out our new FREE Bullet Journal Tracking Worksheets and get a handle on what key areas of self-care makes a difference in moods
A magazine for tweens just like her
Whether she's into fashion or still too young for makeup. She will enjoy a magazine. My daughter really enjoys BYOU magazine. (Be Your Own You) and I am comfortable with the content. Empowering messages and positive girl role models are a focus. (I don't get a commission from this one, I just really like it)
Hot/Cold Pack for cramps and comfort
Headaches, cramps, and backaches are all part of the deal, but that doesn't mean we have to suffer.
These are better heated in the microwave for cramps but for back pain or a headache sometimes cooled in the freezer works better. For someone who has minimal sewing skills, these were so easy we made some as gifts.
Here's one I made for our house. At 20″ x 7″, this one measures on the large size for extra comfort.
Learn how to make this heat pack in this post HERE.
Don't worry this tutorial is for people who really do suck at sewing, like me, but if you'd rather buy a heat pack, try this
.
Nature's Approach Aromatherapy Basic Herb Pack, Celestial Indigo

More Pain Relief solutions for cramps and headaches
For girls on the go, you can't always be lazing around with the rice pack or heated blanket (like I do). So Acetaminophen, Ibuprofen or Naproxen are a must.
Adorable Emergency Bag for an on the go period kit
For when she's on the go and the unexpected happens. Pads, extra undies, and some pain relief can be kept in the car or her school bag.
Here's an easy-peasy guide to making a DIY period to-go bag.
We have yet to find THE bag but school is still a few weeks away and back to school shopping is coming. Speaking of school, for a D.I.Y. school locker kit that can be easily customized for girls or boys.
Since I am expecting to be throwing snacks at her while she's curled up in her blanket with a magazine while growling I suppose the next project is going to be doing a room makeover for her. She's still sharing one with her little brother as we juggle around bedrooms with Grandma gone.
They used to get along like peanut butter and jelly.
But now here's my little sweetheart…..just like her perimenopause mama.
Speaking of attitudes, if you've got a tween attitude in your house, click here and try these helpful tips.
Have anything else that you'd include in a first-period kit? …. drop us a comment 🙂

If it's all about puberty at your house I KNOW you'll LOVE:
REMEMBER TO PIN IT