Puberty is a confusing time for tweens and their parents.
Everyone is filled with emotions of changing times…and hormones.
Understanding what's happening to their bodies and their minds helps tweens understand that it's perfectly normal, everyone is going through it and yes you will come out fine on the other side.
There are so many great puberty books for girls out there.
If you read my other tween book review, All-Time Favorite Must-Read Book for Tween Girls then you'll love this one too.
If you're looking for books on puberty that your tween girl will love to read these next three HAVE to go on your reading list.
This post contains affiliate links. I will earn a commission at no additional charge to you if you make a purchase using my links. Click here to see my full disclosure policy.
Puberty is filled with changing….everything.
It's confusing enough, why not read puberty books that not only do a great job at explaining but are so relatable.
Bunk 9's Guide to Growing Up: Secrets, Tips, and Expert Advice on The Good, The Bad and The Awkward
I love the style of this book. Written from the viewpoint of girls away at camp.
These girls have been friends since before puberty so they are able to support each other through puberty as only friends can.
Each friend is at a different point in their journey so the way they help each other along is very realistic.
HelloFlo: The Guide, Period.: The Everything Puberty Book for the Modern Girl
This is another one of our favorite puberty books for girls that gives straight answers in a fun and modern way.
Written by the founder of www.helloflo.com, Naama Bloom makes puberty interesting and fun, in a way that was never available to us way back when.
A Smart Girl's Guide: Friendship Troubles: Dealing with fights, being left out & the whole popularity thing (Smart Girl's Guides)
This book from The American Girl series is a perfect tween book. While not about puberty itself, it's perfect for this age group.
Changing friendships, new emotional territory, and the ups and downs that seem to be part of the tween girl landscape.
While they do have quite a few other books in the series that look perfect, like Drama, Rumors & Secrets, we haven't read any of the others yet.
If your tween is already doing the period thing or soon will be, a go kit and home comfort care survival kit are a great way to introduce the subject and keep her prepared with all the essentials.
Be sure to grab the

Period Tracke

r by clicking on the picture below.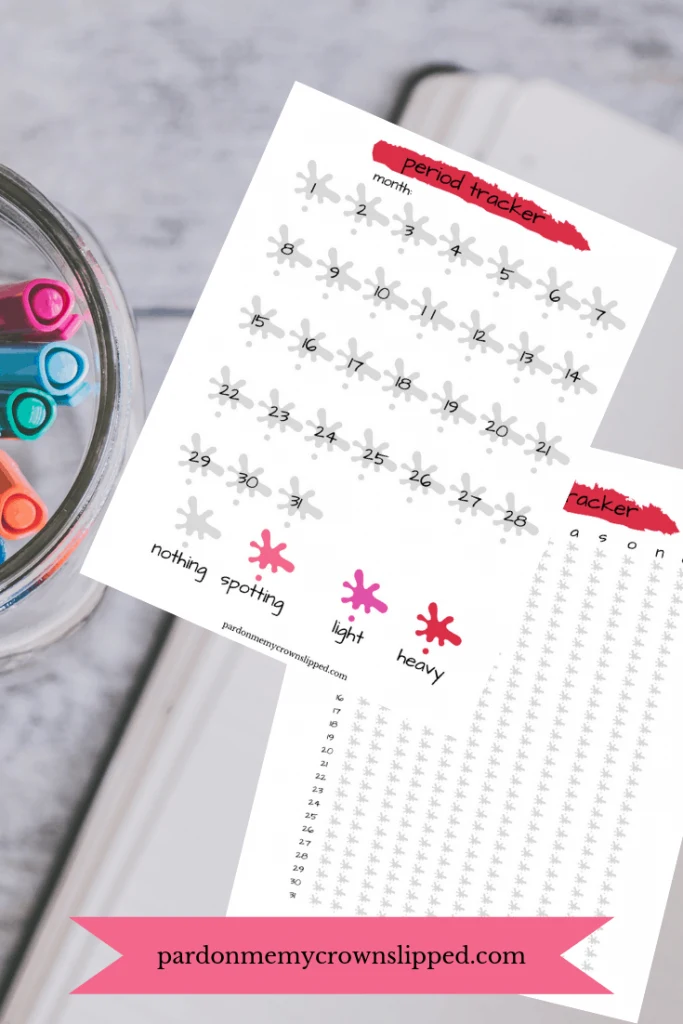 Speaking of new landscapes, raising kids at this age is a whole new world.
After reading a review of these two books I'd like to read them and I'll be sure to let you know what I think.
Queen Bees and Wannabes, 3rd Edition: Helping Your Daughter Survive Cliques, Gossip, Boys, and the New Realities of Girl World
and
Masterminds and Wingmen: Helping Our Boys Cope with Schoolyard Power, Locker-Room Tests, Girlfriends and the new rules of Boy World
&
If mood swings are a thing…lol, of course, they are!
See more awesome puberty books for tween girls here.
Want to read more about tween girls, puberty, and other growing-up topics?
For more books try: 46 Outstanding 5th Grade Reading Level Books That Are Lit
REMEMBER TO PIN ME