Ahh, tweens and puberty.
Fun times.
Cue the eye rolls and sarcasm.
So many changes for everyone involved.
It's confusing and exciting all at the same time.
So why are tweens so moody?
Sometimes it's the changes themselves that are causing the moodiness.
Sometimes it's the hormones.
And sometimes I think nobody knows and nothing, in particular, is to blame.
Don't we all feel "off" sometimes?
Last week my daughter remarked…"I don't know why I just freaked out like that?"
Welcome to the club, honey!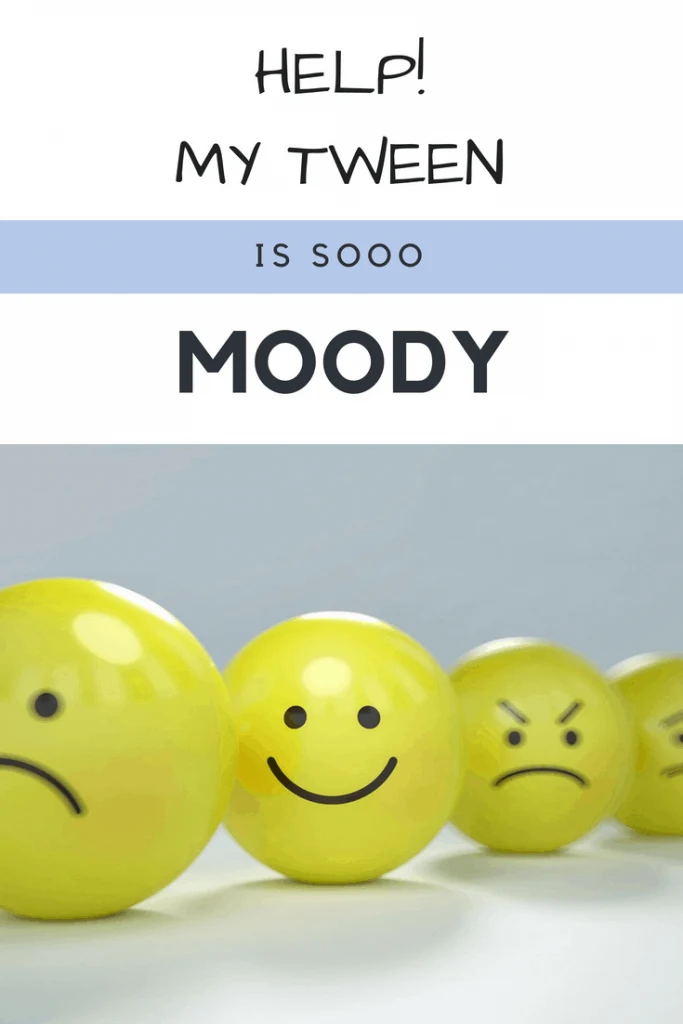 This post contains affiliate links. I will earn a commission at no additional charge to you if you make a purchase using my links. Click here to see my full disclosure policy.
Tweens and their skin
Tweens are beginning to worry about their skin.
Pimples are cropping up and it can cause anxiety.
Tween skin is almost in a class by itself.
It's starting to change and take on the qualities of teen skin, yet it is still so sensitive many of the products on the market designed for teens are still a bit harsh especially acne remedies.
At this point, we have multiple different face washes.
Tween Hair
They're getting hair in new places and may want to tell you all about it. Or not.
I remember when one of my sons was only 3, he told a bunch of people at a party "I have hair on my nuts"! Glad tweens are a bit quieter about it. Mostly.
Now's the time girls may start talking about shaving their legs.
RELATED
Tween Smell
And with all that hair comes the smell. Just try letting them hang out in their room with the door closed and visit them a while later.
"My God, what is that smell?" is now a new statement all over our house.
The bathroom, the bedrooms, wholly moly the car. What is that…smells like teen spirit come early. And if there are a bunch of them together…😵🤢
The only thing that stinks more is their attitude.
No one wants to be the kid at school who stinks.
We've been doing deodorant for a while now so it's not new. But just like their face, the skin under their arms may be sensitive. My daughter had to try a few before she found one that worked for her.
Tween Growth Spurts
Tween growth spurts can make them moody.
Okay, this just needs to stop!
If it isn't bad enough to watch them get bigger.
They are going to bankrupt you.
The clothes and sneakers and the food.
They eat everything in sight in one day while complaining there's nothing to eat.
Tweens and teens are overtired since even if they do sleep what seems to be enough hours, they are using all of that to grow.
Tweens still need about 10 hours of sleep every night.
Definitely, a challenge especially when it stays light out and they need to be up early.
We have these room darkening curtains to make it easier.
As well as a diffuser to help them wind down during nightly reading time.
A white noise machine or app and even a weighted blanket, excellent for anxiety can help tweens have the best sleep optimization.
And they just keep outgrowing the clothes at record speed.
There was a time not too long ago that one of my sons needed new pants 4 different times in a 3 month period.
Don't even start on the sneakers.
Finally, at barely 16, he's sharing clothes with my husband.
Now it's my daughter's turn.
This year by May, the pants she got a Christmas became Capri length on her.
This is a new thing for her since she's so petite. Her waist is the tiniest with giraffe legs.
Pants are difficult to find.
So thankful that leggings are a thing since styles are tough when crossing age groups.
She wears like size 6 in her waist! But those legs are long.
Kids can be cruel and whether they are bigger than everyone or smaller than everyone…the others are noticing.
And unfortunately, they always seem to have something to say.
Bullies include teachers and other adults sometimes.
Talk to your tween about it.
I have tweens who are on the small side and they have been picked on quite a bit.
They need to know it doesn't make a bit of difference.
But they also need to know you are hearing how they feel and that's what matters to you.
Ugh, and let's not forget about other awkward differences like new glasses, braces, or other seemingly nonsensical worries that we adults wish it was all we had to worry about, but are so central to their lives.
And sometimes those growth spurts might actually hurt.
How To Clean Plastic Retainers: 5 Easy Ways
Tween Attitude
They're own crabby attitude makes tweens moody.
Lord, help us! We are knee-deep in this one.
One 10-year-old boy, 1 nearly 12-year-old girl, and one 16-year-old boy and it's just game on.
I am tired.
If not from fighting with them.
From listening to them fight with each other.
And the drama among their friends is staggering.
I really don't remember it being like this.
Of course, all those hormones that muddle their heads have similar correlations to the hormones during pregnancy, perimenopause and also dementia, by the way,…no really….not kidding.
So maybe I have memory loss of that time, but all I can say is just WOW!.
🤪😲 I need some combination of these two emojis as my go-to reaction these days since I just can't even believe the stuff they say.
Oh and let's not forget these….🙄🤬
To dig deeper into solutions for what else may be affecting their moods, read:
You can get access to the attitude busting worksheets by clicking on the picture below.
The Puberty Talk
Puberty hormones make tweens moody.
If you haven't had "the talk" with them you're already late to the game.
The bus and schoolyard have given them a thorough if not somewhat inaccurate education in physical relationships.
By 10 my kids have heard enough words and descriptions to shock even my husband…and believe me, that's nearly impossible.
Don't think so? Think again.
My 11-year-old daughter has been regularly called a whore by classmates.
My 10-year-old son has witnessed classmates trying to look up porn on school computers and heard others label the newly hatched baby ducks in his class as "gay" because they were 2 boy ducks cuddling together.
And rape is an all too frequent word on the bus and in the schoolyard.
And we live in small town, middle-class America.
I was concerned at the beginning of the school year about my 5th grader riding the bus with high schoolers.
Turns out her own age group worries me more.
A friend recently told me that her son has cut ties with all of his friends and joined a new peer group.
The reason – his friends were having sex and drinking.
They are 6th graders!
I still played with dolls when I was 12. I am so not qualified for this!
These are some of our favorite books for this stage.
For more books for tween girls and their body changes read this.
Periods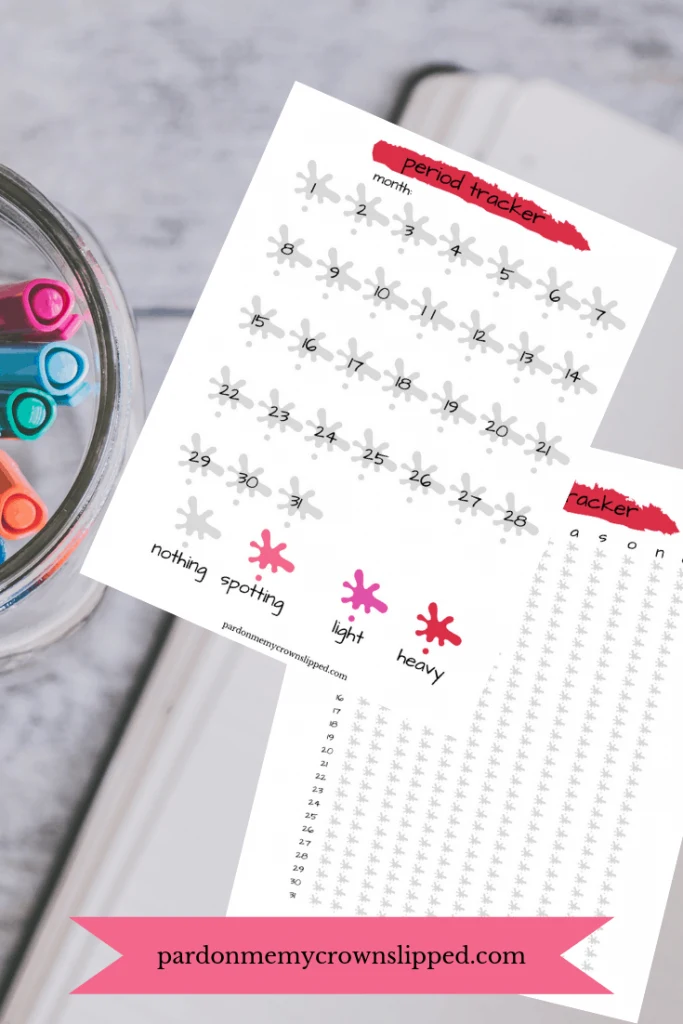 Get a bullet journal style tracker by clicking above
Unfortunately, we can't forget periods make tweens moody.
No matter the age this one has women everywhere feeling crabby.
And it's certainly awkward being the first one or last one in your friend group to start your period.
People can say all they want about handle it, grow up or women are tough.
Yes, you're right…but it still remains a decades-long pain in the…well, everywhere.
Fortunately, there are modern-day helpers.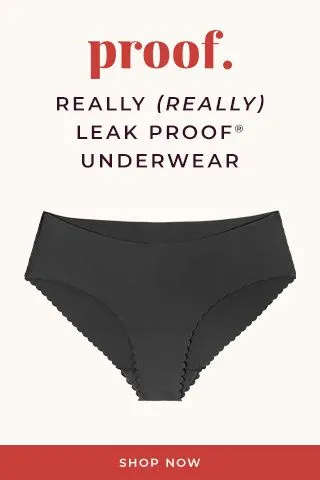 RELATED
Don't feel all alone, check out this new book from our friends over at Lose the Cape.
Made up of excerpts from parents who collaborated to create this book to let us know just how together we all are in this crazy whirlwind of parenting tweens and teens.
What crazy puberty things are happening at your house?