Whether commuting, getting errands done, or bringing kids all over the place we spend a lot of time driving.
With all that time in the car, it's essential to have your vehicle equipped with everything you might need to stay safe, comfortable, and happy.
Here are the 19 car essentials every driver should keep in their vehicle.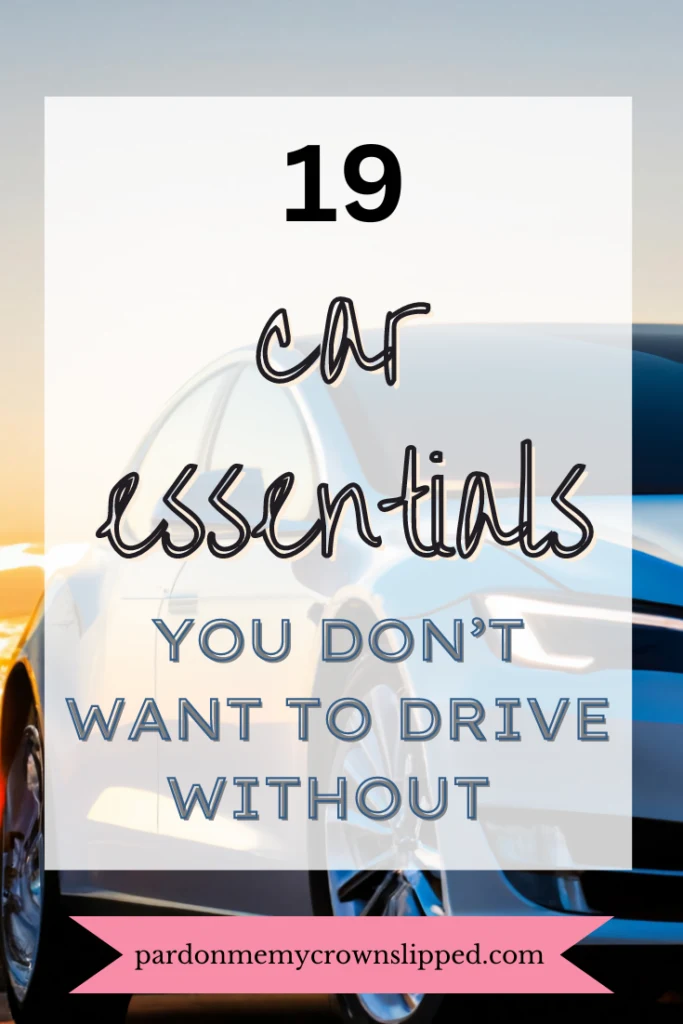 This post contains affiliate links. I will earn a commission at no additional charge to you if you make a purchase using my links. Click here to see my full disclosure policy.
1. First Aid Kit
Accidents can happen, especially when you have kids in tow. A well-stocked first aid kit includes band-aids, antiseptic wipes, and basic medical supplies to handle minor injuries.
2. Emergency Blanket
Stuck on the side of the road on a cold day? An emergency blanket can be a lifesaver. These compact, reflective blankets can keep you warm in case of a breakdown or emergency.
3. Jumper Cables
Dead car batteries seem to strike at the most inconvenient times. Keep jumper cables in your trunk to help jump-start your car or assist others in need.
While it may seem like any jumper cables will do, that's not entirely true. Ones that are thicker and offer a better charge are more likely to start your car if your battery is really low.
4. Flashlight
A good-quality flashlight is indispensable, whether you're looking for a lost phone under the seats or dealing with car trouble at night. Don't forget spare batteries.
5. Water and Non-Perishable Snacks
Having water and snacks like granola bars or nuts on hand can be a game-changer when hunger or thirst strikes, especially when kids are involved or in the event of a breakdown.
6. Basic Tools
A small toolkit with essentials like screwdrivers, pliers, and a multi-tool can save the day when minor car issues pop up.
7. Window Breaker and Seatbelt Cutter
For safety's sake, keep a window breaker and seatbelt cutter in your glove compartment in case you need to escape your car in an emergency.
8. Phone Charger
A dead phone battery can leave you feeling stranded. Keep a car charger in your vehicle to ensure you're always connected, especially when you need navigation or help in an emergency.
9. Umbrella
You never know when the weather might turn so a compact umbrella can come in handy for those unexpected rain showers.
10. Towels and Wet Wipes
Wet wipes are one of my biggest go-to's at home and in the car, and my kids aren't even small anymore. Towels and wet wipes are essential for cleaning up spills, muddy shoes, or sticky hands.
11. Car Organizer
A car organizer can help keep the chaos in check. Whether it's snacks, sports gear, or pet essentials, having a designated spot for everything can keep your car clutter-free.
12. Spare Clothes
You never know when accidents or spills might happen, so having a spare set of clothes can be a real lifesaver. A warm jacket, hat, and gloves for an unexpected turn in weather is ideal.
13. Map or Road Atlas
Even though GPS is the go-to these days, having a physical map or road atlas can be a lifesaver if you're in an area with poor cell reception or your device runs out of battery.
14. Car Manual
Your car's manual can be a handy reference for troubleshooting minor car issues or understanding warning lights on the dashboard.
15. Trash Bags
With kids in the car, trash can accumulate quickly. Keep a roll of small trash bags to keep your car clean and organized.
For more than just your trash, extra disposable plastic bags are always a good idea. Picking up after pets, carrying soiled clothing, or when illness happens on car rides, are just a few of the reasons.
16. Road Flares
Roadside emergencies are harrowing enough without having to worry about the chemicals involved with traditional road flares. These rechargeable LED flares are durable, waterproof, and give the protection you need.
17. Snow and Ice Scraper
Maybe you can park in the garage, maybe not, but the weather happens when you're out and about too. Be prepared with an ice scraper and snow remover that's both effective and doesn't damage your car.
This one has an ice scraper for your windows and a soft end for cleaning off your roof and hood without scratching like brushes.
18. Pressure Gauge
Checking your tires before heading out is always a good idea. Especially in cold weather, tires will deflate. While most air stations have a digital readout, sometimes it's out of order or you find an old-school air pump that doesn't have one.
While new-style pressure gauges with digital readouts are great, that assumes the batteries stay charged.
Or perhaps you carry along an air compressor of your own. In that case, having a pressure gauge is important. Low tires aren't the only problem, overfilling your tires can create unsafe driving conditions as well.
19. All Weather Duct Tape
You never know when something small but important could break in your car. From holding together a bumper to a temporary fix for a mirror, carrying duct tape that can hold up to weather can get you home or to the nearest service station.
Bonus Tip
When my daughter purchased her car, the first thing she did was put together a small assortment of car essentials she thought would be important to have just in case. In addition to the items above was $50 and a period kit.
Having a get-home bag in your car is an important part of staying safe on the road. See this post on creating a go-bag.
Final Thoughts on Car Essentials
These are just some of the car essentials every driver should have in their vehicle. Of course, your specific needs may vary based on your family size, location, and the ages of your kids.
The goal is to be prepared for any situation while you're out and about, ensuring a smooth and safe journey for you and your family.
Creating an Emergency Bag: Preparedness for Home, Car, and School
21 Must-Have Gifts for New Drivers Before They Hit the Road