As a mom, I know firsthand the excitement and joy that comes with choosing the perfect gift for your loved ones.
With the unstoppable train that's Taylor Swift, Swifties everywhere will be happy to get a gift inspired by their favorite pop icon.
With Taylor's music resonating with fans of all ages, there's something truly magical about her music that draws us in.
So, if you're on a quest to find Taylor Swift gifts, you're in the right place.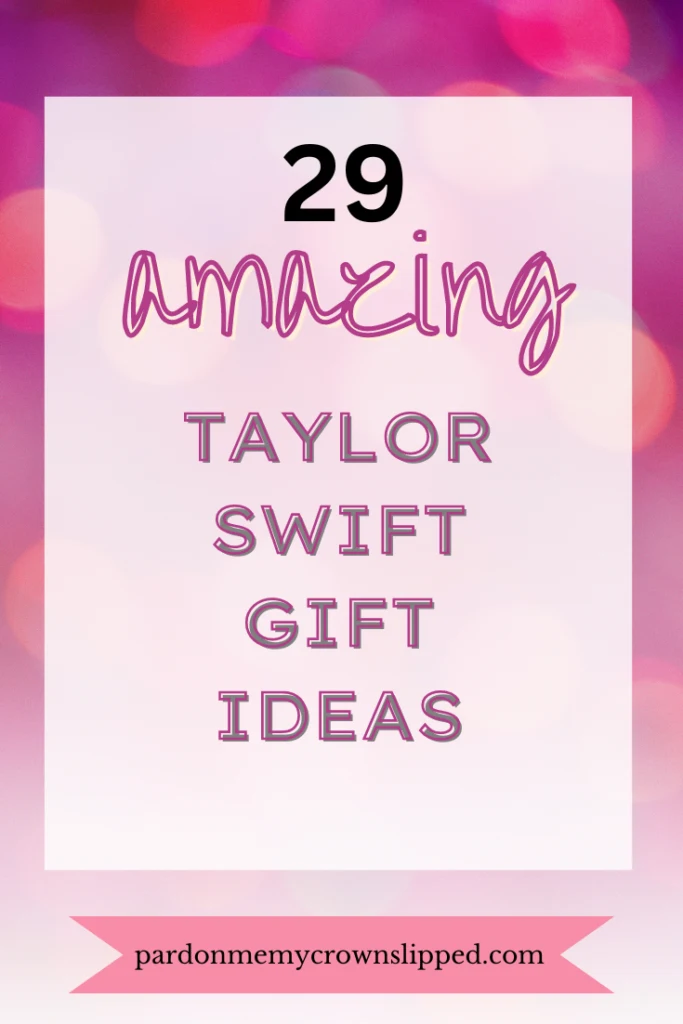 This post contains affiliate links. I will earn a commission at no additional charge to you if you make a purchase using my links. Click here to see my full disclosure policy.
Taylor Swift Gifts For Tweens
If you have young Taylor Swift fans at home, you know how they light up when they hear her songs. A great way to embrace that is with Taylor Swift merchandise.
From cute t-shirts with Taylor's lyrics to colorful posters for their room, you'll find plenty of kid-friendly options. How about a Taylor Swift lunchbox to make school a little brighter?
Taylor Swift Gift Ideas for Teens
For teenagers who adore Taylor, the possibilities are endless. Taylor Swift apparel is a big hit with this age group. Consider Taylor Swift t-shirts, hoodies, or even a stylish crop top for those summer outings.
Complete the look with Taylor Swift accessories like bracelets, necklaces, or a trendy tote bag. You can't go wrong with something that lets them show off their love for their favorite artist.
Music to Their Ears: Taylor Swift Vinyl and Collectibles
Vinyl records have made a comeback, and they make excellent gifts for Taylor Swift fans of all ages. It's like owning a piece of musical history.
You can find vinyl versions of Taylor's albums, and they often come with beautiful packaging. For the collectors, consider limited edition Taylor Swift releases or even a framed poster to adorn their music haven.
Home Decor Gifts for Taylor Swift Fans
Home is where the heart is, and what better way to show your love for Taylor Swift than by enjoying your living space with her memorabilia?
You can find Taylor Swift-themed home decor items like throw pillows, blankets, and wall art.
Create a cozy Taylor Swift corner in your home where you can enjoy her music, or surprise your child with a Taylor Swift bedroom makeover.
Taylor Swift Gifts for Fans That Love Jewelry
Taylor Swift's style is iconic, and you can incorporate a bit of it into your loved one's wardrobe with Taylor Swift fashion and jewelry.
Whether it's a delicate necklace with a lyric reference or a classy dress that channels Taylor's elegance, you'll be spreading joy through fashion.
More Taylor Swift-themed Gifts
For the bookworm Swiftie in your life, consider gifting them Taylor Swift biographies or books related to her music and journey.
There are some fantastic reads that go into the artist's life and her incredible songwriting skills. It's a gift that offers both entertainment and insight.
Create Memories: Taylor Swift Live
Attending a Taylor Swift concert is an unforgettable experience. It's a chance to see her perform live, and the excitement and energy at her shows are truly contagious.
While the concerts may be over for now, Taylor Swift: The Eras Tour documentary is still in theaters. Get cinema tickets. Even plan Taylor-inspired outfits to wear to the movie.
Take lots of photos and frame them. If the Swiftie in your life was lucky enough to attend the concert, get photos and frame one of those.
Techie Treats: Taylor Swift Tech Accessories
For the tech-savvy Taylor Swift fan, there are plenty of other gifts to be found. Think Taylor Swift-themed phone cases, laptop stickers, or even a wireless earbud case. These accessories make their gadgets even more personalized and stylish.
DIY Taylor Swift Gifts from the Heart
Sometimes, the most cherished gifts are the ones you make with love. Get crafty and create your own Taylor Swift-themed presents.
Hand-painted mugs, custom-made lyric art, or a scrapbook filled with Taylor Swift memories can warm the heart of any Swiftie.
Final Thoughts on Taylor Swift Gifts
So, there you have it, a variety of Taylor Swift gift ideas for fans of all ages. Whether you're shopping for your little ones, teenagers, or even yourself, there's a Taylor Swift-themed gift that's just right.
The beauty of being a Taylor Swift fan is that her music and style inspire joy, and your gift can do the same.
I hope this guide has been helpful in finding the ideal gift for your fellow Swifties.
More Taylor Swift-Inspired Posts
More Gift Ideas