Being a dedicated fan of Taylor Swift, I've always admired her unique style and her ability to deeply connect with her supporters.
Among the many symbols that hold significance in Taylor's world, the friendship bracelet stands out prominently.
Beyond being a mere fashion accessory, these bracelets hold the power to symbolize an unbreakable bond.
Within this comprehensive guide, I'm excited to lead you through the captivating realm of Taylor Swift's friendship bracelets.
Together, we'll delve into their historical roots, the profound meaning they carry, and even how you can craft them yourself. Prepare to infuse a touch of Taylor Swift into your friendships!
This post contains affiliate links. I will earn a commission at no additional charge to you if you make a purchase using my links. Click here to see my full disclosure policy.
History and Significance of Taylor Swift Friendship Bracelets
Friendship bracelets boast an extensive and storied past, tracing their origins to ancient civilizations. Initially conceived to embody the camaraderie shared by friends, these bracelets were often exchanged as heartfelt tokens.
Taylor Swift, renowned for cherishing personal connections, has breathed new life into the tradition of friendship bracelets, adding her contemporary flair.
Taylor Swift's friendship bracelets now serve as an emblem of solidarity among her devoted fan base, affectionately known as Swifties.
These bracelets encapsulate the unbreakable bond linking Taylor and her admirers, as well as the friendships forged within the Swiftie community.
They provide fans with a medium to not only express their unwavering affection and encouragement for Taylor but also to celebrate their mutual camaraderie.
Materials Needed to Make Taylor Swift Friendship Bracelets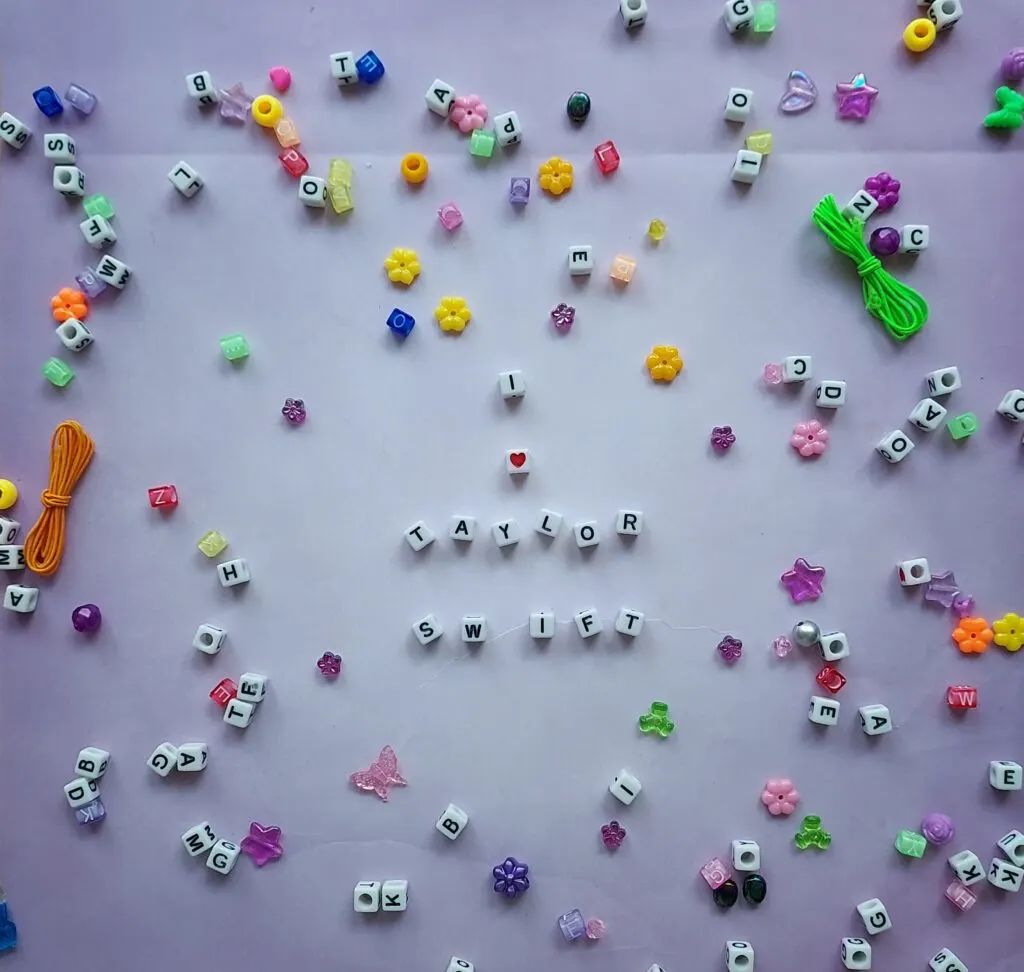 To create your own Taylor Swift friendship bracelets, you will need a few essential materials.
Here's a list of what you'll need:
Embroidery floss in various colors—Opt for hues that resonate with Taylor Swift's signature aesthetic, such as soft pastels or vibrant shades. You can also choose a soft elastic cord to create stretchy bracelets instead.
Scissors—A sharp pair of scissors is indispensable for cleanly cutting the embroidery floss.
Tape or safety pins—These will prove invaluable in holding the bracelet securely as you work on it.
Beads or charms – Alphabet beads to make words. For an added personal touch, add beads or charms that can lend your bracelet a distinctive flair. Stars, hearts, and other various colored beads to show off your style.
Step-by-Step Guide on How to Make Taylor Swift Friendship Bracelets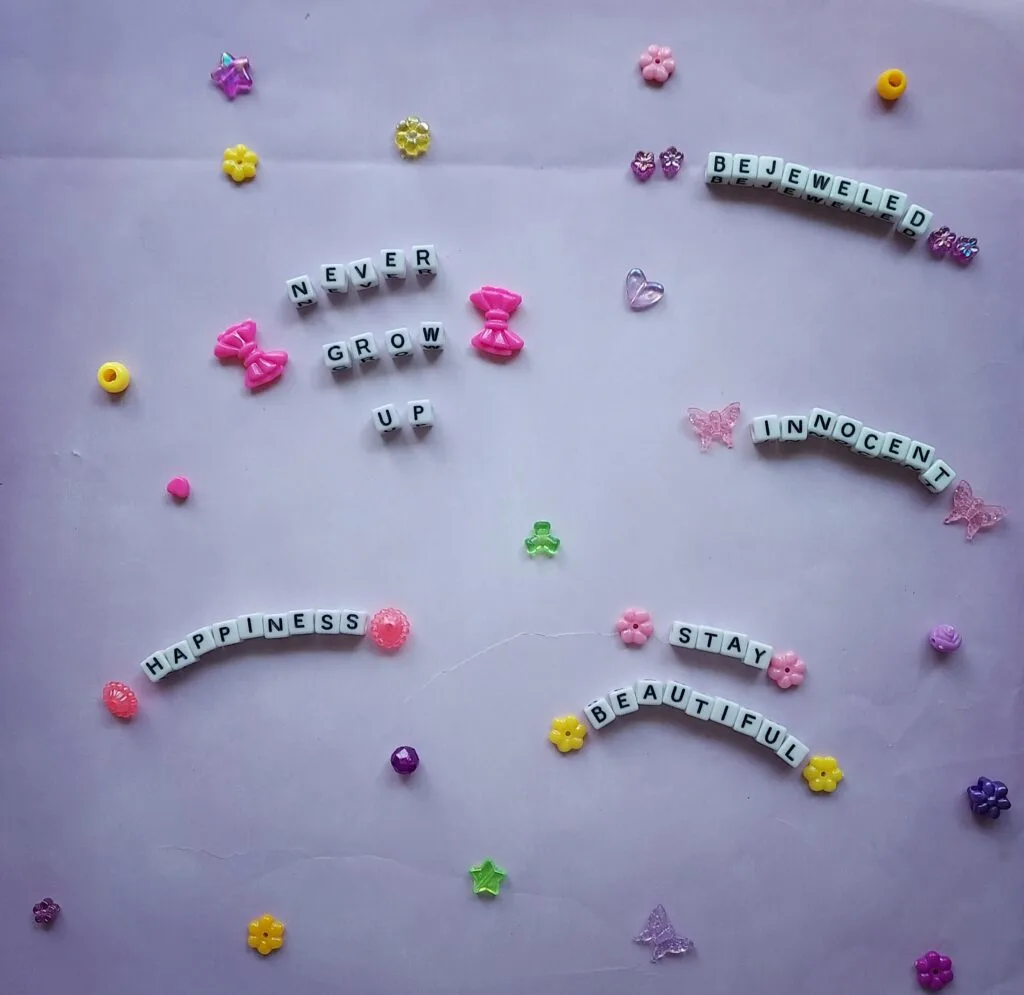 Follow these instructions to bring your creations to life:
Dive into your assortment of embroidery floss and make a deliberate selection of colors that resonate with your bracelet's vision. You have the option to pursue a monochromatic theme or blend an array of colors for a lively and eye-catching effect.
Using your trusty scissors, snip the embroidery floss into uniform lengths, aligning with your desired bracelet length. It's advisable to start with slightly longer strands, permitting adjustments through trimming if necessary.
Unite three strands of floss and fasten them together with a knot at one end. Affix the knot with adhesive tape or a safety pin, initiating the process of intertwining the strands. Continue braiding the strands until you attain the desired bracelet length.
Different beads have different hole sizes so, if using an elastic cord, which is thicker, be sure the beads will fit over the braided cords or use just one cord.
To infuse your Taylor Swift friendship bracelet with a personalized touch, use word charms that encapsulate Taylor's songs or lyrics. Slide these onto the floss strands, ensuring an even distribution along the bracelet.
Upon adding all your chosen charms, make a knot at each end of the bracelet to secure the beading in place.
Trim any extra floss and cinch the knots to enhance durability. With these steps completed, your exquisitely crafted Taylor Swift friendship bracelet is primed for display, radiating a sense of pride and connection.
Creative Ideas for Word Ideas on Taylor Swift Friendship Bracelets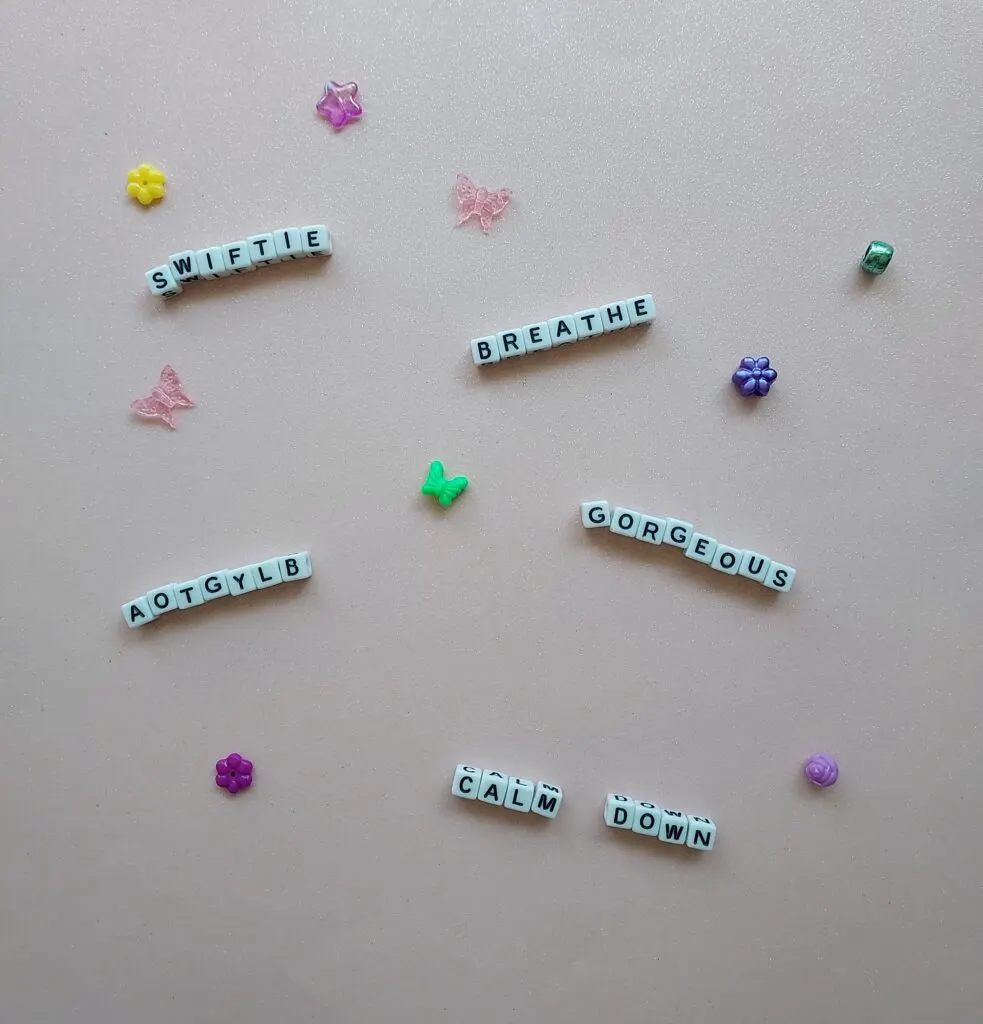 When it comes to personalizing your Taylor Swift friendship bracelet with word charms, the possibilities are endless.
Here are 111 creative ideas to inspire you:
Fearless
Eras
Love Story
Bad Blood
Lover
Delicate
Begin Again
Blank Space
Enchanted
All Too Well
Shake It Off
22
Wildest Dreams
Evermore
Folklore
Daylight
Sparks Fly
Belong with Me
Long Live
Mine
Cruel Summer
Wonderland
Hey Stephen
Stay Stay Stay
Dear John
Trouble
Hoax
AOTGYLB
Betty
Cornelia St
New Romantics
Paper Rings
Tim McGraw
The Man
Don't Blame Me
Sad Beautiful Tragic
We Are Never Ever Ever
Karma Is My Boyfriend
Karma
Holy Ground
Bejeweled
Out of the Woods
Gorgeous
(Your Name)'s Version
Salt Air
Stay Beautiful
TS – Debut
Ours
Better Than Revenge
Ronan
Innocent
Change
Never Grow Up
I Almost Do
Story of Us
Jr Jewels
Calm Down
Haunted
Invisible Strings
Tied Together
Get The Girl
Should've Said No
Breathe
Reputation
Forever and Always
The Lucky One
Style
Eyes Open
Mary's Song
All of Me Loves All of U
Starlight
I Wish You Would
This Love
Mr. Perfectly Fine
Come Back… Be Here
Last Kiss
Speak Now
King of My ❤️
Wildest Dreams
The 1
Midnight Rain
Midnight
U R In Love
Champagne Problems
Seven
Coney Island
Gold Rush
Ivy
Marjorie
Happiness
Cowboy Like Me
Dorothea
It's Time to Go
London Boy
Tolerate It
Willow
No Body, No Crime
Babe
All Is Well
Lost in the Echo
Second Chances
Better Man
August
Afterglow
Echoes of Forever
Painted Promises
1989
Starry Serenade
Neverending Harmony
Swiftie
Swifties
Feel free to mix and match these word ideas or come up with your own unique combinations. The key is to choose words that resonate with Taylor Swift's music and the messages she conveys through her lyrics.
Styling Tips for Taylor Swift Friendship Bracelets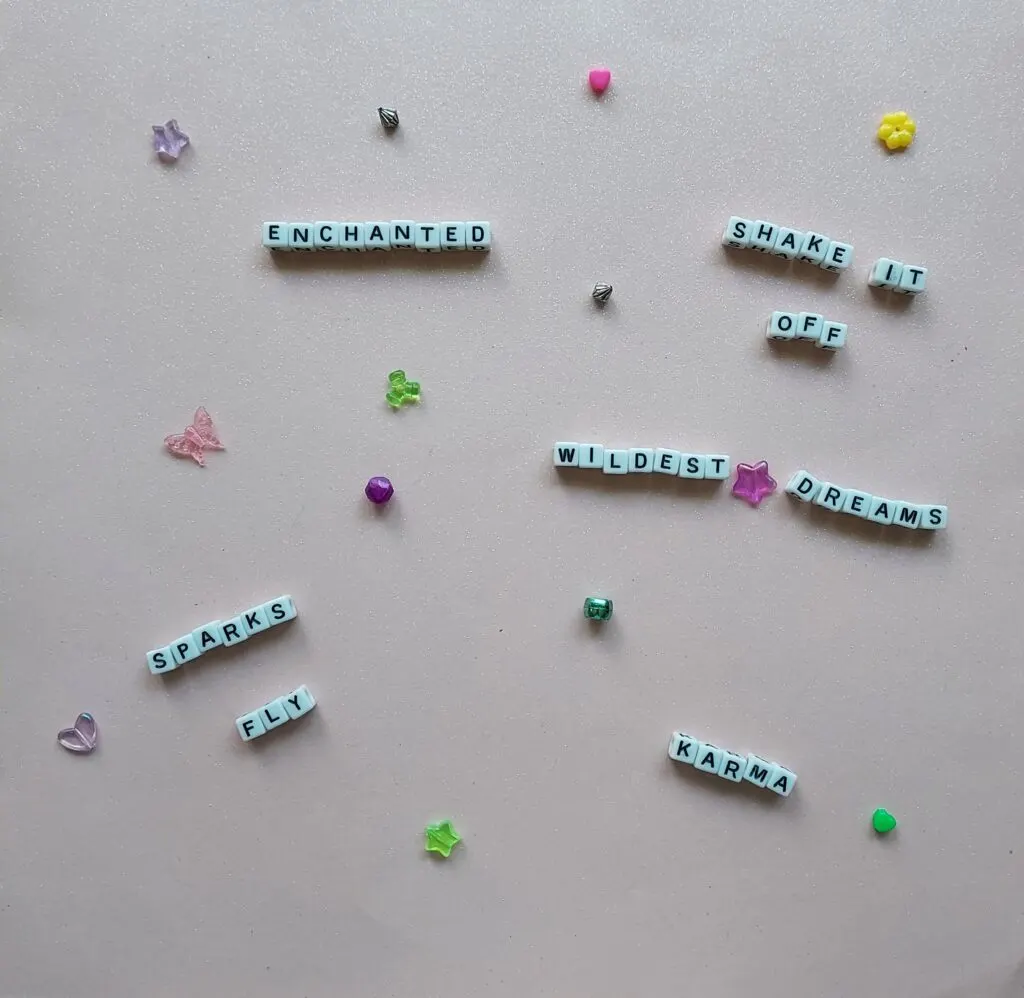 Congratulations on making your own Taylor Swift friendship bracelet!
Here are some style tips to effortlessly sport your friendship bracelet:
Stack them up—Taylor Swift friendship bracelets exude charm when stacked together. Don't hesitate to mix and match various colors and textures, resulting in a distinctive bracelet assortment.
Pair with other jewelry—These friendship bracelets wonderfully complement your existing jewelry collection. Experiment by combining your Taylor Swift friendship bracelet with delicate gold or silver bracelets, achieving a fashionable and up-to-date appearance.
Dress them up or down—Taylor Swift friendship bracelets showcase their versatility, adapting to any event. They can effortlessly accompany a casual t-shirt and jeans ensemble for a relaxed vibe or be paired with an elegant little black dress for a night out.
Mix and match with outfits—Experiment with diverse color combinations to match your attire. Harmonize the bracelet's hues with your clothing choices, crafting a harmonious and trendy outlook.
Remember, the essence of styling your Taylor Swift friendship bracelet lies in embracing enjoyment and expressing your individual style.
Personalizing Taylor Swift Friendship Bracelets as Gifts
Taylor Swift friendship bracelets stand as the ideal gift for your fellow Swiftie companions. Elevate the sentiment by personalizing these bracelets.
Here are some concepts to render your Taylor Swift friendship bracelets truly exceptional:
Birthstone beads—Integrate birthstone beads that symbolize each friend's birth month.
Initial charms—Engrave the initials of your friends on the bracelets, adding a touch of personalization.
Song lyrics—Select a line from a cherished Taylor Swift song that resonates with your friendship, and include it as a charming addition.
Inside jokes—Weave in shared inside jokes or treasured memories by incorporating word charms that encapsulate those unique moments.
Customized color combinations—Opt for colors that hold meaning for each friend, reflecting their favorite hues or shades that represent their personalities.
By infusing your Taylor Swift friendship bracelets with personalized touches, you're not only gifting exquisite jewelry but also presenting a profound symbol of your enduring friendship.
Final Thoughts About Taylor Swift Friendship Bracelets
Taylor Swift friendship bracelets transcend mere fashion accessories. They embody the solidarity and affection within the Swiftie community, standing as a tangible link between Taylor and her devoted fans.
Crafting your own Taylor Swift friendship bracelets extends beyond style; it's a declaration of esteem for Taylor and a celebration of the profound bonds you've fostered on this journey.
Embrace this opportunity by gathering your materials, adhering to the comprehensive instructions, and unleashing your artistic flair as you fashion and share these heartfelt bracelets.
Together, let's celebrate the harmony of friendship with Taylor Swift, radiating our shared devotion!