If you're a fan of pop sensation Taylor Swift and want to host a celebration of her music and clothes, you've come to the right place.
I'll go over everything you need to know in this guide to help you throw a Taylor Swift-themed party that will have your guests singing and dancing all night.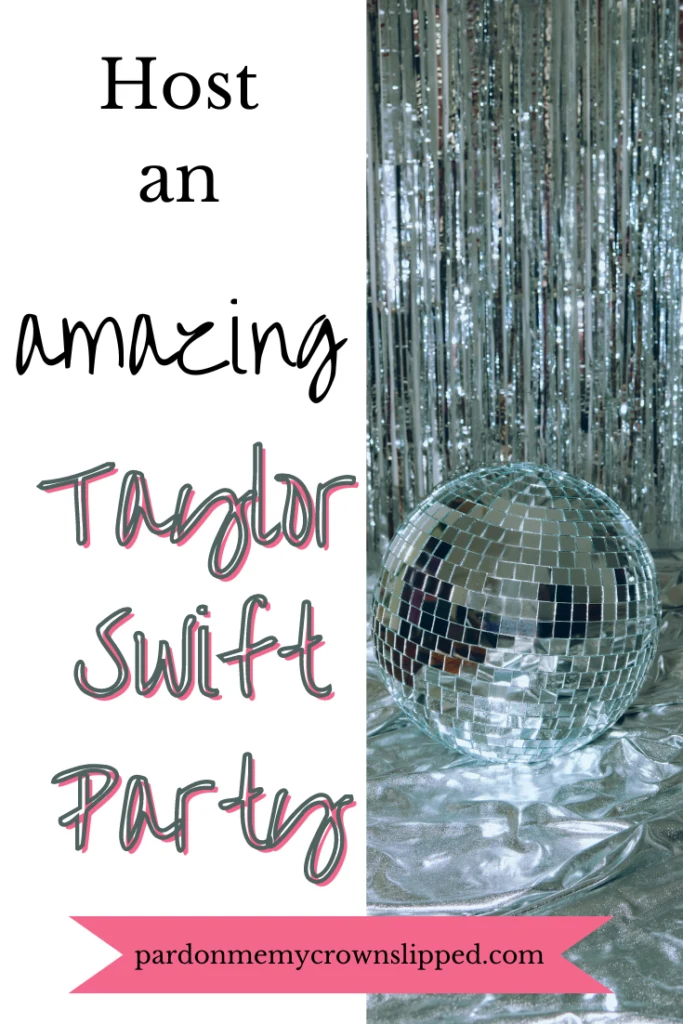 This post contains affiliate links. I will earn a commission at no additional charge to you if you make a purchase using my links. Click here to see my full disclosure policy.
Planning and Organizing Your Taylor Swift Party
It's time to start planning and organizing your Taylor Swift party.
Make a list of all the things you have to do, from mailing out invitations to getting supplies like food and decorations. Plan your spending and distribute your resources wisely.
Use online tools to track RSVPs and distribute digital invitations. You will find it simpler to keep track of the number of attendees and adjust your planning as a result.
Find printed and digital Taylor Swift party invitations on Etsy.
To get your attendees pumped and ready, don't forget to mention the party's theme and any costume requirements in the invitation.
If paper is your thing try these helpful printouts:
Setting the Scene: Taylor Swift-Inspired Decorations and Ambiance
Set the scene with decorations that are inspired by Taylor Swift's songs and style to make the ideal atmosphere for your party.
Pick a color scheme that captures Taylor's style to start. Consider using glitter, soft pastels, and a little bit of vintage charm. For a whimsical mood, hang paper lanterns and string lights.
Create a "Taylor Swift" wall to showcase posters, concert tickets, and album covers. Additionally, you may add some personal touches by putting images of Taylor Swift or even printing and framing your favorite phrases.
To create the right atmosphere, play some of Taylor's songs in the background.
Perhaps you've chosen to focus a theme on one particular Taylor Swift tour, album, or even song. Just a few options are:
Eras
Fearless
Speak Now
1989
Red
Reputation
Evermore
Folklore
Midnights
Lover
Dressing the part: Costume Ideas for a Taylor Swift-Themed Party
If you don't look the part, no Taylor Swift party is complete! Invite your visitors to arrive decked out as their preferred Taylor Swift character from a particular era or music video.
There are countless costume options, from the country-inspired outfits of "Love Story" to the 1950s-inspired style of "You Belong with Me."
Encourage those who prefer a more relaxed appearance to wear Taylor Swift memorabilia or concert t-shirts. Even better, provide them the chance to accessorize their attire with crimson lipstick, cat ear headbands, and sparkling jewelry.
For outfit inspiration: 22 Gorgeous Taylor Swift Costume Ideas for Halloween … Ready For It?
Delicious Treats and Drinks Inspired by Taylor Swift
Any party needs food and beverages, and Taylor Swift-themed parties are no different.
Since there are Swifties of all ages, some of the drinks listed here are for adults. I do not in any way support underage drinking.
Serve tasty desserts and beverages that are influenced by the music and lyrics of Taylor Swift to add some flair to your menu.
You can make "Red" velvet cake pops, "Shake It Off" popcorn with various spices, and "Blank Space" cupcakes with edible glitter as snacks. Don't forget to give each gift a witty song title to give it that extra Taylor Swift touch.
You can serve "Bad Blood" cocktails with blackberry liqueur and vodka or "Love Story" mocktails with pink lemonade and a dash of cranberry juice.
Think about creating a trademark drink that is named after one of Taylor's albums, such as a champagne and elderflower liqueur "1989" cocktail.
Get more ideas at Delish for some yummy Taylor-inspired recipes.
Crafting the Perfect Playlist: Taylor Swift's Greatest Hits and Fan Favorites
A playlist of Taylor Swift's best songs and fan favorites is a must-have for any party she throws.
Consider asking your guests to submit their favorite Taylor Swift songs before the party to make the playlist more engaging.
By doing so, you can consider their suggestions and give them a sense of involvement. It's important to maintain a positive vibe and incorporate both fast-paced music for dancing and slower tunes.
Fun and Games: Taylor Swift-Themed Party Activities and Entertainment
With party games and entertainment with a Taylor Swift theme, you can keep your guests engaged all night long.
Provide a karaoke machine so that attendees can participate in their favorite Taylor Swift songs. Even better, make it a contest and give out awards for the top performances.
A Taylor Swift trivia game is another enjoyable pastime. To discover who knows the most about their favorite singer, ask your guests a series of questions about Taylor's life, career, and music.
You can compete in a dance-off to determine who can best imitate Taylor's well-known dance movements.
Capture the Memories: Photo Booth and Props for a Taylor Swift Party
By putting up a photo booth with Taylor Swift-themed props, you can ensure that the memories of your Taylor Swift party are preserved.
Give visitors access to wigs, sunglasses, microphones, and other props so they may express their inner Taylor Swift. Additionally, you may make personalized photo booth frames with song lyrics or album covers by Taylor Swift.
Create a hashtag just for your party to increase the fun factor and invite your attendees to post their pictures on social media. Everyone will be able to reconnect with Taylor Swift fans all over the world and relive the unforgettable moments.
Party Favors and Giveaways for Taylor Swift Fans
Make your guests feel like true Taylor Swift fans by surprising them with party gifts and freebies. Think about giving out engraved keychains or bracelets with their favorite Taylor Swift songs on them. Additionally, you may make personalized Taylor Swift-themed t-shirts or tote bags for your guests to take home as souvenirs.
Make bracelets for your guests or use them as a party activity with this tutorial, complete with ideas for sayings: The Ultimate Guide to Styling and Gifting Taylor Swift Friendship Bracelets: Rock Your Friendship with 100+ Ideas
Final Thoughts On Throwing A Taylor Swift Party
Finally, throwing a Taylor Swift celebration is a great way to honor her career and legacy. You'll make everyone's experience one to remember by setting the mood with Taylor Swift-inspired decorations, encouraging your attendees to dress the part, and creating the ideal soundtrack.
Don't forget to organize entertaining games and entertainment, provide delectable treats and beverages with Taylor Swift inspiration, and provide party favors and prizes that will make your guests feel cherished and loved.
Your Taylor Swift party will be a night to remember for all of the fans in attendance with appropriate planning and organization.
So go ahead and throw the ultimate Taylor Swift party to lavishly honor her music's power!
Related