Looking for some cool outdoor birthday party ideas for teens?
If so, you have come to the right place! In this blog post, I'll share some great ideas for birthday parties that will help make your teenage birthday party so much fun.
From a picnic in the park to a day at the beach, I've got you covered with some of the best teen birthday party ideas out there!
So what are you waiting for? Start planning a teen party today!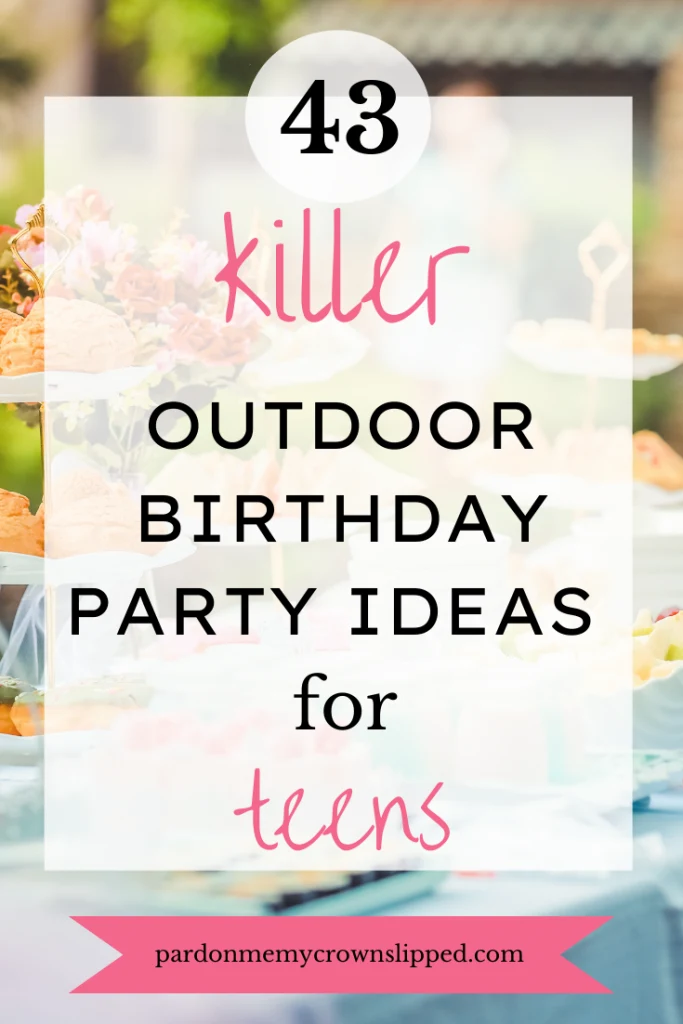 This post contains affiliate links. I will earn a commission at no additional charge to you if you make a purchase using my links. Click here to see my full disclosure policy.
How to Plan a Teen Party?
Before you start planning for a teen party you must discuss any birthday party ideas with your own teen.
A great teen party starts with a great teen party idea.
While there are a lot of cool birthday ideas for teens out there, you have to know what you have to work with.
What size yard do you have?
Will it have to be held at another location?
How many birthday party guests can you fit in vs. how many does your teenager want to invite?
What's the budget?
What season is the birthday party being held?
Get these printables to get you started planning your teen party:
Scavenger Hunt Party
This is a great way to get everyone outside and active. Split the group into teams and give them each a list of items to find.
Supply each teen with a list of items they must find or photograph with their cell phone during the scavenger hunt, and award prizes to the winners.
The first team to find all of the items on their list wins! You could even make it more challenging by adding a time limit or requiring that the items be found in alphabetical order.
As a variation, you can use the social media app, Snapchat, for this kind of party. Once they find the item, they have to snap their proof and then they get the next clue. It's a great idea for older kids.
49 Outdoor Scavenger Hunt for Teens: Ideas They'll Love
Barbie Party
This fun party can be done in so many ways. Barbie goes to Paris, Malibu Beach Party, or Barbie Pool Party.
Picnic Party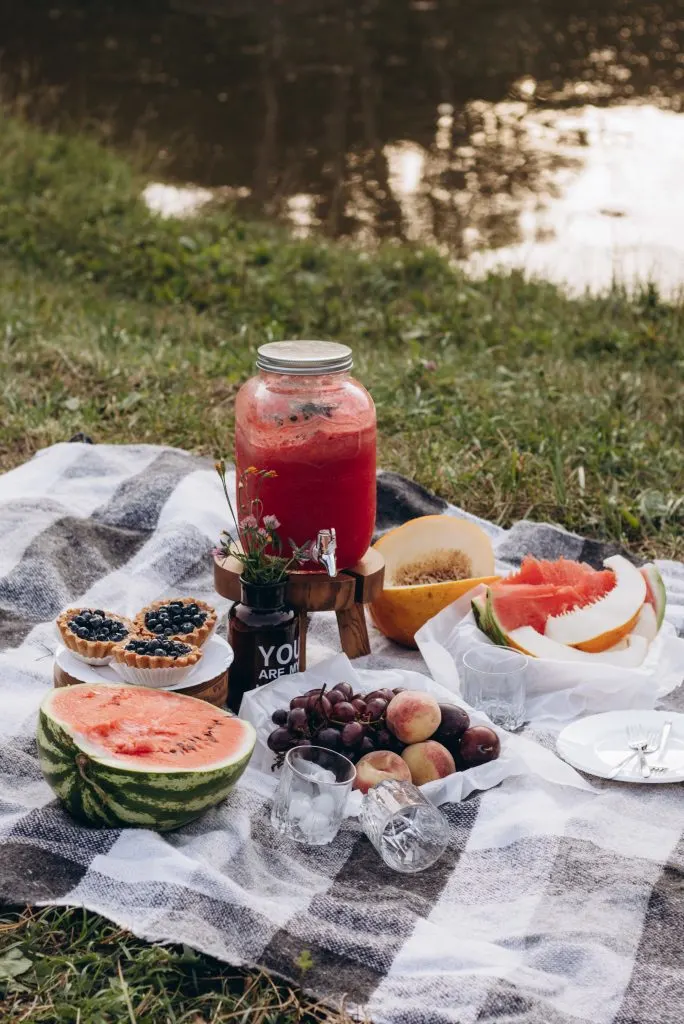 If you want to celebrate outside, this is a great theme for any occasion. Set up some picnic tables or blankets on the lawn and have fun!
You can also bring along games like horseshoes, frisbee golf, or badminton to keep everyone entertained while they wait for their food.
Garden Tea Party
This could be a sophisticated party with table linens or picnic style. Perhaps it's even a Mad Hatter Alice In Wonderland sort of tea party. Read all our ideas for hosting a tea party.
Aloha-Themed Party
Make sure there's plenty of Hawaiian food and games at your party!
You can also decorate with tropical flowers to get in the mood. Serve a pupu platter as well as mai tais or other cocktails for adults (if you're going all-out). If possible, have someone who knows how to do hula dancing demonstrate.
Throwing the Ultimate Luau Party: A Guide to Fun, Food, and Hawaiian Vibes
Beach Party
What could be more perfect for a summer birthday than a day at the beach?
Lake or ocean, if your teen loves the water, this is definitely the party for them! Make sure to pack plenty of sunscreen, snacks, and drinks.
Backyard Beach Party
If you don't live near the beach, no problem! You can create your very own backyard beach party.
Set up a few kiddie pools with sand, and put out some beach chairs, and some tents cabana-style. Fill a few kiddie pools with water, beach balls, and pool noodles.
If you really wanted to go all out, you could dump a large amount of sand in your yard if you're prepared to kill the lawn.
Ninja Warrior Party
If you have a decent-sized backyard, set up obstacle courses. If not, take the party to a park or local attraction with outdoor areas perfect for playing games.
Dance Party
The dance party is a great way to get everyone moving, and it doesn't require much planning. Just turn up the music and let the kids have fun!
Decade Themed Party
Give your teens a chance to experience your teenage years or another decade with these birthday party ideas.
Glam it up with the '20s.
Do-wop to the '50s, don't forget the hula hoops.
Groove to the '60s with flowers in their hair.
Disco through the '70s.
Rock with the '80s
Hip Hop with the '90s
Party like it's 1999!
Backyard Bowling Party
If you have a backyard, set up some bowling pins and let the kids go to town! This is a great activity for all ages.
This is a great party to pair with making your own pizza stations.
You can see pizza party ideas by reading: 9 Fantastic Birthday Party Themes for Tween and Teen Girls Will Love
Sports Party
Choose from a variety of sports themes, such as basketball, football, or volleyball. If you are having trouble deciding on one theme, in particular, try picking a few and combining them for an even more exciting experience!
Glow in the Dark Party
Invite friends over for fun night games with glow sticks and colorful treats. Have black lights on hand in case the party needs to move indoors.
Read 7 Easy Party Ideas for Tween and Teen Boys to get more details on this fun party. (not just for boys😉)
Hiking Party
This party idea is perfect for the outdoor enthusiast in your life. Just take everyone on a hike, and make sure you bring plenty of water!
You could even set up an obstacle course along the way for added fun.
Murder Mystery Party
Start looking at mystery games adapted for your teenagers' birthday. This may then be narrowed down depending on interest.
They are available online and in many stores, even some great ones for free. The character's profile is usually given before the event, so encourage everyone to appear prepared for a role.
This birthday party idea can happen during dinner and is ideal for anyone who enjoys theatre! Don't forget the crime scene tape.
Backyard Campout
Have a fire and roast marshmallows. Tell scary stories and play music around the campfire. Set up tents in the backyard for an authentic camping experience.
This birthday party idea for teens is perfect for a slumber party.
Camping Trip
Want the party to go a little longer or to another location? Take your teen camping for their birthday! They'll love having a sleepover party under the stars.
BBQ Party
Grill up some burgers and hot dogs for a backyard BBQ party that everyone will enjoy. Just add music, chairs, and some fun backyard games.
RELATED:
45 Best Party Juice Recipes for a Crowd: Perfect Drinks to Serve at Your Next Gathering
Escape Rooms
If your teen loves solving clues, an escape room is a perfect birthday party idea. With a little creativity escape room games can be modified for outdoors. Some great ones can be purchased or even found online for free.
Campfire Party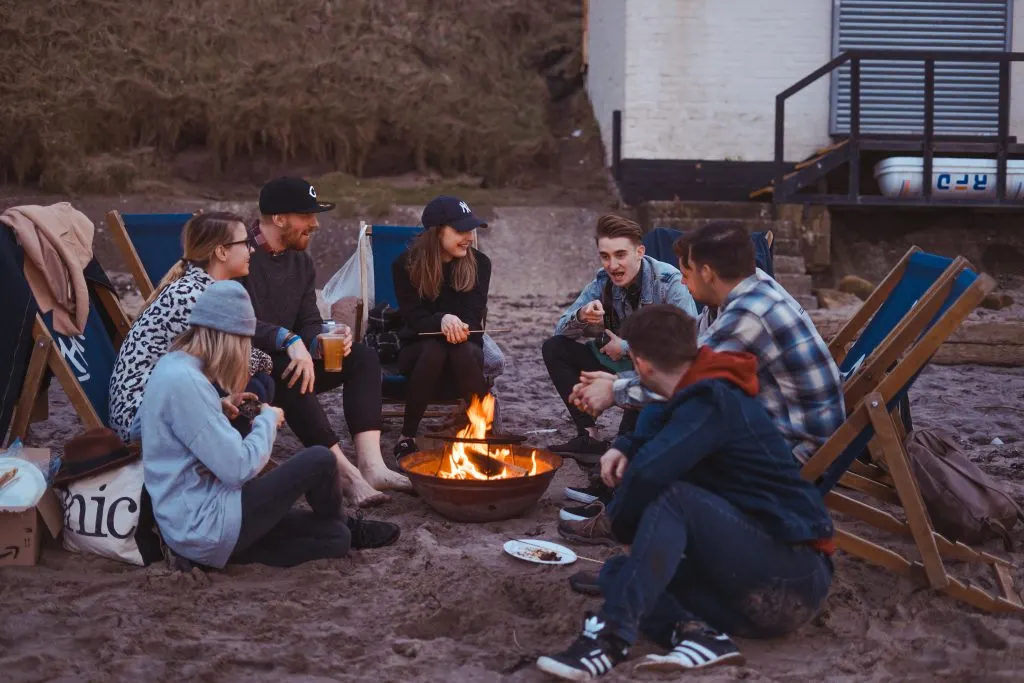 Throw a campfire party and roast some s'mores! You can also tell stories or play games around the fire. Just make sure you have plenty of blankets handy to keep everyone warm.
Pool Party
Have a pool party for your teen's birthday! They'll love the chance to cool off in the summer heat. Have your teen's friends over for a day of swimming and sunbathing.
If you have access to a pool, this is definitely the way to go! Make sure to have plenty of pool toys and games, as well as snacks and drinks. You may also want to consider hiring a lifeguard or renting out a cabana for extra fun.
Carnival-themed Party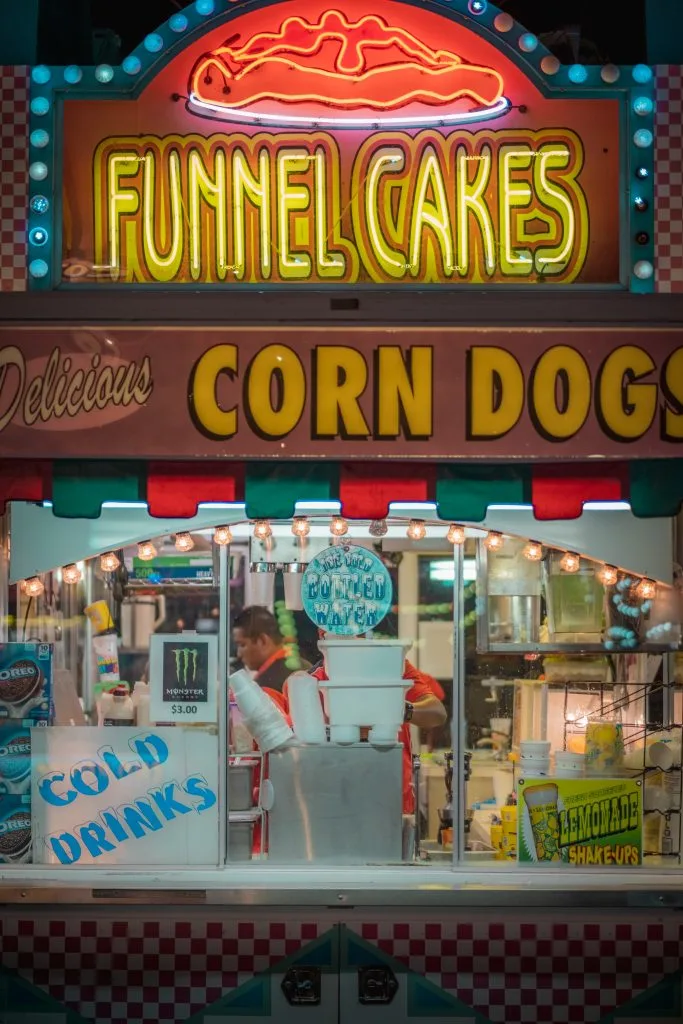 Who doesn't love a carnival?
Install different carnival areas like traditional carnival games like ring toss, skeeball, or balloon pop. Have someone who can do face painting or just add a DIY booth.
Put together concession stands with hot dogs, nachos, and popcorn along with sweet treats like cotton candy and snow cones.
Set up some games, like ring toss, and balloon pop, you could even rent a dunk tank, and let the good times roll!
If it's a birthday girl, she could be crowned carnival queen.
Set up a photo booth for the perfect party souvenir.
Mexican Fiesta Party
If you want to host a fiesta party, make sure there are enough tacos and plenty of side dishes for everyone! You may also want to consider hiring a mariachi band or playing some traditional Mexican music.
65 Tasty Taco Party Side Dishes Sure to Please
Hollywood Theme Party
Decorate your house for walking the red carpet with pictures of celebrities or Walk of Fame stars. Have all guests dress up as their favorite movie stars.
Complete with a backdrop for posing for pictures taken by the paparazzi.
Serve movie-themed food and drinks like popcorn and soda. You could even have a screening of your favorite teen movie!
Karaoke Night
Sometimes it's fun to dance and sing! A karaoke theme party is an excellent choice if you love performing. Put a stage on a cool backdrop to let guests look like stars!
For karaoke game ideas see: 43 Party Games for Teenagers
Rockstar Party
This party is perfect for the music lover in your life. Just decorate with rockstar posters and paraphernalia, and serve snacks like pizza and chips. You can even have a band or DJ playing music throughout the night!
Does your teen love country music instead?
Switch it up with cowboy hats, and haybales and make a dance floor ready for line dancing fun.
Unleashing the Ultimate Taylor Swift Party: A Guide to Celebrating in Style
Outdoor Movie Party
Rent a few movies and set up a movie theater in your backyard with snacks and drinks. Set up a projector in the backyard and have a movie night under the stars.
Choose your favorite teen movie (or movies) and have a movie marathon party or binge the latest season of a teen favorite.
Don't forget the popcorn bar!
Rent a Food Truck
If you're looking for a unique way to celebrate your teen's birthday, why not rent a food truck?
There are tons of different types of food trucks to choose from, not just ice cream, so you're sure to find one that your teen will love. It pairs well with most themes.
Tie-Dye Party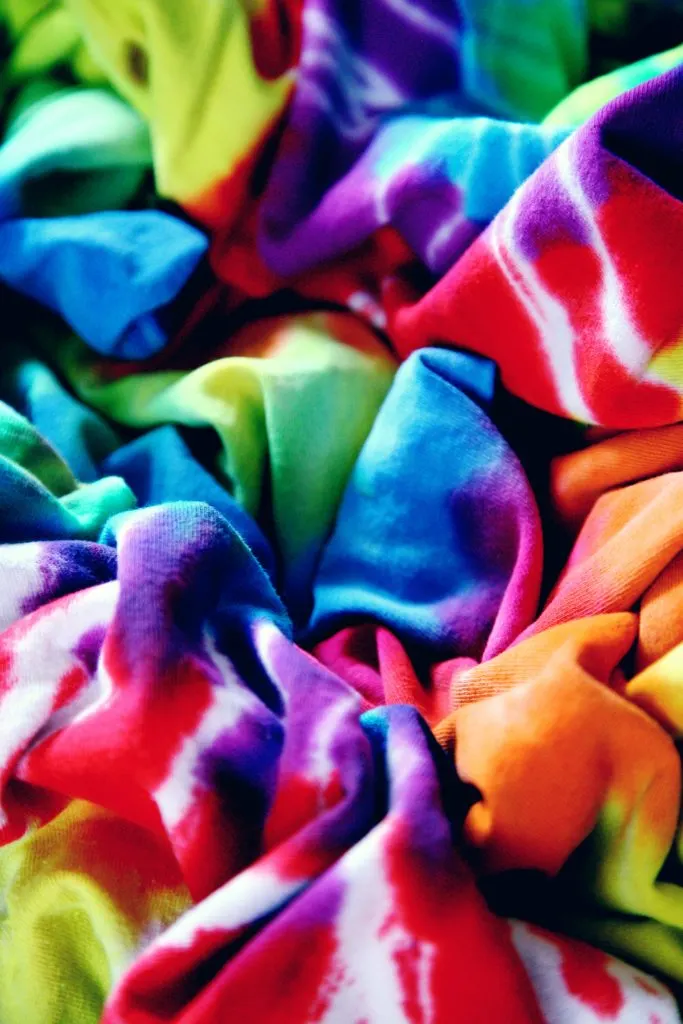 Have a tie-dye party with your friends and make some cool shirts, hair ties, or even shoes. Make sure you have plenty of food, drinks, and music to keep everyone happy throughout the night!
Use bright colors for decor and food.
Costume Party
Not just for Halloween, costume parties are fun anytime. They can be themed to be a decade like the 80s, with a favorite teen show like Stranger Things, or to dress up for a murder mystery.
Amusement Park
If your teen is looking for a unique birthday party idea, why not try hosting their party at an amusement park or theme park? They'll love the chance to go on some rides and explore all the different attractions.
Gaming Party
What teen doesn't love video games? How about hosting a fun gaming party by setting up multiple screens and video game consoles?
This party is perfect for teens who are into gaming. You can even rent gaming trucks that provide just this type of party for you. They pull up with everything housed inside the truck ready for play.
More on video gaming parties: 7 Easy Party Ideas for Tween Boys
Music Festival Party
Lollapalooza in your backyard? Woodstock anyone?
Depending on the type of music you choose to feature will help you decide on food and decor. Throw out picnic blankets and chairs. Perhaps a stage with karaoke or a band depending on budget or interest. A volleyball net, frisbee, or some hackeysacks for game-playing fun.
Color Wars
Color wars are one of the most popular party themes for teens. Each player is assigned a color and a team.
Teams compete against each other in various games such as capture-the-flag, paintball, or water balloons filled with colored liquid. The last remaining team wins!
Paint Ball
Plan a paintball party for your teen and their friends. This is perfect for older teens who want to have some fun. Just make sure you have plenty of snacks, drinks, and paintballs!
If you want the same type of party without the messiness or cost associated with paintball, using water guns, Nerf guns, or a nighttime laser tag party is a fun idea for a birthday celebration.
Zip Line Party
If your teen loves adrenaline rushes, why not host a zip line party? You can set up a zip line in your backyard or even go to an amusement park that has one. This is sure to be a birthday party they'll never forget!
Ice Skating or Roller Skating
Whether in a rink, a pond or if you have a large flat area to create a skating space yourself, this is a great party idea for kids of all ages.
For ice skating have plenty of hot chocolate and blankets. You could even have a DJ playing music throughout the night!
Volunteer Party
If your teen is looking for a unique way to celebrate their birthday, why not try hosting it at an animal shelter? They'll love spending time with all the animals and helping them feel better.
Instead of gifts, party guests can donate much-needed items or money to the cause. You never know, maybe new best friends will find a home.
37 Volunteer Opportunities for Teenagers to Get Involved Today
Shopping Party
We know that teens love shopping so you could host a party where each guest gets a few bucks to spend at the mall. This is perfect for teens who love to shop! You could even have a contest to see who can find the best deal! Afterwards, put on a fashion show.
Masquerade Ball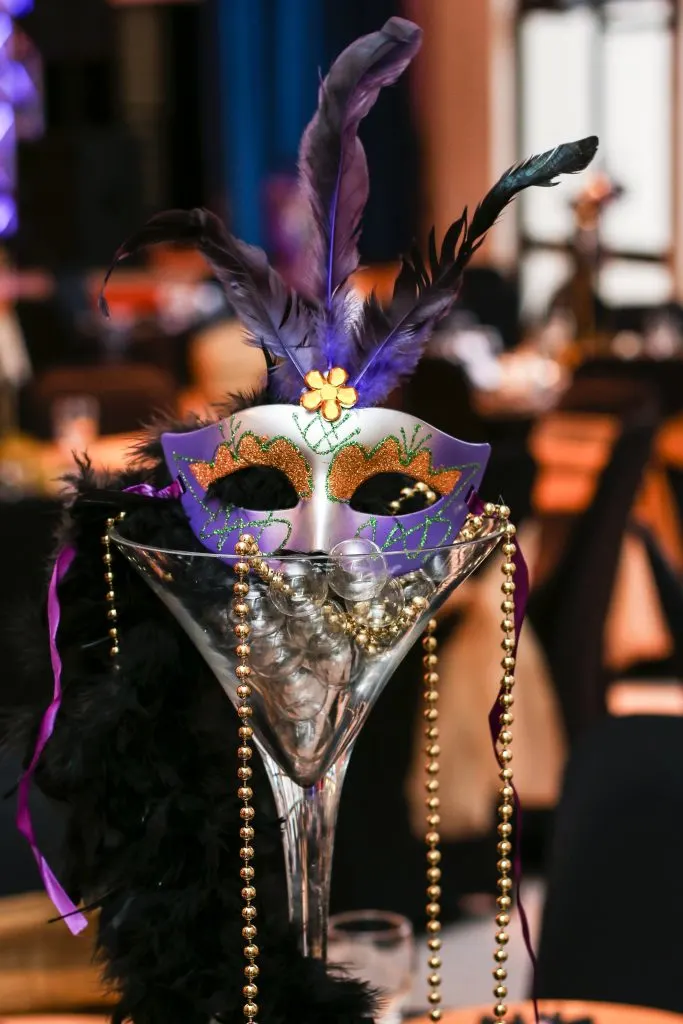 If your teen wants to have a more formal party, why not try a masquerade ball? This is perfect for teens who want to dress up and have a night of fun. Just make sure you have plenty of snacks and drinks!
Fear Factor Party
If your teen is looking for a party that will get their adrenaline going, why not try a Fear Factor party? This type of party is perfect for older teens who want to have some fun. Just make sure you have plenty of snacks, drinks, and items for a fearfully good time!
Dinner Party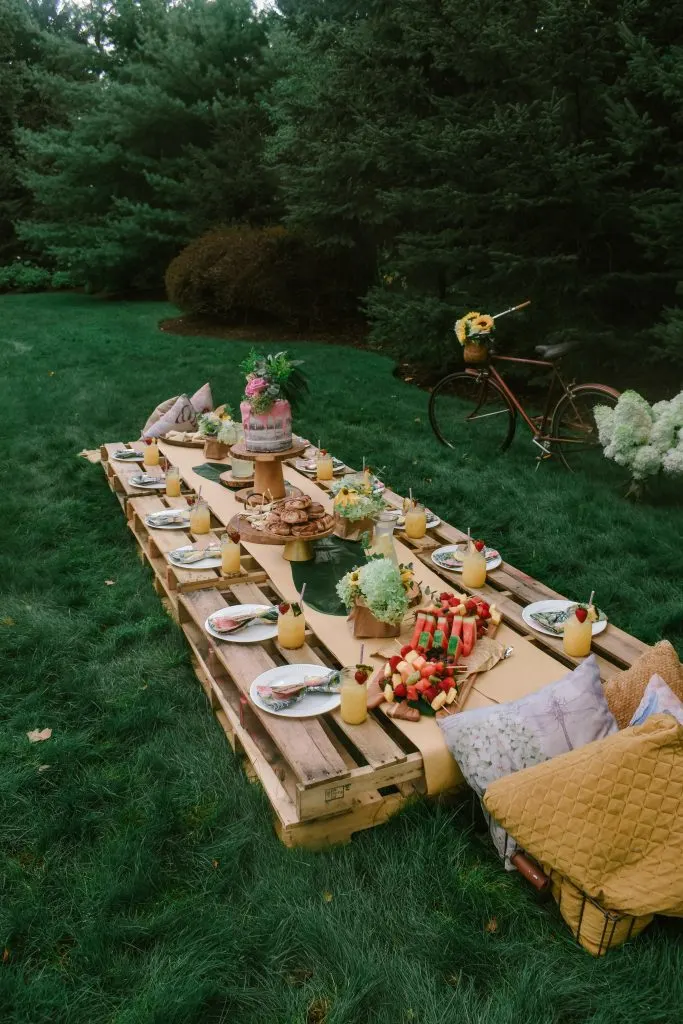 One of the more sophisticated party ideas a teenage girl might enjoy is this great party. It could be formal or have an earthy garden vibe. Even a boho theme by making a low table using pallets and guests can sit on large pillows. Easily complete the birthday celebration decor with some fairy lights and relaxing music.
Turn it into a tea party with these ideas:
A few ideas on hosting a teenage birthday party
Whichever one of these birthday ideas for teens you decide on make sure you have party favors and fun games to be sure your party guests have a great time. Most teens are happy with junk food, a birthday cake, and a few hours with all the kids.
45 Best Party Juice Recipes for a Crowd: Perfect Drinks to Serve at Your Next Gathering
A photo booth is one of my favorite teen party ideas to be sure to capture the memories.
Birthday Party Games
Including a classic game like flashlight tag, board games, or card games is a good idea to keep everyone entertained all night long.
Looking for the perfect games to fit with your fun birthday party?
Good news, try one of these posts:
Need more themes:
We hope that these outdoor birthday party ideas have given you some inspiration! No matter what type of party you decide to throw, we are sure that your teen will have a blast.
What kinds of outdoor birthday party ideas for teens have you tried?
Were they a hit with your teen?