Are you prepared to host an adult and teen Barbie party to fulfill your childhood fantasies? For birthday celebrations, bachelorette parties, or just to relive the thrill of playing with your favorite Barbie dolls, this nostalgic and entertaining party theme is ideal.
You may create an unforgettable event that will transport your guests to the world of Barbie by including a little bit of Barbiecore fashion and the vivid spirit of the iconic doll.
I'll lead you through every step you need to take to organize the best Barbie party, from picking the ideal location to choosing entertainment and décor that perfectly embody Barbie.
**Disclosure – I've included some ideas that are only appropriate for adults such as pink alcoholic drinks. I don't condone underage drinking, all drinks can be changed to exclude alcohol. 🙂
This post contains affiliate links. I will earn a commission at no additional charge to you if you make a purchase using my links. Click here to see my full disclosure policy.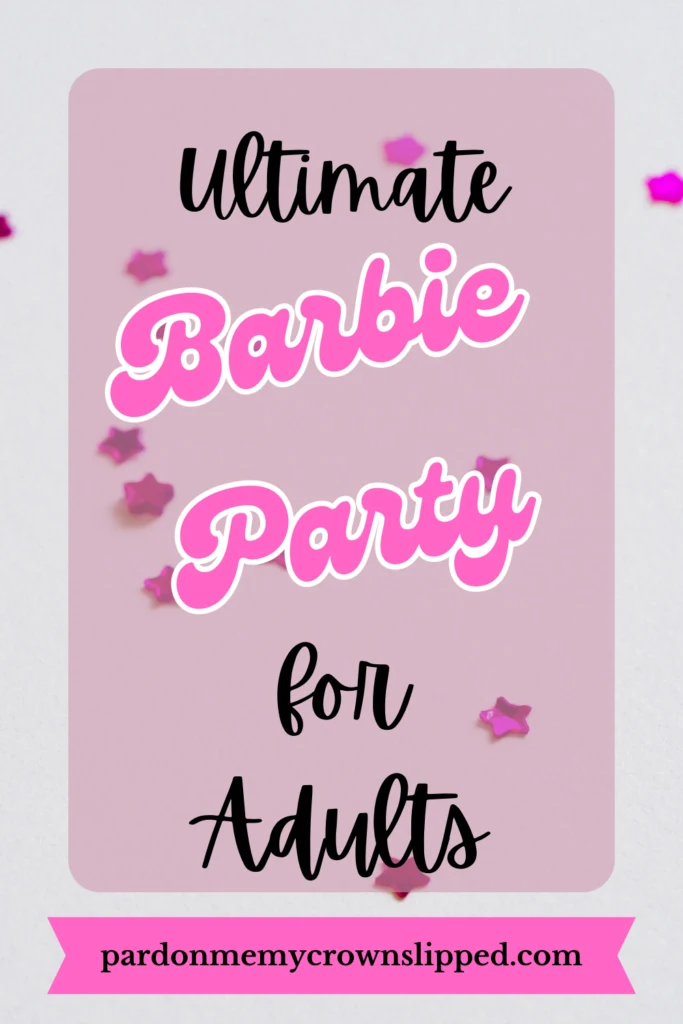 Choosing the Perfect Barbie Party Venue
The location is crucial when planning a Barbie-themed party for adults and teenagers since it establishes the tone for the entire affair. There are many possibilities to think about, whether you want a private gathering at home or a lavish celebration in a chic setting.
Your Home
By having the party at your house, you may customize every aspect and design a fantasy setting, a la Barbie. Decorate your room with bold pink accents, glittering accents, and larger-than-life Barbie dolls to set the mood.
Establish a special spot for photos, complete with a backdrop and accessories inspired by Barbie. Even your living room may be turned into a runway for a Barbie fashion show.
Rooftop Venue
For a more lavish gathering, consider renting a rooftop location with breathtaking views. This beautiful setting will provide a stylish backdrop for your Barbie-themed celebration.
Fairy lights, pink and silver accents, as well as sizable Barbie-related artifacts, should all be used to decorate the space. Install a dance floor and hire a DJ for an all-night celebration.
Poolside Party
Why not throw a Barbie poolside theme party if you want to get noticed? Set up pink-colored lounge chairs, pool floats, and umbrellas.
Beach balls and giant inflatable Barbie dolls should be used to decorate the area. By the pool, serve up light pink drinks and nibbles, and don't forget to make Barbie-themed music to set the scene.
Barbie cake ideas including a pool cake!
Barbie Party Ideas for Entertainment
Without fascinating entertainment that brings the magic of Barbie to life, no Barbie party is complete. Here are some fantastic suggestions on how to entertain your guests and fully immerse them in the Barbie experience.
Hair and Makeup Artist
Why not give your guests a makeover by qualified hair and makeup artists? Barbie is recognized for having immaculate hair and cosmetics.
Make a space where visitors can get their hair and makeup done so they look like Barbie or one of her friends. Your guests will look and feel like Barbies thanks to traditional updos and colorful cosmetic styles.
Barbie Photo Booth
Making memories is the main focus of a Barbie party, so be sure to have a photo booth where visitors can strike their best Barbie poses. Rent a photo booth with a Barbie theme, complete with doll-themed accessories, wigs, and decorations. DIY backdrops are a great alternative to renting a booth.
Encourage visitors to dress up by offering them a variety of accessories and clothes that are inspired by Barbie.
Guests could already arrive dressed for the occasion as their favorite Barbie or Barbie friend. #barbiecore
Want to know how to make your own Barbie photo box? Check out Smarty Pants Mama Barbie booth tutorial.
Rather buy one? Check out this Barbie doll box on Etsy.
Or this Barbie photo frame.
Related Reading:
Pink Car Rental
Why not hire a pink vintage car or a limousine to carry your guests in style? Barbie is known for her stunning pink cars. The car will surely give the gathering a dash of glitz and class, whether you utilize it as a mode of transportation or as décor during the party.
Cotton Candy Food Cart
The ultimate in sweetness and good times, cotton candy is the ideal sweet for a Barbie party. Rent a cotton candy food cart to serve fluffy pink clouds of delicious goodness to your guests. Provide a range of flavors and hues to complement the colorful Barbie design.
Barbie Party Decorations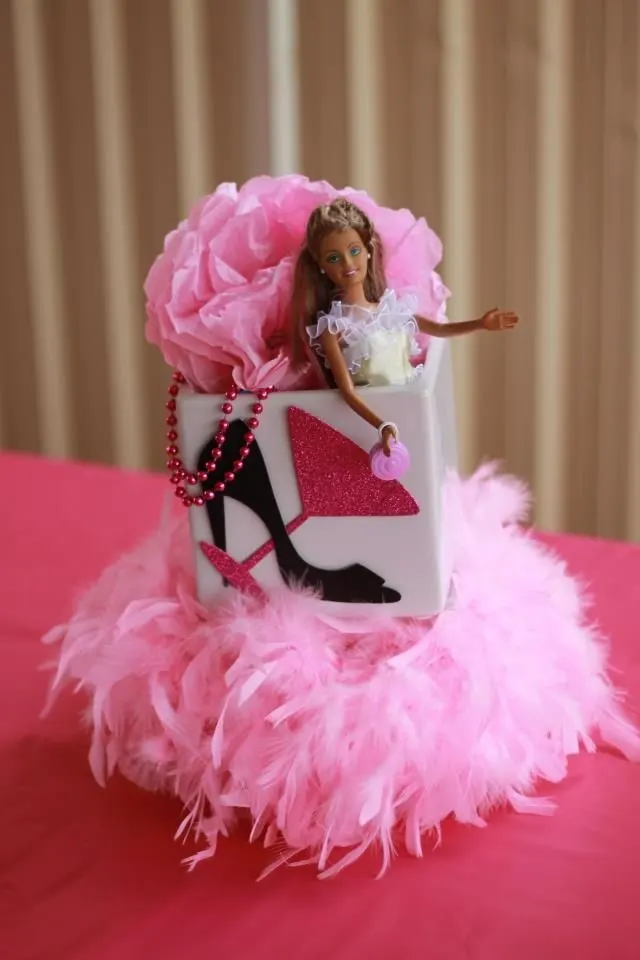 It's crucial to pay attention to the décor to create an immersive Barbie experience. Every aspect of the event, from the color palette to the centerpieces, should capture the glitzy and colorful world of Barbie.
Custom Sign
By including a personalized sign with the guest of honor's name and age, you may give your Barbie-themed party a more intimate feel. This unusual decoration will act as a center of attention and add a distinctive aesthetic element.
To create a one-of-a-kind design, you may either work with a local seller or choose from a variety of custom sign possibilities on Etsy.
Pink Drink Glasses
Use pink drinking glasses to serve your signature Barbie drinks to keep with the party's theme.
Pink wine glasses, champagne glasses, and coasters are available from Dragon Glassware in a variety of designs that match wonderfully with the Barbie aesthetic.
These classy glassware accessories will give your gathering a more refined appearance overall.
Pink Balloon Arch
A pink balloon arch that welcomes your guests to the Barbie theme party will help you make a big entry.
To complement the color scheme, you can buy a DIY balloon arch kit and customize it with various pink balloon colors.
This striking décor will set the tone for the remainder of the celebration and provide a gorgeous backdrop for pictures.
Barbie Doll Centerpieces
To honor the legendary doll herself, incorporate Barbie dolls into your table centerpieces.
Barbie dolls from both the past and the present can be displayed in imaginative ways.
You can pedestalize them, around them with pink flowers, or use Barbie accessories to set up little settings. Your Barbie-themed party will benefit from the humorous and nostalgic addition of these centerpieces.
Barbie Themed Party Food and Drinks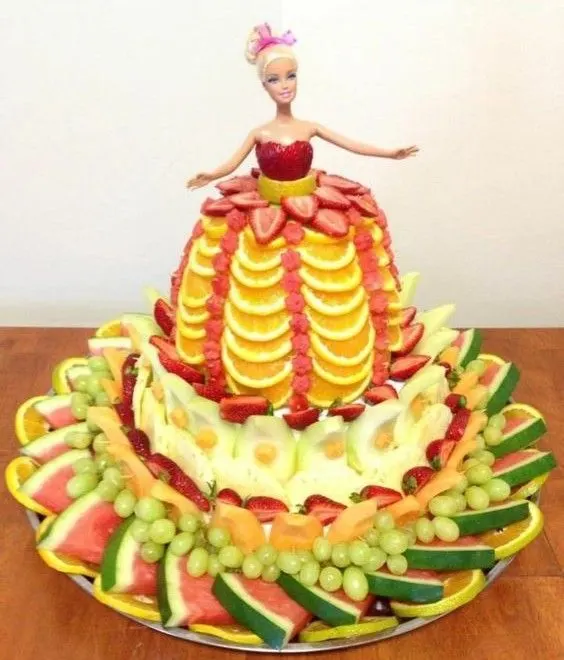 The Barbie theme party provides countless chances to make delectable and aesthetically pleasing goodies when it comes to food and beverages.
Embrace the pink color scheme and let your imagination soar with these gourmet treats that are inspired by Barbie.
Pink Pasta
Make a colorful and mouth-watering pink spaghetti meal to impress your guests. To give the pasta a lovely pink hue, use a sauce with beets as the main ingredient. In addition to capturing the essence of Barbie, this meal is both attractive and delicious. For a thorough recipe and step-by-step directions, go to Meiko and the Dish.
Watermelon and Feta Appetizer
Serve a cool watermelon and feta appetizer that balances the salty feta cheese with the sweet watermelon. The tastes and colors in this straightforward yet elegant meal are expertly balanced, making it a pleasant addition to your Barbie-themed celebration.
Barbie Charcuterie Board
Create a display that is Barbie-inspired to elevate the conventional charcuterie board. Create an eye-catching pattern by arranging a variety of cured meats, cheeses, fruits, and crackers.
Shape the cheeses into interesting forms, such as miniature Barbie dolls, using cookie cutters. This chic and delicious treat will dazzle your visitors and go great with the Barbie theme.
Moscato Strawberries
Serve alcoholic and delicious Moscato strawberries to your visitors. For an amazing delicacy, dunk fresh strawberries in Moscato wine and top with sugar.
The ideal bite-sized dessert for a Barbie-themed party is these delicate and sweet strawberries. You can use the delectable recipe provided by Sugar and Soul.
Pink Macarons
Elegant and enticing pink macarons are a must-have for any Barbie theme party. These exquisite French cookies are the ideal addition to your dessert table because they are available in a variety of flavors and hues. Put them in separate pink boxes or on a tiered stand so that visitors may take them home as party favors.
Strawberry Milkshakes
Classic and sentimental strawberry milkshakes will take your guests back to their youth.
Fresh strawberries, ice cream, and milk may be blended to make a delicious, creamy beverage that everyone will enjoy. Add toppings like whipped cream, sprinkles, and a cherry to the milkshakes to make them your own.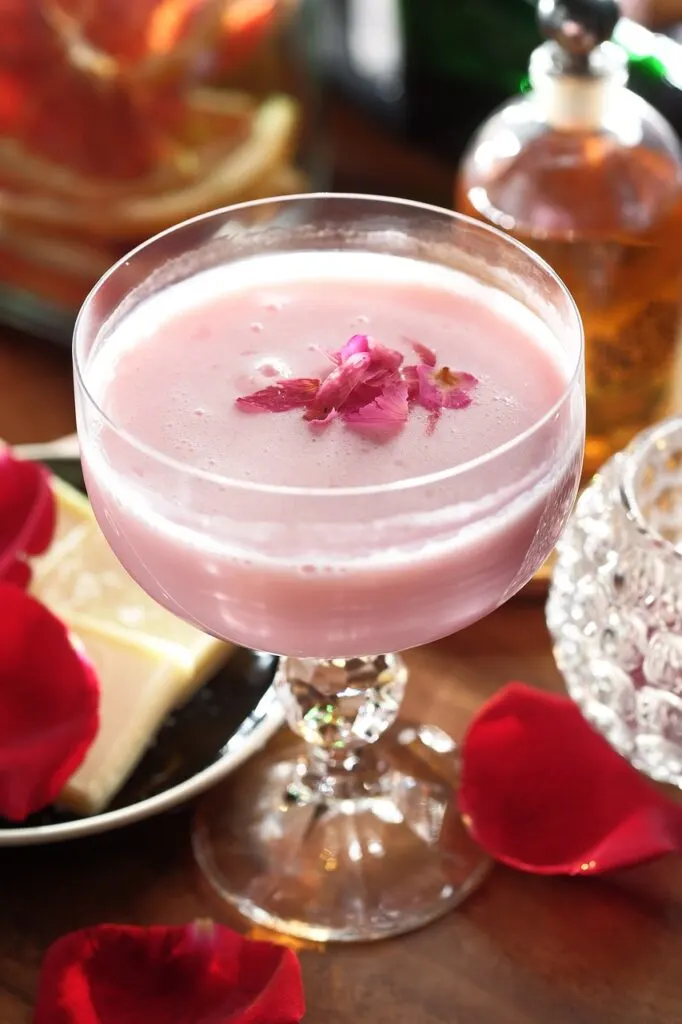 Malibu Barbie Pink Cocktail
Make a Malibu Barbie pink cocktail as a tribute to Barbie's opulent lifestyle.
In a shaker with ice, combine Malibu rum, cranberry juice, orange juice, and pineapple juice. Pour the hot pink mixture into a glass with a pink sugar rim, top it with a cherry and a pineapple wedge, and serve it elegantly.
Your guests will like this Barbie-themed cocktail, which will give the celebration a hint of the tropics.
For more pink drinks, Southern Living has just the thing.
More Barbie Party Ideas for Entertainment
Consider including numerous activities and games that embody the spirit of Barbie to keep your guests entertained and involved during the Barbie theme party. These engaging suggestions can make your gathering even more enjoyable.
Dance Party
Dance to Barbie's biggest songs to get the celebration going. Make a playlist of well-known Barbie movie tunes and invite your guests to do their best dance routines to the music.
To create a lively mood, set up a dance floor with decorative items and dynamic lighting. Even a dancing instructor can be hired to teach Barbie-inspired dance moves.
Inspired by the new Barbie Movie, this curated Barbie playlist is on Amazon Music.
Or try This is Barbie on Spotify, from previous Barbie movies designed for younger kids.
Rollerblading
Rollerblading is a fun and active exercise, so embrace your inner Barbie and get out there. Provide rollerblades and safety equipment to your visitors, and set up a suitable location for them to skate.
Play music with a Barbie theme, and tell everyone to glide around and have fun. For more fun, you could also construct a little obstacle course using pink-themed decorations.
Disco Cowgirl Aesthetic
Encourage your visitors to channel their inner disco cowgirl and dress to the nines in glitzy ensembles that epitomize Barbie. Consider embellished clothing, western-style boots, and showy jewelry.
Organize a Barbie-inspired fashion show with a runway where visitors can display their stunning attire. Award awards for the most inventive attire and the best-dressed cowgirl.
29 Awesome Barbie Costume Ideas for Adults and Teens
Barbie Movie Marathon
Relive the joy of your favorite Barbie movies by hosting a marathon. Create a comfy viewing space with plush furniture, lots of blankets, and cushions.
Offer pink-themed snacks, chocolates, and popcorn for your visitors to eat as they watch the movies. To keep everyone interested, you might even design a trivia contest or a bingo game with a Barbie movie theme.
For some of the best pink snacks and more pink drinks, Pioneer Woman has got you covered.
For favors or even an activity, these Barbie-themed friendship bracelets could be just the thing.
If Barbie cakes are what you're looking for:
Still not enough Barbie? Check out my Barbie Pinterest board for all things Barbie.
Conclusion
You're well on your way to organizing the ideal Barbie theme party for adults and teenagers with these pointers and suggestions. Every aspect will help to make the celebration memorable and enjoyable, from picking the ideal location to choosing entertainment and décor that embody Barbie.