Tea parties have long been a lovely opportunity to unwind and mingle with friends. A charming experience is made possible by the surroundings, the talks, and of course, the tea.
But the dress is one element that really makes the tea party special. Getting dressed up for a tea party provides an added sense of refinement and elegance.
I'll talk about the importance of tea party attire. I'll go over fashion advice, how to pick the ideal tea party outfit, and even dig into the fascinating world of tea party hats.
This post contains affiliate links. I will earn a commission at no additional charge to you if you make a purchase using my links. Click here to see my full disclosure policy.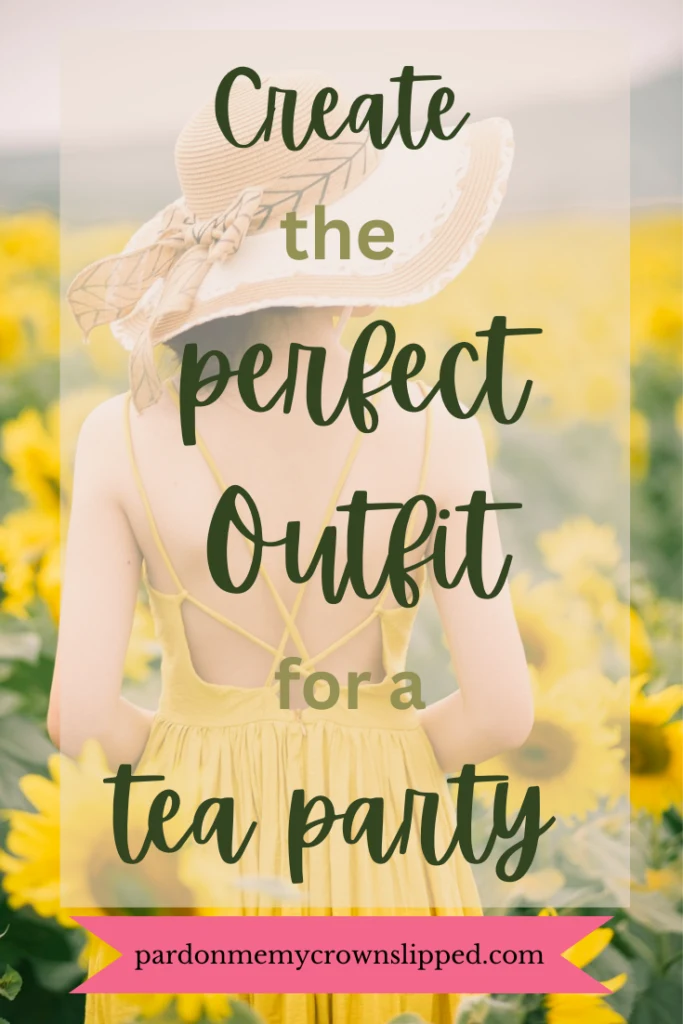 Choosing the Perfect Tea Party Dress
The tea party dress is the focal point of your ensemble. Therefore picking the proper one is crucial. Take into account the following elements when looking for the ideal tea party outfit:
A-line, fit-and-flare, and sheath styles are common in tea party attire. These designs are feminine and timeless. Pick a silhouette that accentuates your best features and gives you a sense of self-assurance.
Choose lightweight, flowing fabrics like chiffon, organza, or lace. These textiles are ideal for a tea party setting because they not only provide a sense of elegance but also allow for easy mobility.
Soft, pastel colors or flowery motifs are frequently found in tea party attire. Consider blush-colored, mint-green, lavender, or baby blue hues. These shades nicely accentuate the delicate ambiance of a tea party by conjuring feelings of delicacy and grace.
Tea party dresses are usually knee-length or slightly shorter. This length provides the ideal balance between formal and informal, allowing you to move freely while yet looking attractive.
Styling Tips for Tea Party Attire
After selecting the ideal tea party dress, it's time to finish your look with the appropriate accessories.
Here are some styling pointers to aid in developing a unified appearance:
Choose classy shoes that go with your outfit. The legs appear longer and more sophisticated in heels that are neutral or pastel in hue. Avoid wearing bulky or extremely casual shoes because they could take away from the elegance of your clothing as a whole.
Keep your jewelry plain and uncomplicated. Without dominating your clothing, delicate pearl earrings, a small necklace, or a thin bracelet can provide a hint of shine. Keep in mind that the dress itself, not the accessories, should command attention.
Pick a purse or little clutch that complements the hue or pattern of your dress. Choose a rigid or boxy shape to uphold the elegant appearance. A tea gathering might not be the place for big or droopy bags.
Gloves
If you really want to take your tea party outfit to the next level consider adding gloves. Short gloves that match bring a level of sophistication to your costume.
Tea Party Dress Options for Plus-Size Individuals
There are lots of tea party dress options for plus-size women that will make you look and feel amazing.
Consider styles that flatter your body when shopping for a plus-size tea party dress. A-line dresses with cinched waists, empire waist dresses, and fit-and-flare shapes are all good options.
These styles emphasize the waist while skimming over the hips and thighs to create a lovely hourglass appearance.
In addition, choose textiles with some stretch for comfort and mobility. Wrap dresses and dresses with ruching are also fantastic choices because they offer a comfortable and flattering fit.
Keep in mind that the secret to feeling gorgeous in any attire is confidence. At your next tea party, embrace your curves, put on a dress that makes you feel great, and let your vivacious personality shine.
Enhancing Your Tea Party Look with the Right Accessories
Your tea party ensemble must be completed with the right accessories. They have the ability to make your clothes look better and add some personality. Tea party hats are one of several items that are uniquely associated with the event when it comes to tea parties.
The Charm of Tea Party Hats
Tea party hats, or fascinators, have a rich history and are a crucial component of the outfit for a tea party. These chic and amusing accessories not only shield you from the sun but also give your clothing an air of refinement and charm.
Tea party hats come in a variety of designs, from big, flower- and ribbon-adorned hats with wide brims to smaller, more structural hats with feathers or bows. The secret is to pick a hat that matches your outfit and improves your overall appearance.
Tips for Selecting the Ideal Hat for a Tea Party
Consider the following aspects while choosing a tea party hat: style, size, and coordination.
Select a hat style that complements your face shape and personal taste. To add definition to a round face, choose a hat with a slightly angular form. A softer, rounder hat might assist in balancing your features if you have an angular face.
Make sure your hat is proportionate to your face and body. A hat that is too small may be buried in your outfit, while a hat that is too huge may overpower your appearance. Choose a size that complements your characteristics while striking a balance.
Match your hat's hue and design to your tea party outfit. You might pick a hat with flowers or ribbons that match the floral patterns on your dress. Consider wearing a hat that adds a splash of color or harmonizes with the rest of your outfit if your dress is solid in color.
Tea Party Dress and Hat Combinations
After talking about tea party hats and gowns, it's time to consider how to put together pleasing ensembles.
The following rules should be kept in mind when wearing a hat with a tea party dress:
Make sure the formality of your attire and cap match. While a more formal dress can be complemented by a larger, more elaborate hat, a casual dress works best with a smaller, more subtle hat.
Select a hat that either complements or matches the color of your dress. Choose a hat that draws attention to one of the colors in the design of the dress you're wearing.
Choose a hat with a simpler pattern if your dress is voluminous or has complicated detailing. If your dress is sleek and simple, you can add interest with a more detailed cap.
Where to Find Tea Party Dresses and Hats
You may be asking where to find these wonderful pieces now that you have a clear concept of what makes the ultimate tea party dress. Here are some places to begin your search:
Local boutiques frequently stock a well-curated collection of hats and outfits for tea parties. Visit boutiques that specialize in formal dress, occasion wear, or vintage-inspired clothing.
You may browse through a variety of tea party gowns and hats online, thanks to the huge selection of possibilities that online buying provides. Find trusted internet stores that focus on formal clothes or special occasion wear. Sites like eBay and Etsy have sellers who specialize in vintage hats and dresses.
Unique and vintage tea party costumes and hats can be found in thrift stores. You never know what hidden gems you might discover when you explore thrift stores in your region and take the time to look through the racks.
Consider working with a milliner if you want a completely customized tea party hat. These talented craftspeople make hats just for you based on your tastes and preferences.
Conclusion
Tea parties offer a chance to embrace elegance and style in addition to being a wonderful afternoon activity.
You may create a style that is both elegant and entrancing by carefully selecting your tea party costume, picking the ideal dress, and completing it with the appropriate accessories.
Remember that your tea party outfit should reflect your personal style, be appropriate for the event, and make you feel confident and beautiful.
Whether you choose a classic tea party dress or a signature hat to add a bit of whimsy, embrace the opportunity to express yourself and appreciate the timeless beauty of tea party attire.
Therefore, the next time you get a tea party invitation, take a moment to organize your clothing, choose the ideal tea party dress, match it with an attractive hat, and get ready to partake in a genuinely classy event.
Steeped in Fun: 13 Charming Tea Party Ideas for Teens and Adults