Photo by Steven Abraham on Unsplash
Summer is the perfect time for outdoor parties!
Not only is the weather ideal, but there are so many fun teen party games that can be played outside. If you're looking for ideas, we've got you covered.
From classic games like hide and seek to newer ones like kan jam you're sure to find many fun teen party games for your next birthday party, family reunion, or backyard party.
In this blog post, we will share some of our favorite outdoor party games for teens.
Most parties of course have party guests of varying ages. Most of these games would work for any age. Some work with just a few people others are larger group games.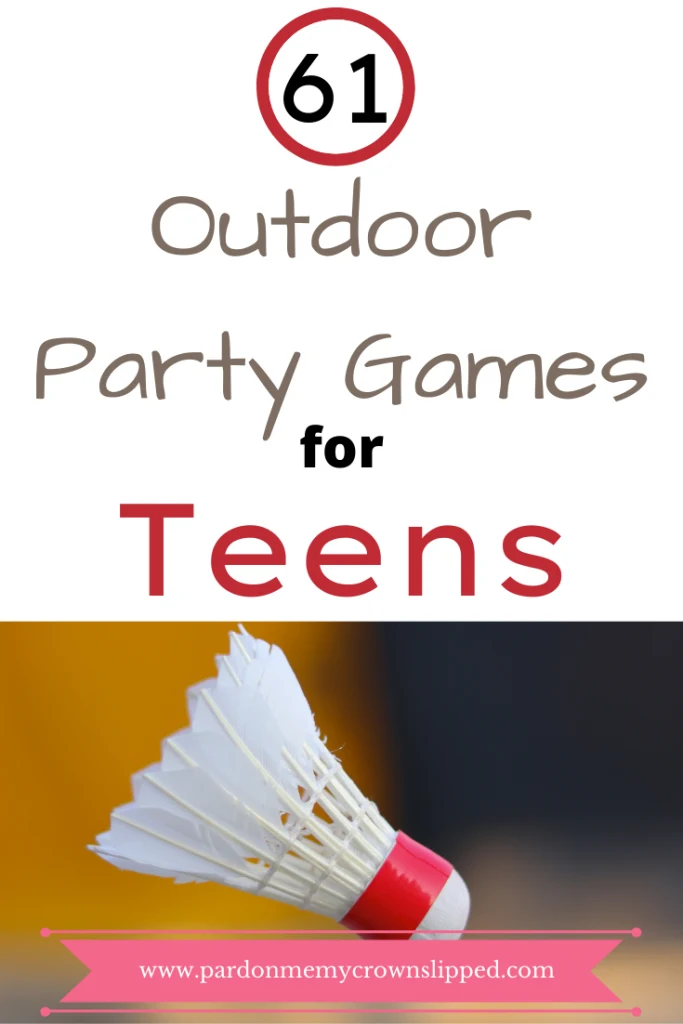 This post contains affiliate links. I will earn a commission at no additional charge to you if you make a purchase using my links. Click here to see my full disclosure policy.
Choosing the Best Outdoor Party Games for Teens
Outdoor party games are a great way to keep teenagers entertained. With so many different games to choose from, it can be tough to know where to start. However, there are a few factors that you should consider when selecting games for a teenage party.
First, you need to think about the number of people who will be playing. If you have a large group, you will need to choose games that can accommodate everyone.
Second, you should choose games that are appropriate for the age group. Some games may be too complex for younger teenagers, while others may be too juvenile for older teens.
Finally, you should pick games that will be safe and enjoyable for all of the participants. With these factors in mind, you should be able to choose the best ones for your party.
1. Giant Jenga
Just like the original, this giant version is sure to provide plenty of adrenaline-filled competition.
2. Outdoor Bowling
To play this fun game simply purchase a premade set or make your own with empty soda bottles and a ball.
3. Frisbee Golf
Set up a course using inexpensive laundry baskets from the dollar store. Players throw a Frisbee from a teeing area towards a target, and the goal is to complete the course with the fewest number of throws.
4. Water Balloon Dodgeball
The object of the game is simple – to avoid getting hit by any water balloons. Water balloon dodgeball is great for parties, picnics, or any event where you want to cool off and have some fun.
5. Hula Hoop Contest
Put on some music and twirl away. See who can last the longest or move the hula hoops to different parts of their bodies other than just their hips, like necks or arms.
6. Limbo Contest
More musical contest fun.
Players must pass under a horizontal rod without touching it or toppling over. Use a broomstick, jump rope, or pool noodles. The object of the game is to see how low you can go without falling.
7. Lawn Twister
Try this classic party game by creating large dots on the grass with spray paint. For even more fun, try it at night with glow-in-the-dark paints.
8. Volleyball
Volleyball is always a hit at outdoor parties. Whether on the beach or in the grass, teens are sure to have fun.
9. Soccer
This game requires a bit more yard space than most backyards but is a great game for parties at the park or other places with a lot of space.
10. Horseshoes
For this game, throw a horseshoe at a stake in the ground, with the goal of encircling the stake (or "ringing" it) with the horseshoe. Points are awarded for each successful throw, and the game can be played either individually or in teams.
11. Lawn Yahtzee
Take this classic game to the backyard with an oversized set of dice like these.
12. Lawn Connect Four
Another popular game that's transformed backyard party games.
13. Dodgeball
The schoolyard game you either loved or feared. Teens will have fun with this popular game.
14. Slip 'N Slide
For hot afternoons, this teen outdoor party game is sure to be a hit. Just grab some plastic and the hose for hours of fun.
15. Color Wars Games
If a mess isn't an issue, try this fun game. Players compete in teams to eliminate opponents by hitting them with balloons filled with colored powder.
16. Scavenger Hunt
Keep teens busy with this fun treasure hunt game that works for all ages. Games can be set up for individuals or teams.
49 Outdoor Scavenger Hunt for Teens: Ideas They'll Love
17. Photo Scavenger Hunt
Just like a regular scavenger hunt, except instead of having to collect every item, players have to take a selfie with it. This can make the game so much more exciting by being able to choose things players wouldn't usually be able to "collect".
For older teens who can drive, the game could take them around the city taking pictures of people, places, or of course things.
18. Ring Toss
Perfect for parties with multiple ages of kids. The objective of this simple game is to toss a ring onto a peg, and points are awarded for each successful throw. Transform it for night games using glow sticks formed into a circle.
19. Eating Contest
Players compete with their hands behind their backs to finish first. You can choose pie, cake, or even donuts on a string.
20. Minute to Win It Games
There are a number of games that get players to compete at beating the clock. Guests can compete individually or in teams. The best part is that these games can be adapted to fit any theme or occasion.
21. Obstacle Course
There are a variety of obstacles that you can set up, ranging from simple hurdles to complex rope swings. Perfect for a theme party.
22. Geocaching
Using GPS coordinates, participants try to find hidden caches (containers) that have been placed by other geocachers. Once a cache is found, the geocacher can log their visit online and optionally leave a small item for the next person to find.
23. Water Balloon Toss
The water balloon toss is a classic summertime activity that is perfect for cooling off on a hot day.
24. Tetherball
Tetherball can be played with two players or more, making it a great game for parties and gatherings.
25. Capture the Flag
Capture the flag is a popular game that can be played in a wide variety of settings. The game requires both physical and mental skills, making it the perfect activity for a group of friends looking for an exciting and challenging afternoon.
Glow-in-the-dark options make it perfect for nighttime parties.
26. Three-Legged Race
Often played at parties or other gatherings, it can be a lot of fun for both kids and adults.
27. Sack Race
Sack races can be traced back to the 16th century when they were commonly played in England. Today, sack races are still a popular way to have fun and compete with friends at carnivals, fairs, and school functions.
28. Egg Carry
Egg carry is a great game for kids of all ages. It requires dexterity, coordination, and teamwork.
29. Balloon Stomp
Balloon Stomp is a simple yet fun game that is sure to get everyone moving. Each player blows up a balloon and ties it around their ankle. Players try to pop each other's balloons by stomping on them. The game can be played with any number of players, but it is generally best with two to four people.
30. Nerf Wars
There's something about shooting a Nerf gun that just makes you feel good. The satisfying 'foof' as the dart hits its target. And Nerf gun wars are the perfect activity for a group of friends looking for a competitive, yet light-hearted, way to spend an afternoon.
Since these aren't cheap, you can always look online for used ones or have them bring their own.
31. Water Soaker Wars
Just like Nerf Wars, except this one is perfect for hot days.
32. Balloon Pop Relay
There's nothing quite like a good old-fashioned balloon pop race. The objective is simple: be the first team to pop all of their balloons.
33. Simon Says
This was always a fun game. For older teens, put a Squid Game twist on it using water soakers.
34. Tag Games
With lots of tag variations like freeze tag, flashlight tag and more, you can definitely keep it interesting.
35. Pickleball
This is one of the fastest-growing sports in the United States. Make your own court and see if you can "dink". This one requires a hard surface.
36. Spikeball
Similar to volleyball but played around a small trampoline, Spikeball is a fast-paced and exciting game that can be enjoyed by people of all ages.
37. Hide and Seek
Classic game for all ages. If you have a large yard with lots of hiding spaces, this is a great one for you.
38. Wiffle Ball
If you've got a large number of teens, and a large space there's nothing like a good old-fashioned game of Wiffle ball in the backyard.
39. Bocce Ball
A type of lawn bowling, this game is believed to have originated in ancient Egypt, and has been enjoyed by people around the world for centuries.
40. Corn Hole
This popular game, that we all knew as bean bag toss is now in backyards everywhere. You can also create an end zone or goal and use bean bags.
41. Tug of War
Make it even more fun to beat the opposing team with a mud puddle or kiddie pool in between.
42. Kickball
Just a ball and a group of teens. As long as there's plenty of room, this is a great outdoor party game for teens.
43. Splash Ball
Splash ball is a great way to cool off on a hot day and get some exercise at the same time. If you have a pool party, this game is great fun.
44. Water Gun Target Practice
As a variation of water gun wars, this game is perfect for outdoor parties. Set up targets with varying degrees of difficulty.
45. Balloon Darts
Just like the carnival, pop the balloons and win a prize!
46. Drip, Drip, Drop Water Relay Race
Race against the other team to see who can move water from one bucket of water to refill the next bucket first. Use sponges or even spoons.
48. Ladderball
This challenging game is harder than it looks.
49. Dance-off
Just need music…and go. Create prizes for best dancer, creative or funny interpretations, or even who can last the longest.
51. Sardines
Just like hide and seek, but the opposite. One person hides, as people find the hider and join them. As the group gets larger, you're squished like, you guessed it, sardines.
52. Sleeping Beauty
Try to "wake" Sleeping Beauty by making them laugh without touching them.
53. Outdoor Yard Darts
Safer than their original design, this fun game is great for outdoor parties. You can even find ones that glow-in-the-dark
54. Lawn Checkers
Yet another classic game, that's taken to the big arena. With giant pieces, this game is lots of fun.
55. Kan Jam
Similar to disc golf, except other players can interfere when the frisbee is tossed towards the goal. For extra fun, buy the glow version.
56. Relay Races
Relay races of all kinds can be thought up easily enough. Kicking a soccer ball or beach ball, keeping golf balls on a spoon, anything to create a race to the finish line will be loads of fun.
57. Egg Toss
Always a classic at workplace family outings, who didn't grow up playing egg toss. Last team to make it without dropping their egg wins.
58. Trampoline Games
If you have one, there are tons of games for trampolines you can try for more backyard fun for your party.
59. Pool Noodle Races
Balance a frisbee on top of a pool noodle and see who can make it to the finish line first. If you have a pool or are at a lake, make it more challenging by doing it in the water.
60. Pall Mall
If you've seen the fun competitions taking place on Bridgerton, you'll be familiar with this game. This game is also known as croquet or wickets. Using a ball and mallet, each player tries to get their ball through the wickets before the others.
61. Cricket
Another fun game, you can see played in the period drama, Downton Abbey. Although there's a batter and a pitcher, it's not like baseball. Check out cricket here.
Finally, as much as you plan, rainy days can sometimes spoil the best outdoor party plans. Be sure to have some board games, decks of cards, and a list of indoor teenage party games in case that happens.
Outdoor party games for teens are the perfect way to keep your guests entertained all day long!
Which of these backyard games for teens are you most excited to try?
Let us know in the comments section! And be sure to check out our other blog posts for more fun ideas!
RELATED: