Photo by Ben Hershey on Unsplash
If you're just hearing about pickleball, you're not alone. But this is becoming the fastest-growing sport in the United States. It's not just for retirement communities anymore.
Pick up any newspaper or magazine lately and it's there. With nice weather coming, it's bound to be everywhere soon. The search will be on for the best gifts for pickleball players.
Pickleball is a combination of multiple racket sports. Using elements from ping pong, tennis, and badminton, the game is played on a court with two or four players.
If your teens are new players or pickleball fanatic who has perfected the cross-court dink, (I know, had to look that one up too, lol), let's find you a gift for your pickler.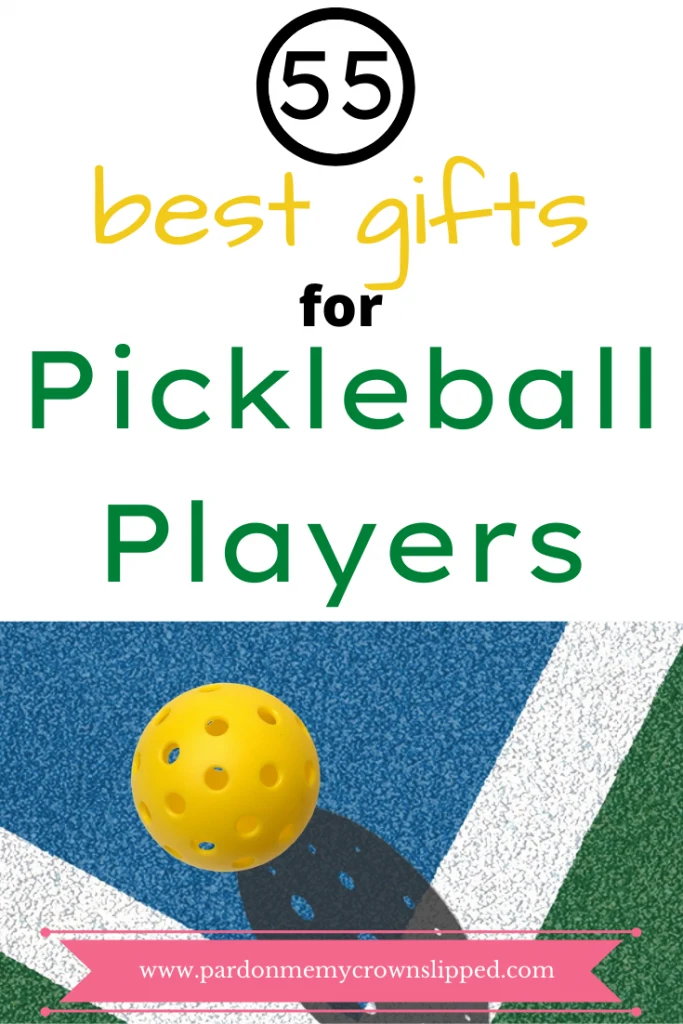 This post contains affiliate links. I will earn a commission at no additional charge to you if you make a purchase using my links. Click here to see my full disclosure policy.
Choosing The Perfect Pickleball Gift
If the person you're buying a pickleball gift for isn't a beginner consider this. As with any sport, athletes have their preferences in gear, so choosing a gift like a paddle isn't going to be a great idea.
If you already know the best graphite pickleball paddle they've been wanting or you're certain which pickleball shoes are the best for proper footwear then have at it otherwise it's best to ask or choose something else.
It doesn't mean you can't find them a great gift. Just choose wisely. Read on for suggestions to find the best pickleball gift.
Gifts for Beginner Pickleball Players
For someone just getting interested in pickleball, this set has everything you need to get started. Enough for 4 players and a handy bag to hold it all. Particularly for young kids and teens, start with something relatively inexpensive until you're sure there's a real interest there. With learning a game that's new to so many, don't forget a great book on the fundamentals of pickleball.
Don't have a pickleball court near you? No problem. Just set up anywhere with this pickleball court marker kit.
No pickleball court is complete without a net.
Gift Ideas for Pickleball Lovers
For experienced players, gifts that are part of a best-loved activity are always welcome. If you aren't sure what they might like you can stick to some basics that are always needed for all types of pickleball players.
Pickleball Balls
Balls are lost or cracked, so new ones are a great gift.
Pickleball Paddleball Covers
Many paddles come with a protective neoprene cover since keeping paddles covered protects paddles of course but they are typically plain. A new paddle cover can be a great way to show off the player's personality. You can even choose one that can be customized with a photo.
Pickleball Glove
Hands can get sweaty, and slippery, and form blisters and calluses. No one wants those conditions to jeopardize their pickleball game or their hands. Gloves can be worn on the dominant hand or both hands. Players can choose between fingerless or regular full gloves.
Pickleball Eyewear
Whether from the ball or the sun, eye protection is always a good idea on the pickleball court. Even choosing goggles that can protect your eyeglasses is smart. Goggles can be worn inside or out. If playing outside, sunglasses will also protect from UV rays.
Pickleball Backpacks
A pickleball bag that has plenty of room for all their pickleball gear is a must-have. Players carry multiple paddles, balls, gloves, and more. Room for water bottles, cell phones, and keys is important too. Additional features that are much appreciated include fence hooks and a separate compartment for shoes.
Pickleball Paddles
For advanced players, the best pickleball paddle is going to be the one that's best for them. If you really know they need or want one, they could give you a few options to choose from or you could do the same. The one below has the best reviews on Amazon. You can always show them, you never know. 🤷‍♀️
Pickleball Clothes
Having the right clothes to be comfortable in and move well can make a difference.
Pickleball Socks
Taking care of your feet is so important. Sports takes a lot out of them. Wearing the correct footwear, with socks included goes a long way. Be sure to choose socks that have ample cushioning as well as being made of moisture-wicking fibers. While novelty socks are fun, they're usually not made for the endurance required on the court.
Hats
For keeping the sun out of your eyes or just for fun.
Women
While some women may prefer shorts, a skirt designed for sports like tennis, pickleball and golf may be more suitable. With a pickleball skirt, there are no worries about bending down, and most provide a place to hold a ball.
Men
Pickleball Jewelry
For the girly girl who likes to show off her style with a little bling. Necklaces, bracelet charms, and earrings are all good choices.
For the Love of Pickleball
Novelty gifts using pickleball humor with funny pickleball t-shirts or cute accessories like a license plate or mug are a perfect way to showcase your pickleballer's favorite pastime.
Gifts like key chains, water bottles, or a pickleball bag tag make some of the best gift ideas for a pickleball enthusiast.
Pickleball Tournament
Every competition needs to reward its winners.
Fun for Pickleball Parties
How much do they really know about the history of pickleball, tournaments, rules, and players? Fun for off-court get-togethers with the whole pickleball team.
Even Home Decor is Getting in on the Action
Don't Forget the Holiday Season
Although made for an old-world holiday tradition, pickleball ornaments are certainly perfect for any player or even as a pickleball team gift.
Best Gifts for Pickleball Players to Take It To The Next Level
For the serious player who wants to get extra practice.
Pickleball Machine
Pickleball Lessons
Everybody needs a bit of help sometimes. Sports are no different. A gift certificate to a local pickleball coach or playing center is a great gift idea. What if there isn't anything nearby? An online course, of course!
The Pickleball Guru
If you're serious about pickleball, this pickleball site is a must-see.
Prem Carnot, The Pickleball Guru, is the world's premier pickleball coach, and author of the book, Smart Pickleball. His website offers FREE training, webinars, and other resources. Bootcamps, masterclasses, and private coaching are also available.
My Pro Pickleball Coach
This video series is a collaboration with The Pickler and pickleball pro and coach, Steve Kennedy. The series includes over 140 video lessons (or over 7 hours of lessons!), as well as an e-book, that breaks down every aspect of the sport of pickleball, including pickleball mechanics, fundamentals, strategy, advanced concepts, and drills. You can even see a sample video.
The Pickleball Channel
Watch professional tournaments live, get pickleball tips, and watch videos to enhance your game. New videos every Friday. Go to The Pickleball Channel.
Didn't find what you were looking for? Here are a few more gift ideas for your pickleball player.
Hopefully, if it's birthday gifts, holiday time, or another special occasion you found something on this gift list that will be perfect for your favorite pickleball player.