Photo by Spikeball on Unsplash
Looking for some outdoor toys for your teen?
Check out our list of the best outdoor toys for teens!
These toys are perfect for getting your teen active and outdoors. From the classic frisbee to new toys like bumper balls, we have something for everyone on this list.
Some outdoor toys for teens are perfect for two or more, some for larger groups but I've been sure to include plenty for days when kids are stuck playing alone.
Some are better for older kids while others are still suitable for younger kids.
The best part is many of these fun outdoor toys are designed to be portable so they're a perfect addition to bring along to outdoor parties or on road trips.
As much as our teenagers try to act like bigger kids, they are still little kids at heart and will have so much fun playing with one of these great outdoor toys.
So what are you waiting for? Get out there and start playing!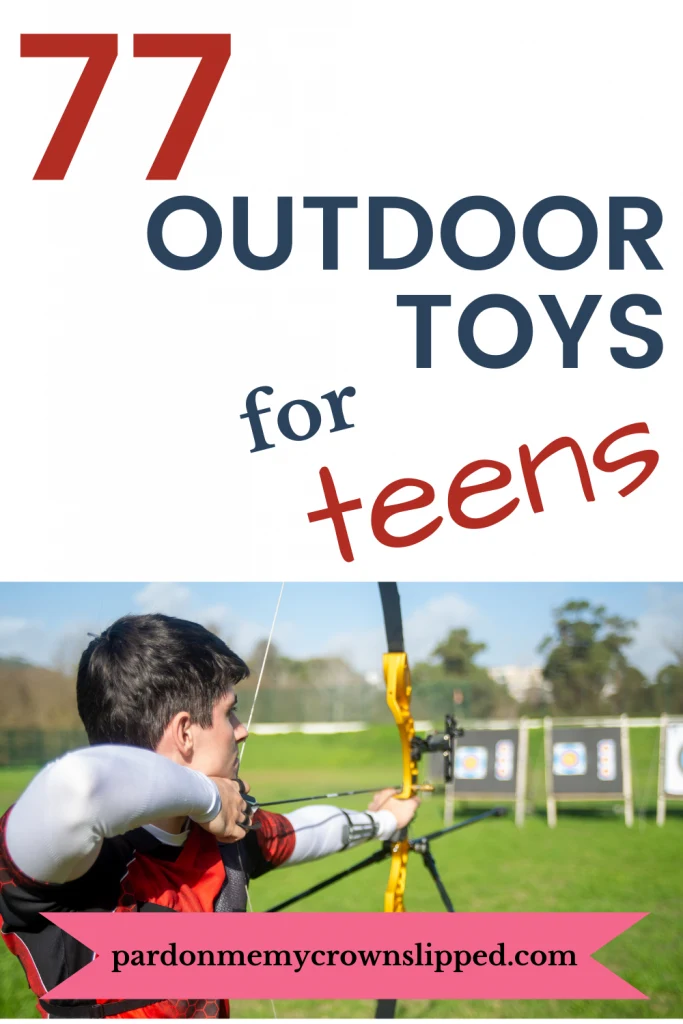 This post contains affiliate links. I will earn a commission at no additional charge to you if you make a purchase using my links. Click here to see my full disclosure policy.
Outdoor Toys for Teens They Can Use Alone
Of course, playing with friends is more fun but sometimes everyone is busy. That doesn't mean teens can't have fun, get some fresh air, and some exercise too. These outdoor toys can still be fun all by yourself.
1. Flybar Pogo Ball
This fun toy is a combination of a balance board, a jump ball, and a pogo stick. This is the perfect gift for active kids.
2. Boomerang
Another great outdoor toy for your teen is the boomerang. This classic Australian toy is perfect for getting your teen's blood pumping. They'll love trying to catch it as it comes back to them.
3. RC Cars
Remote control cars are another great outdoor toy for those who love speed and adventure. These cars can be raced on any surface and provide hours of entertainment.
4. Telescope
For kids and teens interested in the night sky. With over 22k 4 1/2 star reviews on Amazon, this best-seller even includes a tripod, wireless remote, and carry bag.
5. Drone
Drones are great outdoor toys for teens. With a drone, your teen can explore new areas and have some fun while doing it. Some even have cameras already on board.
6. Archery Set
If your teen is looking for a challenging outdoor activity, consider getting them an archery set. Archery is a great way to improve aim and hand-eye coordination.
7. Pindaloo
Pindaloo is a juggling game that is both challenging and fun. Whatever your age, you'll hone your motor skills and improve your hand-to-eye coordination.
8. Paddleboard
If you live on a lake or visit one regularly a paddleboard is a must. Not as easy as it looks, this is great for a full-body workout. Don't forget the lifejacket.
9. Kayak
Another great addition to anyone's water "toy" collection. Get the whole family involved in this pastime for exercise and memories. Kayaks can be expensive but they don't have to be.
Sit on, rather than sit in kayaks are usually less expensive. The best place to grab one is online, at flea markets, and at yard sales. One person's impulse buy can be your good fortune. Try this inflatable, with over 22k Amazon reviews for ease of transport and low cost.
10. Pogo Sticks
A pogo stick is a timeless outdoor toy that will never go out of style. This toy is perfect for those who want to have some fun.
11. Trampoline
Whether perfecting a new skill for gymnastics, cheer, or just good old-fashioned fun, kids of all ages love trampolines. Try one of these trampoline games to keep it interesting.
12. Hula Hoop
The hula hoop is a classic outdoor toy that is perfect for getting your teen moving. They'll have a blast trying to keep the hoop up while they dance around. Fun for party game contests. Great for dance, gymnastics, and fitness routines, you can even choose weighted hula hoops.
13. Jump Rope
This one may seem like a stretch to include for teens but it's not just a toy for kids. For teens into fitness, they are perfect for getting a good workout while having fun at the same time.
Try this fun one with LED lights or did you know they even make ones that don't have a rope?
14. Golf Clubs
If your teen prefers something a little slower-paced, consider getting them some golf clubs. Golf is a great way to spend an afternoon with friends and family. As a teen, my brother spent nearly every day at the local golf course.
15. Trailblazers Slackline
Like walking the tightrope at the circus only close to the ground. Can you keep your balance?
16. Zipline
For your thrill-seeking big kids.
17. Ninjaline
Train like a ninja with this physical activity.
18. National Geographic Air Rocket
More than just a traditional stomp rocket, this one by National Geographic can be adjusted to test different trajectories and it lights up. Fun for summer nights in the backyard.
19. Stunt Planes
More remote control flyers.
20. Pocket Knife
Not really a toy, but for the outdoor adventurer this is a must on the list.
21. Pool Floats
These are a must for any pool party or day at the lake. Room for one or room for many.
22. Floating Basketball Game
Up the fun in the pool with this game.
23. Tether Tennis
Play with two or alone, this game is a lot of fun. We recently bought one and my teens were all surprised to lose to mom. Guess who forgot this couch potato mom used to play tennis in high school? Oh, and I had this growing up. Boom!
24. Backyard Ice Rink Kit
So much more fun with friends but still a fun way to spend a winter day playing hockey or just skating around. Great for hosting a party.
25. American Ninja Warrior Family Agility Set
Turn your backyard into an obstacle course.
26. Fishing Pole
Every teen needs a good fish story. Don't let the big one get away.
Outdoor Gifts That Take Their Sports To The Next Level
Playing alone isn't always fun but when the opportunity presents itself sometimes you can use it to work on your skills to be ready for the next big game.
27. Basketball Hoop and Ball
Basketball is a classic outdoor game that is perfect for your teen. They can shoot some hoops with their friends or brush up on their skills by themselves. Either way, they'll have a blast with this outdoor toy.
28. Baseball Glove
Use a pitch back net, a tennis ball off the roof, or the side of a building to work on those grounding skills.
These are best purchased at the end of a season, not only for low prices on clearing out merchandise but that gives plenty of time to work on breaking in a glove before the season. Unless you know the right one, this is a good in-person purchase.
29. Pitchback Rebounder Net
This is a great gift for kids already involved in sports.
30. Baseball or Softball Bat
Practice stance and swing even in the off-season. This is another one that unless you are sure what to get is good in person. Some larger sporting good stores even have cages to test them out.
31. Tee
Not just for littles, concentrate just on the mechanics of the swing.
32. Swing Trainer
Training aid allows players to "feel" how to swing correctly and develop proper muscle memory.
33. Pitching Machine
Take their skills to the next level with one of these. Machines can be found for baseball, softball, tennis, pickleball, and even volleyball!
34. Tennis Racket
Playing a game certainly needs a partner, but as a teen, I spent hundreds of hours practicing with a machine, a pitchback net, or a wall. Bouncing a ball on the face of the racket is amazing for hand-eye coordination skill improvement.
This is another outdoor toy that really requires an in-person fit, especially if they have a small hand.
35. Soccer Ball
Soccer is a great outdoor activity for your teen. They can play with their friends or practice their skills.
36. Pop-Up Net
For games on the go or just super convenient storage, check out these cool game nets available in different sizes.
Outdoor Fun for Teens That Go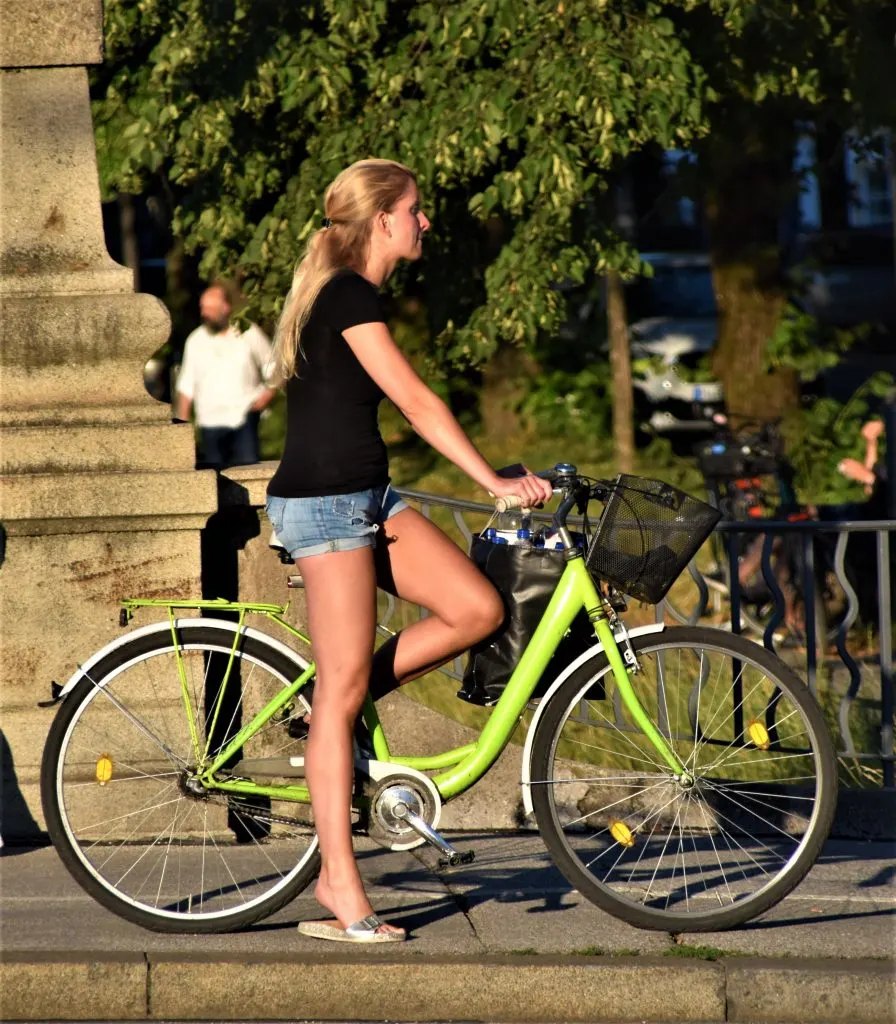 Up and down the street or getting around town. Don't forget a helmet.
Find the best accessories to go with these toys here.
37. Bikes
Biking is a great way to stay active and explore new areas.
38. Rollerblades
Another great way to get around town is by rollerblading. Rollerblades are perfect for teens who want to have some fun and get a good workout at the same time.
See the best in inline skates here.
39. Skateboard
Skateboarding is a classic outdoor toy that never gets old. It's perfect for teens who want to learn some new tricks or just cruise around town.
40. Electric Skateboard
An electric skateboard is a great outdoor toy for those who want to get around town quickly and easily. These skateboards are perfect for cruising around the neighborhood or getting to and from school.
41. Hoverboard
A hoverboard is a great outdoor toy for those who want to have some fun and stay active. With this board, your teen can ride around town or even in the park. The one below even has a Bluetooth speaker and LED lights.
42. Scooter
Scooters are a great way for your teen to get around town. They are easy to use and can be a lot of fun. This one is adjustable and folds up. These can be electric too. They even have off-road versions.
43. Dirt Bike
Though certainly not a "toy", for adrenaline seekers who can handle themselves a bit more.
44. Ramp
While this obviously doesn't go on it's own, a ramp is a must if your teen loves skateboarding or BMX bikes. With this outdoor toy, your teen can safely practice their tricks and perfect their skills.
Fun Outdoor Toys for Two
45. Bumper Balls
Bumper Balls will keep your teen entertained for hours. These balls are perfect for bouncing around in the backyard.
46. Walkie Talkies
In the days of cell phones, kids don't understand the fun we had talking from one yard to another, creating secret codes, and the inventive pretend play used with these oldies but goodies. Walkie-talkies are perfect for keeping in touch on camping trips, backyard cookouts, and more when cell reception is poor.
47. Paddleball
On the beach, in the backyard, or even the driveway, this favorite is a great game that can go anywhere you go.
48. OgoDisk XS Disc Set
Paddleball with a mesh surface and without a handle.
49. Frisbee
A classic outdoor toy, the Frisbee is perfect for getting your teen up and moving. Whether they're playing catch with a friend or trying to nail that perfect Frisbee golf shot, they'll have a blast with this toy. And who knows, you might even get in on the fun yourself!
50. KanJam
KanJam is a fun outdoor game for teens who love to play Frisbee. This game is perfect for two players and can be played almost anywhere.
51. Disc Golf Set
If your teen loves Frisbee, they will love disc golf. This outdoor toy is perfect for those who want to get a little bit more competitive while outdoors.
52. Pickleball Set
This is one of the fastest growing sports in the United States.
53. Tetherball Set
Tetherball is a great outdoor game for your teen. They can play by themselves or with friends. Either way, they'll have a blast
54. Scoop and Toss Game
This is an outdoor toy that is perfect for those who want to improve their hand-eye coordination. Perfect for playing in the backyard, beach or park.
55. Yard Darts
Safter than the older version, this classic backyard game is now fun for the whole family.
56. Badminton Set
Badminton is a great outdoor game for all ages. With this outdoor toy, your teen can have a blast playing with friends and family.
57. Djubi
Sling ball game played with rackets where you hook, launch, and catch the ball.
58. Horseshoes
Horseshoes is a classic outdoor game that can be enjoyed by all. This outdoor toy is perfect for picnics, cookouts, or family reunions.
Outdoor Toys for Teens That Are Great for Large Groups
Large groups can be hard to entertain, but with the right outdoor toys, active teens will have a blast. Cooperative games like giant Jenga are perfect for groups of six or more. For a competitive edge, try out lawn bowling or cornhole. Team sports are also great for large groups, and there are plenty of options. With so many options available, there's no excuse not to get outside and enjoy the sunshine with your friends.
59. Wiffle Bat and Ball
For those neighborhood pickup games.
60. Water Blaster
What's better on a hot, sunny day than a good, old-fashioned water fight? With these outdoor water toys, your teen can stay cool and have a blast while doing it.
61. Capture The Flag Redux
This classic game gets a makeover and takes it into the night with this cool version that's a best seller.
62. Nerf Guns
Nerf guns are perfect for outdoor play. Your teen can have a blast running around and shooting their friends with these safe, foam darts.
63. Croquet Set
Croquet is a great outdoor game for your teen. It is perfect for the whole gang.
64. Spikeball
Similar to volleyball but played around a small trampoline, Spikeball is a fast-paced and exciting game that can be enjoyed by people of all ages.
65. Bean Bag Bucketz
Telescopic game tower for quick set up, storage and portability. For the beach, in the backyard or for tailgating. This unique toy combines corn hole, washer toss, and disc golf into one easy beanbag game.
66. Water Balloon Launcher
A water balloon launcher is a great outdoor toy for those who want to have some fun in the sun. With this launcher, your teen can launch water balloons at their friends or even at targets.
67. Crossnet
Crossnet is a hybrid of four square and volleyball and is perfect for those who want to get a little bit more competitive while outdoors.
68. Bocce Ball Set
Bocce ball is a great outdoor game for those who want to relax and have some fun. This outdoor toy is perfect for playing at the park or beach.
69. Volleyball Net
If your teen loves volleyball, be sure to get them a volleyball net. This outdoor toy is perfect for playing in the backyard or even at the park.
It can be tempting to choose sets that combine volleyball and badminton. Nets that come with those are fine for badminton but will not stand up to the type of playing typically involved with volleyball. It's best to choose a high-quality one.
70. Corn Hole
This popular game, that we all knew as bean bag toss is now in backyards everywhere. This one is portable.
71. Yard Yahtzee
YAHTZEE!!
72. Yard Jenga
This adrenaline-filled game has gotten bigger.
73. Ladderball
From the backyard to the beach, to the campground, this fun game is it.
74. Polish Horseshoes
Perfect as a gift, this outdoor game for kids, teens, and adults isn't complete without a match of Polish Horseshoes. Portable and easy to set up.
75. Rampshot
Most outdoor games involve one or two players at a time, RampShot involves 3 out of 4 players on every turn. Older teens will love this game.
76. BULZiBUCKET
Perfect for any trip; tailgate, camping adventure, beach visit, picnic or BBQ, you can even float it in the pool.
77. Outdoor Bowling Set
Bring the bowling alley to the backyard.
With so many outdoor toys to choose from, your teen is sure to find one that they love. These outdoor toys are perfect for picnics, cookouts, days at the park, or even just playing in the backyard.
So get out there and have some fun in the sun with your teen today. Outdoor toys for teens are perfect for any occasion. They make the perfect birthday or Christmas gift.
Get your teen involved in activities that will create lasting memories. Enjoy the outdoors together!
And don't forget the sunscreen!
RELATED READING: