Trampolines are a great way to get some fitness in and can be a lot of fun for kids.
The best trampolines have good bounce, strong safety features, and will last for years without needing much maintenance.
Here are some tips on how to choose the right trampoline for your family.
This post contains affiliate links. I will earn a commission at no additional charge to you if you make a purchase using my links. Click here to see my full disclosure policy.
What to Look For in a Trampoline
When purchasing your very own trampoline, there are certain things you need to look for in order to ensure that the product will serve its purpose effectively.
It's important to think about the following features:
in-ground or above-ground
size and shape
what type of padding the frame has
the type and thickness of the jump mat
weight limit
spring length

warranty length

safety features
The market offers a wide range of prices from very affordable trampolines for the average person to the most expensive trampolines.
Different Types of Trampolines
In-Ground Trampoline Pads
In-ground trampolines are pad systems that attach to the frame of your trampoline. These types of pads are constructed from one solid piece of material and provide a barrier between the jumping area and the ground below.
They also help protect against grass, rocks, or other objects puncturing the jumping surface.
These types are mostly seen in trampoline parks and indoor gymnastics centers but if you have the right yard they can be great options that offer a large jumping area for backyard fun with the ability to offer a safer option to avoid trampoline injuries.
There are two basic types of in-ground pads available on the market today: round model and octagon shaped.
Above-Ground Trampoline Pads
A solid pad constructed of several connected panels. It is made with 1″ thick material and comes in various colors. Above-ground pads are designed to attach to the outside frame of the trampoline, so they may move around when you jump if not properly secured. They come in several colors ranging from green to blue.
Size
Trampolines come in different shapes and sizes from mini trampolines designed for indoor use to much larger trampolines for practicing gymnastic routines.
Most trampolines are circular in design and have a metal frame made which is covered with padding. Others may also have a skirt surrounding the base to enclose the frame, creating more bounce room.
Some rectangular trampolines have a center bar to create an "x" design. In addition, some rectangular models may offer more bounce room as well as safety nets along the side.
Trampoline mats are made out of either natural/synthetic rubber or Polypropylene material.
An oval trampoline is made with curved frames to create a snaking effect. The padding is not as thick in comparison to the rectangular trampoline, but they have more space for jumping.
Padding
Trampoline safety is of the utmost importance, so it is necessary to look for trampolines that have padding. This not only protects against injury but also ensures proper bounce and function over time.
Many models may come with weather-resistant pads which help keep them secure no matter what type of climate you live in.
Types of trampoline mats
Natural rubber is more elastic than polypropylene and can handle higher temperatures, but it is thinner and has greater friction.
Polypropylene mat material isn't as elastic of a product, so it doesn't handle temperature fluctuations as well, however, it does offer greater thickness which helps reduce the wear and tear on the trampoline.
Weight Limit
Important for safety considerations, take a look at the weight capacity of each one and make sure yours is within those measurements (i.e., if your trampoline is designed for 150 lbs. and you weigh 200, then you should look at a bigger model).
Most models come with weight limits ranging from 100lbs to 500lbs.
Spring Length
The number on a spring signifies its length. The larger the number, the longer the length of your springs will be – and this directly affects how high you can bounce on it.
If you want to jump higher (or at all), you're going to need more spring power. That's why bigger is better when it comes to trampolines.
Warranty
While ordering from Amazon may be what's best for you. Consider purchasing directly from companies to get the best their warranty has to offer, like the lifetime warranty from this company.
Safety features
In addition to padding, make sure that your model includes an enclosure too.
Trampoline enclosures are designed to keep you safe while you bounce and prevent you from falling off the trampoline pad.
Some nets can be removed while others must be used with the trampoline frame itself, so take that into consideration before making a purchase.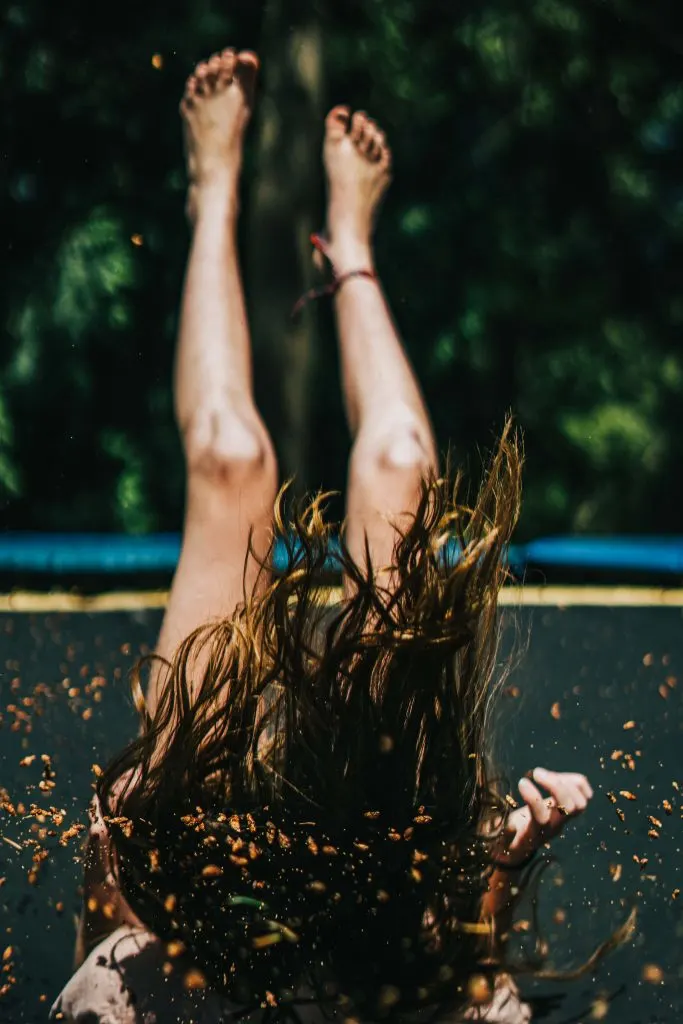 More Things to Consider When Purchasing a Trampoline
Knowing the answers to these questions will help you zero in on what type of trampoline is best suited for you and how much money you want to spend.
How often do I plan on using this?
You don't want to purchase a cheap trampoline for regular use. If your trampoline will be used daily, then you must invest in a higher-quality model that is sturdy and built to last.
Nor do you want to purchase an expensive trampoline if you're not sure how much use it will actually get.
However, if the product will just be used on occasion during special times of the year (i.e., Christmas), then you can consider saving money with a cheaper model.
How much should you spend on a trampoline?
Your trampoline budget will be determined by how important it is for you to have the best product available. The difference between a cheap and expensive model can define your experience with that product.
You should also consider whether or not you need additional features like a padded spring cover, weather-resistant pads, safety enclosure netting, etc. Some models have additional accessories like basketball hoops.
Trampolines can start as low as $60 for a kid's mini-trampoline to the most expensive trampoline for backyards I found at $3500.
The average decent backyard trampoline can be found in the $300-$600 range.
How old are the kids who will be using the trampoline?
Children grow up quickly so you'll need to take their age into consideration. Smaller children have smaller bodies which limit what kind of model they can use.
Some models come with weight restrictions for this reason, but others may only accommodate older kids.
You should consider the size of your trampoline before making a final purchase. Most models come in different sizes so that they can accommodate more than one person at a time, but it is still important to look at some other factors as well.
The best size trampoline for the size and shape of your yard
It's important to take into account where the trampoline will be placed.
One factor that you may not have considered is how much space there is around the outside of the trampoline. Some models have a very small footprint and can be placed in a corner to save space, while some take up the majority of a backyard area.
The overall weight of the trampoline is another important factor to consider. Not all locations can accommodate a big trampoline, so you need to make sure that the model you purchase is an appropriate size for your backyard.
If you have a limited amount of space or heavy soil, look for something more compact or durable. However, if you live in an area where there is plenty of room and level soil, you can find larger models.
If it is in an area that can get windy or has a slight drop-off (like the edge of your patio)
An alternative if you just don't have the space or budget is a mini trampoline that can also be used indoors. They make a great addition to fitness programs.
What about off-season storage?
You might worry that a larger trampoline is harder to store, but it's actually easier because you can use the size and weight to your advantage – they're less cumbersome than smaller models when you want to move or store them.
How much does trampoline insurance cost?
Before choosing a trampoline, speak to your insurance agent about what you are purchasing.
A large jump area or enclosure may not be covered under your current policy, so you should check with them before making a purchase.
Also, keep in mind that some insurance policies will cover damage done to others properties if it is a result of negligence, however, this varies depending on the company.
Some insurance companies won't even cover trampolines.
If you are a renter, I would highly advise speaking with your landlord.
The Benefits of Having a Trampoline in the Backyard
Since trampolines can be a great exercise, they can be a great addition to your home.
Some of the benefits of having a trampoline include fun for the whole family, minimal equipment is needed, helping kids get healthier and build their confidence and skills, improved physical coordination, and low cost for peace of mind.
For kids involved in gymnastics or cheerleading, having your trampoline can help practice skills.
They are also beneficial for helping to build bone density, which is crucial for young athletes who want to be able to compete at high levels in their chosen sport.
It has a low impact on the body, which reduces wear on muscles and joints compared to running or other high-impact activities.
This provides hours of fun and healthy exercise for your family while making the whole family feel good.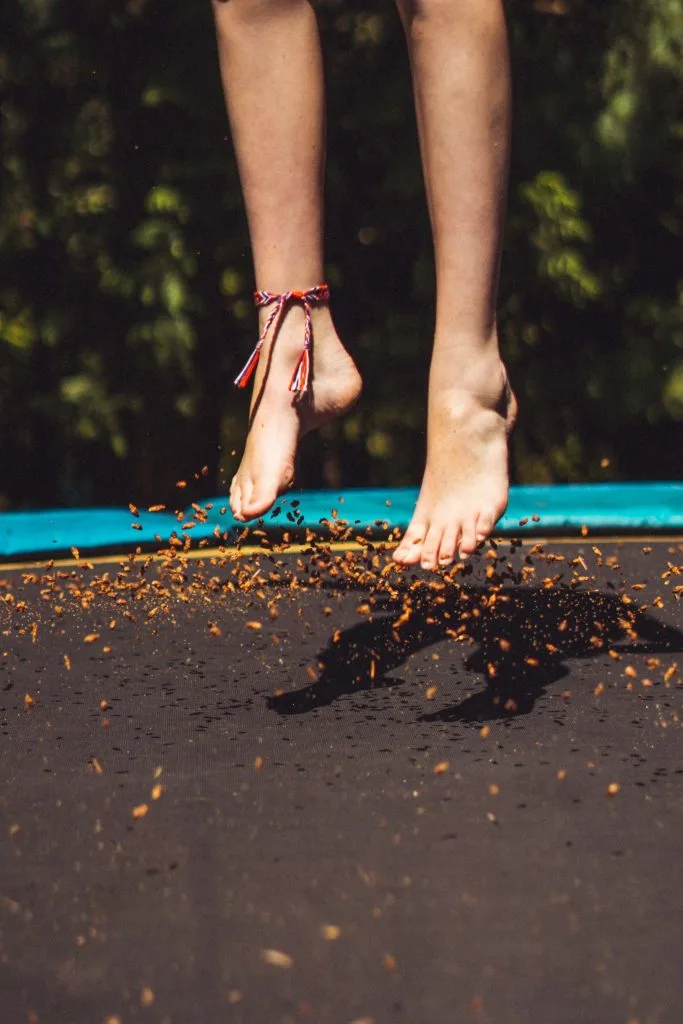 Where to Buy Your Trampoline
Many sporting goods stores and larger retail chains carry trampolines.
One way to save money is to purchase a used model that has been well-maintained.
You can also find them online from companies such as Amazon, Walmart, or Target, so it is easy to find one that suits your needs and budget.
Look around for sales and discounts.
What's the best time to buy a trampoline?
If possible, shop during the off-season when there is less demand and they need to sell their stock to make room for all of the new models coming out in time for summer.
This may be the best time to buy a trampoline since it will help you save money and still get a quality trampoline.
Give yourself plenty of time before purchasing your trampoline. If you wait too long, the best models will be out of stock due to high summer demand.
The Best Trampoline Brands
Many companies have taken advantage of the popularity of trampolines.
There are some good brands on the market including:
This is one of the best-selling trampoline brands at local stores and online.
It is designed for homes with multiple users, which makes it ideal for families with children to get plenty of exercise.
The Galvanized Steel Trampoline Frame uses four rust-resistant galvanized steel legs, which are connected by heavy-duty 28-gauge galvanized steel cables to create a superior bounce compared to cheaper models with bungee systems.
It has a patented enclosure system that allows it to be extremely safe, while still being easy to use.
The thick PVC mat provides complete safety when used with the enclosure netting, which adds additional protection around the jumping area. There are also rubber caps on each end of the bar that hold up the net for added peace of mind when kids are bouncing.
Their website offers not only large trampolines for backyard use but also high-quality rebounders designed for indoor fitness as well as accessories, videos, and more.
Price: Backyard trampolines start at $999; fitness trampolines begin at $199
Springfree Trampolines
Springfree Trampolines provides the safest springless trampoline, with a net enclosure, suitable for kids of all ages!
This trampoline is great for growing families as it offers plenty of room for extra jumpers without compromising safety.
It has a unique design that combines cushioning and support at the same time with its combination jumping mat and frame system made from high-quality materials that can hold up to regular use.
It's easy to assemble and can be done in just a few minutes, making it ideal for people who don't want to put the trampoline together themselves.
It has significantly fewer metal parts than other models so there is less chance of rusting or snapping over time.
Pricing: $999-$2399
Giantex
The Giantex brand is known for having large jump areas and enclosure netting. At a more affordable price range. They also have a variety of models to choose from, so you can find the perfect trampoline to meet your needs.
Some models can hold up to 300 pounds in weight while others can accommodate up to eight jumpers at once.
They also have extra wide padding on the mat and around the springs, which adds layer of protection when kids are bouncing.
Price: $200 – $600
Skywalker Trampolines
This is probably the most popular brand of trampoline at local stores and online. It is designed for kids, but some models are safe enough that adults can use them too.
They are durable and made to handle regular use for years without wearing out or losing their effectiveness.
This brand is known for its patented Flex-Bounce System that reduces how much impact your body takes while jumping. They are made with heavy-duty stitching and materials designed to resist abrasion.
Skywalker trampolines are available in a variety of sizes and models, so you can select the right one for you.
Price: Around $400.00 depending on size.
Zupapa
Zupapa consistently has one of the best-rated trampolines on Amazon.
With a variety of sizes and price points, this trampoline also includes a few features not included with other brands.
The 2022 upgrade, patented no-gap design greatly reduces the hazards of getting your hands or feet caught in the gaps.
The jumping mat and spring cover are tightly sewn together. Also, the springs are all covered with thick and durable pads.
What's more, their new design expanded the jumping area and added longer net poles and more springs.
Zupapa trampolines use the latest hot-dip galvanizing technology to make the frame anti-rust, more stable, and more durable. Their unique two-steel joint design along with W-shaped legs provides a solid base for the whole trampoline.
Zupapa's unique self-locking frame structure does not use screws, making the trampoline more stable and sturdy. What's more, the assembly is simpler and more time-saving.
Zupapa includes a non-slip ladder as a standard feature rather than an add-on purchase.
Great warranty: 10 Years for the Frame, 2 Years for the Jumping Mat and safety Pad and enclosure Net and springs, and free replacement for other parts.
Price: $400-$800 depending on size
Sports Power
The Sports Power brand is known for making trampolines that can hold more weight than other brands. The enclosure netting, padding, and welding systems are very strong and can withstand heavy use and abuse.
The main frame of the trampoline is made with ultra-strong steel, while the legs are welded to provide additional support.
The pads and mat are designed for high-impact activities like running and playing on the trampoline without tearing or wearing out too quickly.
With a variety of models to choose from, you can find the perfect trampoline that meets your needs and fits your budget.
Price: Around $400.00 depending on size
Happy Trampolines
The Happy brand is known for having heavy-duty padding and springs, which makes them safe to use by all jumpers. All of the materials are UV resistant so they can be used in direct sunlight without fading or falling apart.
This is the most expensive trampoline I found for backyards. This trampoline features a claim that its spring coil and diameter are thicker and longer than any other competitor. Stating it is a commercial and gymnastic grade size and thickness. Comes with a lifetime warranty commercial grade frame.
Price: $3500
Tips and Tricks for Safe Use of Your New Trampoline
Limit jumping on the trampoline to 30 minutes per day, 2-3 times per week.
Do not allow people to jump at the same time; make sure everyone has their own mat and area for jumping
Before jumping, clear the mat of any fallen debris like acorns, leaves, or water to prevent falls or damage to the mat
Try not to do acrobatic moves like flips or twists as this may increase your risk of injury
Do not let children under 6 years of age use a trampoline without adult supervision
If your child complains about knee or joint pains when they get off the trampoline, this may be a sign of a bigger issue, so make sure to check with your doctor
Check the trampoline often for any signs of wear and tear that can lead to deterioration or collapse in the future
After every use, inspect the product for loose bolts or nuts, torn nets, and poles, broken hooks, etc., and have them repaired by a professional before using the product again
Learn how to safely remove your trampoline enclosure net and springs
If your trampoline has metal bars, you must make sure that they are covered with plastic sleeves or cushioned mats during use to avoid skin bruising and other injuries caused by pinching
Remove shoes while jumping to reduce the chances of slipping and falling
Put a safety pad around your trampoline, particularly in areas where there may be exposed springs
When you are finished jumping, ensure that all users have gotten off before taking down or folding up your product for storage
Do not try to make repairs on your own; always consult a professional
Do not place any sharp objects on the mat or near the jumping surface
Always keep safety precautions in mind while using your trampoline to avoid injury and prevent damage to your property
Trampoline Storage & Maintenance
During the off-season for trampolines, it is important to ensure that you completely disconnect your product from any power source and drain or cover it to prevent damage.
Make sure the pad and springs are kept in a safe dry place so they will not get damaged and can be used when needed.
During the winter months, keep the trampoline covered with a tarp to keep it dry, and if possible, bring it inside.
RELATED: 29 Awesome Games for Trampolines Your Kids Can Jump Into