Buying gifts for tween girls can be difficult, but it doesn't have to be.
By this age, most kids are into some type of activity or have a strong interest in something.
So you would think this makes it easier to find a gift.
Just get them something they need or want having to do with their hobby.
Well, there's one problem with that….everyone else is doing the same thing.
Bombarding kids and parents with tons of Lego's or Squishmallows can get old.
Grandparents seem to take this to a whole new level.
When our oldest was about 4, we had everything Scooby-Doo you could imagine. It's fun for a while but eventually, kids have outgrown or given up most interests.
I like finding a balance between useful, fun, needed, and long-lived… if I can.
Here are some of my favorite ideas for gifts for tween girls
Exploding Kittens Card Game

Oriya Stainless Steel She Believed She Could So She Did Necklace Bracelet Gift for Women Girl, Inspirational Necklace Bracelet

Spontuneous – The Song Game – Sing It or Shout It – Talent NOT Required (Family / Party Board Game)

The Teen Girl's Survival Guide: Ten Tips for Making Friends, Avoiding Drama, and Coping with Social Stress (The Instant Help Solutions Series)

Just Between Us: Mother & Daughter: A No-Stress, No-Rules Journal (Activity Journal for Teen Girls and Moms, Diary for Tween Girls)

Fujifilm Instax Mini 9 Instant Camera – Ice Blue

In a hurry? Go straight to Amazon and get those gifts delivered in just two days! (Try Amazon Prime 30-day free trial)
This post contains affiliate links. I will earn a commission at no additional charge to you if you make a purchase using my links. Click here to see my full disclosure policy.
1. Gift Cards to Do "Stuff"
While this may seem like a cop-out on the shopping side and not a need, I disagree.
For one, as a parent of three kids, it can get expensive taking them to fun places. Because of these cards, we have been able to do fun things with the kids even when we couldn't afford them.
Museums, movies out, Redbox movies in, or cards to go out to lunch. Mini-golf. Roller skating. Ice Skating.
When in doubt, how about one of these…
What's in your area that tweens like to do?
Family fun time is a necessity, and yes, I know there are so many things you can do for free.
But be honest, we all love to go bowling, or to Chuck E. Cheese, okay well maybe not actually Chuck E. Cheese. I kinda hate that place.
But everyone looks like the fun parent or the awesome gift-giver when we get to go places we might not normally be able to dish out for.
If you buy gifts for families with more than one kid, get either one big card for everyone or individual cards for each member.
Similarly, if you do store gift cards, getting all the cards at the same store can turn into a family gift. We have pooled together gift cards to get one big family gift. That's fun too.
2. A Water Bottle is a must-have gift for on-the-go tween girls.
Our Pick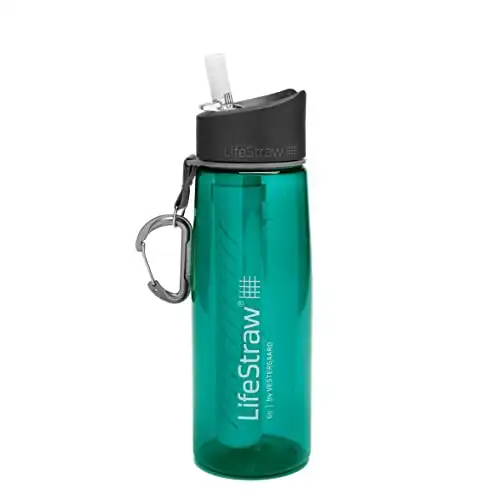 This water bottle is not inexpensive but knowing they have safe water is priceless.
If they hike, camp, or play sports this bottle is great because you can refill on the go without worrying about the quality of the water. Now I know they can fill up wherever they are and it's all good.
Does Your Teen Drink Enough Water? Find out Now
3. Sleeping bag are practical, yet still fun gifts for tween girls.
Our Pick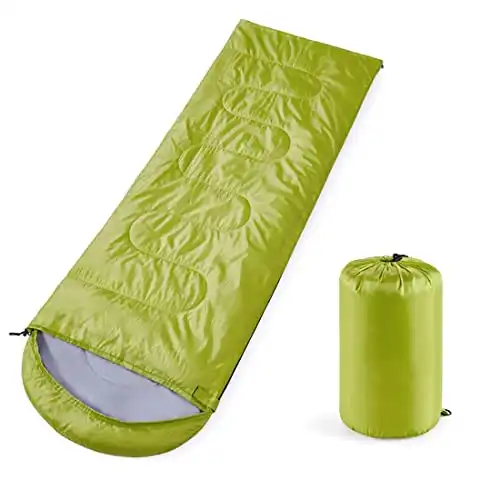 Whether your family camps, your kids get involved in scouts, go on sleepovers, or tents in the backyard.
A good sleeping bag is an awesome thing to have. While as an adult I still like Tinkerbell, cheap bags are too small and not at all warm.
We also have another one by Northface bought back around 1995. It's still perfect.
4. Kindle Fire is a gift anyone in the family will love.
We got these last year. Two of the kids and I have them. It has saved fights over the TV. Over Netflix. Over the computer. It has kept them busy at doctors' offices. On long car rides. And have been used for learning apps.
I think they're a much better option for kids who like to read than a small phone screen.
While I'm not promoting excessive screen use, these tablets are excellent. They perform like expensive tablets, with a nice price tag. Only $49, though we snagged them during Black Friday for $35.
They do offer a kid's edition, however, we just have the regular one. Ours came out before the version with Alexa, so I don't have any opinion on that.
Regular websites are a bit slow, but we don't use them for that. Games, apps, and even Netflix work great. Though the camera isn't great, it's fun for the kids to practice taking photos and videos.
Our Pick
Amazon has its own app store, which contains most apps you find on Google Play.
I use mine exclusively for reading. No need to purchase books, e-books can be "borrowed" from the library.
Grab one of these to go with the Kindle and have one happy tween, well for a while anyway.
5. A nail art kit is just the thing for those girly girls.
Our Pick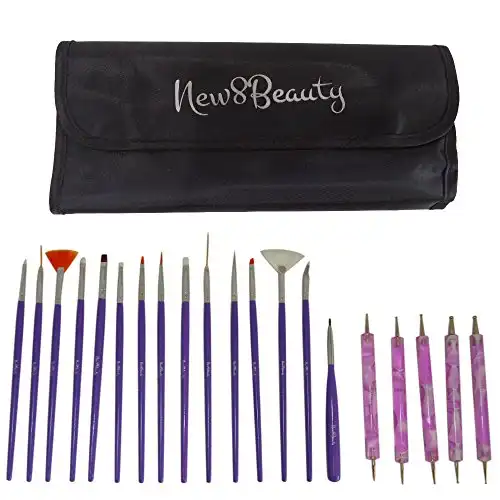 This is a fun nail kit we just bought. Trying out all the different tools has been a blast.
My daughter loves being able to try out all the designs she sees on Pinterest or in the e-book that's included.
With so many options in this 20 piece set that has brushes and dotting pens, she can be as creative as she likes. And with everything in the handy folding case with a magnetic closure, it stays all together neatly.
These cool accessories paired with the

nail kit

make a nice theme gift.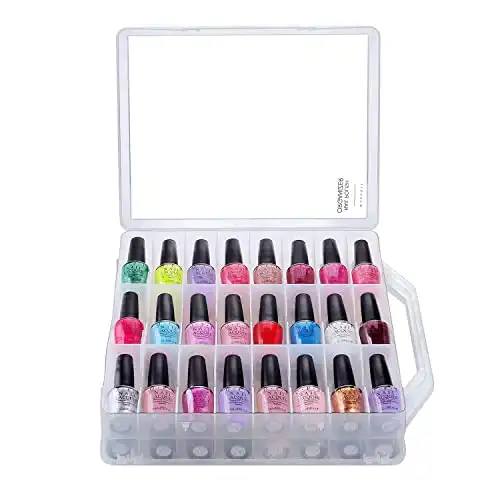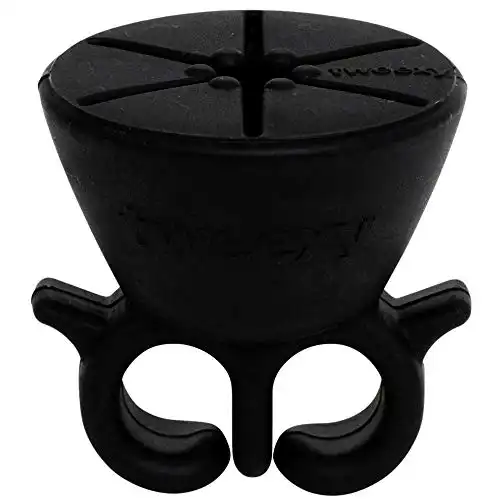 6. A knitting kit is a present tween girls would love
For a while, this was an outdated hobby. But boy is it making a come back. From tweens to millennials to Gen X, women are getting into knitting and crocheting.
Our local library even has a learn to knit club for 5th-8th graders.
I'll be honest,
I want to learn but I can't tell you how many things I have tried that my mind understands but my hands just can't follow. Crochet and knitting are two of them. Maybe this winter I'll try again.
Find a great storage bag to hold everything.
Fill it with yarn and some knitting or crochet needles.
My daughter has these knitting needles. The two different colors make it easier to follow.
I could never decide on all the beautiful sets, so I have a basic crochet hook so I could learn and practice.
We also have a round loom set.
An instructional book is a great start.
I also like YouTube for tutorials. Everyone learns differently 😉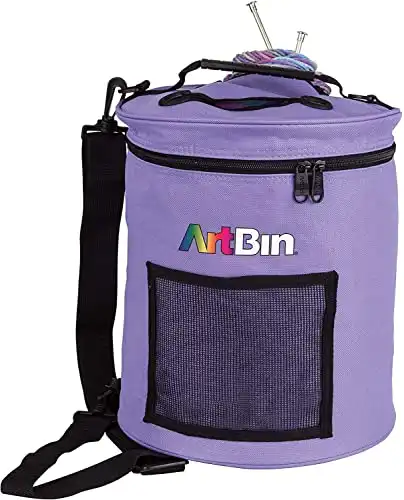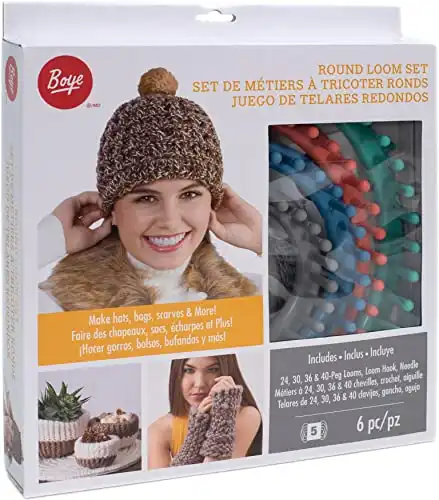 7. Babysitter Business Kit for Tweens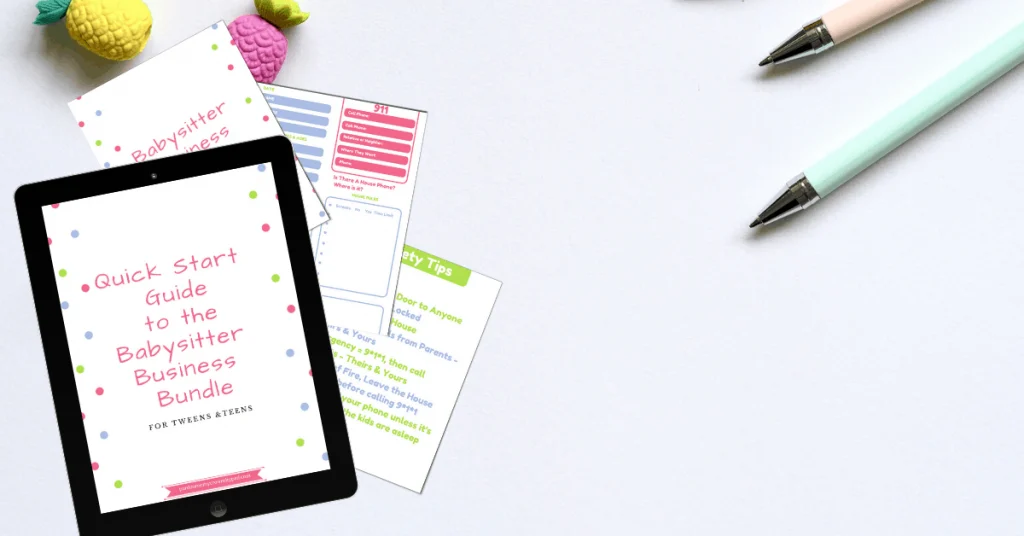 I created a kit for tweens and teens who are looking to start their own babysitting business. It includes 16 forms, checklists, a calendar, and tips. In addition, a 5500-word quick start guide to walk-through using the forms and even more advice.
Put it all in a binder and get a great tote bag and she'll be ready.
Wondering if she's ready for babysitting? Read this post to find out.
Get the Babysitting Business Kit
8. Weighted Blanket
Our Pick
These beautiful kids weighted blankets
might be just what your tween needs to get an amazing night's sleep. For help with anxiety, ADHD, or a variety of sleep issues, they'll be sure to snuggle in and sleep well.
Blankets are based on body weight.
⚠️⚠️It should be no more than 10% of their weight.
9. Craft Kit Club
Created for girls ages 7-12, the Creative Girls Club offers two kits per month! Includes, easy-to-follow instructions and all the materials needed to get crafting with minimal adult supervision.
For a huge variety of subscription boxes for all the people on your list, check out Cratejoy.
10. Friendship Bracelet Maker
Our Pick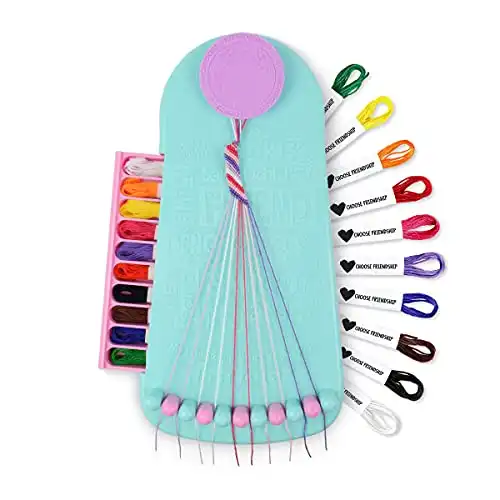 Popular for decades, this activity shows no signs of slowing down, especially with the resurgence of bracelets being made by Swifties everywhere. They can make and share bracelets with their friends as gifts, as a sleepover activity, or even make them to sell.
For girls who like crafts:
More Gifts For Tween Girls
See more cool ideas for tween girl gifts.
RELATED POSTS