Although Advent calendars are typically associated with small children, teens can also use them to count down the days before Christmas in a fun and exciting way.
I'll be providing some creative ideas for a DIY Advent calendar in this article that are geared toward teenagers.
So gather your materials, and let's get started!
This post contains affiliate links. I will earn a commission at no additional charge to you if you make a purchase using my links. Click here to see my full disclosure policy.
Benefits of Creating a DIY Advent Calendar for Teens
Making your own Advent calendar gives you the opportunity to customize it to fit your own tastes and interests, which is one of its biggest benefits.
You can incorporate your teen's preferred topics into the design, whether they are interested in music, art, fashion, or sports.
You're not only making a visual treat by customizing the calendar to their interests, but you're also demonstrating you recognize their interests.
Making a DIY Advent calendar can be a great opportunity for artistically inclined teenagers to express themselves.
Through every step of the process, from planning the layout to making the individual compartments, they may express their creativity and try out new materials and methods.
It's like doing a little piece of art every day till Christmas!
Let's face it, even teens still get excited about Christmas. By providing kids with something to look forward to each day, a homemade Advent calendar encourages anticipation.
The countdown grows more entertaining and unforgettable as they reveal the little gifts concealed behind each door or pocket.
Making an Advent calendar yourself has another advantage in that it can be inexpensive.
Instead of buying a ready-made calendar, you may make your own using resources you already have or find reasonably priced supplies at your neighborhood craft shop.
Additionally, it's a fantastic chance to recycle and reuse materials, making it both affordable and environmentally good.
As much as teens roll their eyes at the idea of "forced family fun", it can be a fun way to enjoy each other's company.
Whether each person does a DIY Advent calendar or everyone contributes to making one for the whole family, it can be a great bonding experience.
It could even become a family tradition.
Traditional Advent Calendar Ideas for Teens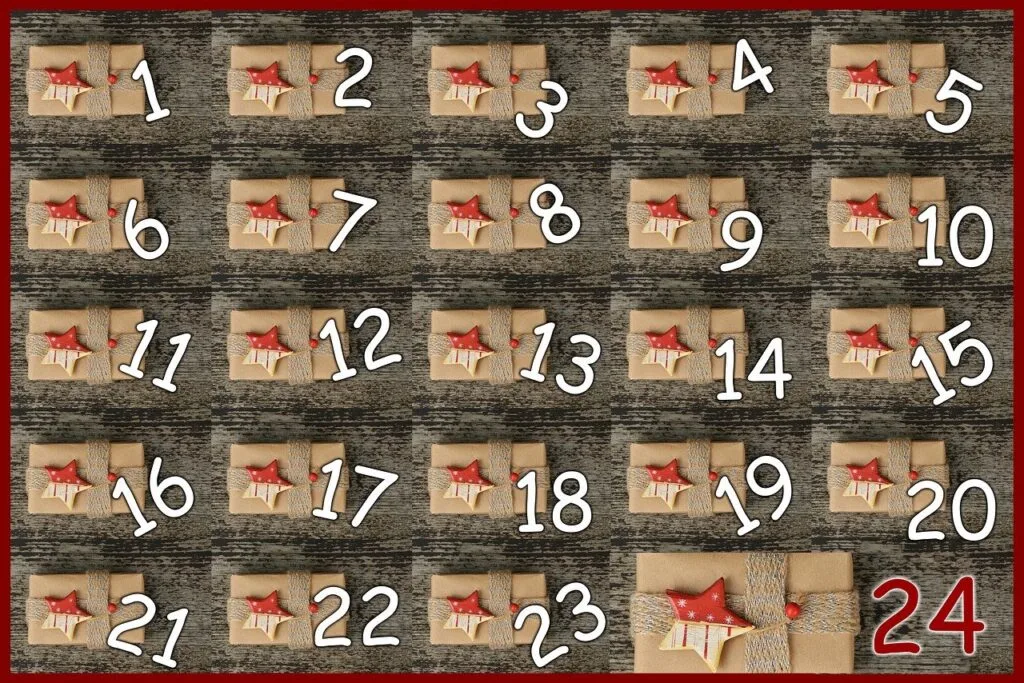 Let's not overlook the appeal of conventional Advent calendars, even though we're all for original and imaginative concepts. These timeless designs can be simply changed to fit a teen's preferences.
Here are some suggestions to get you going:
Candy Countdown: Fill each compartment with a selection of sweets or chocolates. A delightful surprise to start the Christmas season!
Inspirational Quotes: On little pieces of paper, jot down motivational or inspirational sayings that you may put into each pocket. It provides your teen with a daily dose of encouragement.
Activity Advent: Instead of giving your teen material items, stuff each container with a fun task or challenge that they must complete every day. It might involve anything, such as making a holiday playlist or baking cookies.
Creative and Unique Advent Calendar Ideas
Let's get started with a few unusual Advent calendar suggestions that will make your countdown to Christmas genuinely memorable:
DIY Spa Advent: Create a series of mini pampering surprises by filling each compartment with face masks, bath bombs, nail polish, or essential oils. It's the ideal approach for your adolescent to unwind and relax throughout the stressful Christmas season.
Bookworm's Delight: A book-themed Advent calendar can be appropriate if your teen is a voracious reader. For each day coming up to Christmas, wrap a different book, and watch their excitement increase as they learn about new stories to explore.
Adventure Awaits: Small notes with challenging tasks for your teen to accomplish are placed in each pocket. A new skill, a local trek, or a new recipe might all be on the list. Encouraging them to push themselves and enjoy the holidays by doing things they normally wouldn't do.
DIY Advent Calendar Materials and Supplies
Let's make sure we have all the materials and resources we'll need for our DIY Advent calendar project before we get into the step-by-step instructions.
The items you'll need are listed below:
A sturdy base for your calendar, such as a corkboard, canvas, or even a large picture frame.
Small containers or pockets to hold the surprises for each day. You can use mini envelopes, small cloth bags, or even repurpose old matchboxes.
Decorative paper, wrapping paper, or fabric to cover the compartments.
Adhesives, such as glue or double-sided tape, secure the coverings.
Number stickers or markers to label each day.
Ribbons, twine, or hooks to hang the calendar.
Scissors, a ruler, and a pencil for precise measurements.
Crafting supplies, such as markers, stickers, glitter, or any other embellishments, you'd like to use to personalize your calendar.
When you have all of these supplies prepared, it's time to get crafty and begin creating your own DIY advent calendar!
Step-by-Step Guide to Making a DIY Advent Calendar for Teens
After assembling all of our materials, let's get started on making a special Advent calendar for your teen.
Step 1: Decide on the Design and Layout
Choose the layout of your calendar first. Will it have a conventional grid design or a more ethereal one? To obtain a feel of how it will all come together, sketch out your ideas on paper.
Clean and prime your chosen foundation, if necessary, to prepare it. You can paint a corkboard or canvas a solid color or add decorative patterns or designs if you're using one. This is your time to be imaginative and add visual appeal to the base.
Step 3: Create the Compartments
Put a compartment in your little container or pocket for each day of the Advent calendar. Put them in the desired configuration on the base. Assure that they are uniformly spaced, then use glue to hold them in place.
Step 4: Cover the Compartments
It's time to cover each box with fabric, wrapping paper, or scrapbooking paper. Using glue, attach pieces that are slightly larger than each compartment to the surface. This will give your calendar a splash of color and some visual intrigue.
Label each section with the corresponding day of the countdown using number stickers or markers. To make the numbers pop out, experiment with different typefaces, colors, and even materials like stickers or cutouts.
Step 6: Personalize and Decorate
The enjoyable part is now!
Decorate and personalize your Advent calendar to showcase your artistic side. Add stickers, glitter, ribbons, or any other decorations that are representative of your teen's interests and personality.
Your calendar will be genuinely distinctive and special thanks to this.
Step 7: Fill the Compartments
It's now time to put surprises in each container!
Consider what your teen would appreciate: little gifts, motivational sayings, miniature toys, or even straightforward pastimes.
Make sure to keep the enthusiasm high throughout the countdown by planning something new to do every day.
DIY Advent Calendar Fillers and Gifts for Teens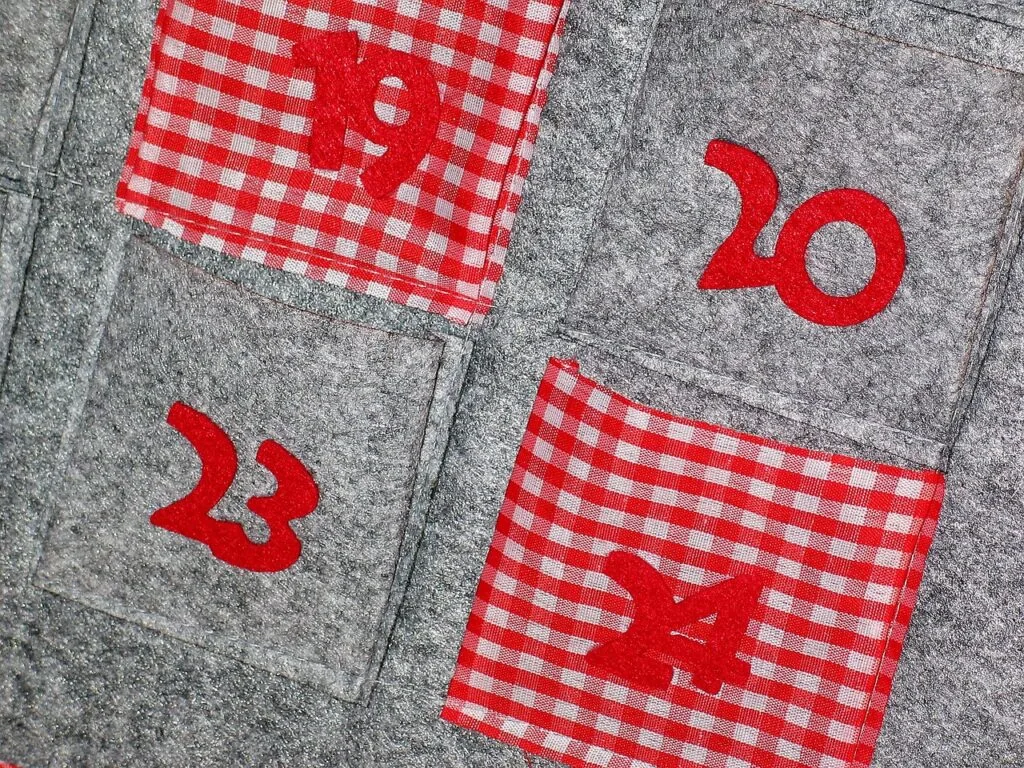 Let's talk about some fillers and presents to make each day of the advent calendar even more exciting now that you've designed the ideal one for your adolescent.
Here are some suggestions:
Miniature puzzles or brain teasers: Challenge your teen's mind with a small puzzle or brain teaser they can solve each day.
Scratch-off tickets: Add a sense of anticipation with scratch-off tickets that reveal small surprises, like a movie night or a special treat.
Motivational quotes or affirmations: Slip in a motivational quote or affirmation for your teen to start their day on a positive note.
Art supplies: If your teen is artistically inclined, fill a few days with mini art supplies like colored pencils, markers, or small canvases.
Coupon book: Create a coupon book with redeemable offers like a day without chores, a homemade meal, or a movie night of their choice.
Personalizing and Customizing Your DIY Advent Calendar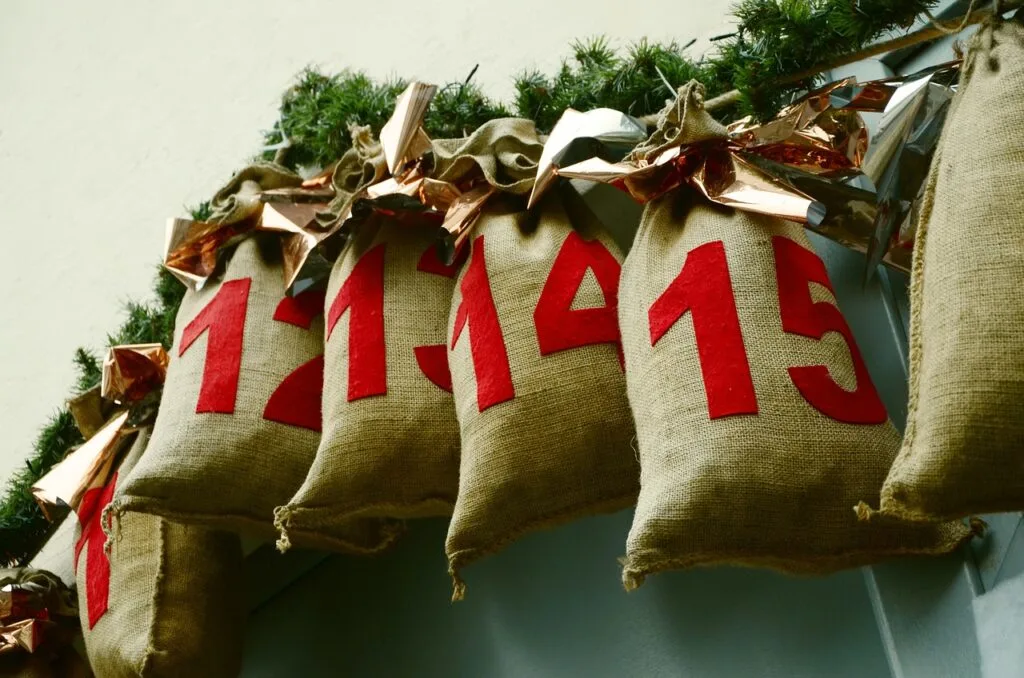 Making a DIY Advent calendar is great because you can customize it to your teen's particular tastes and interests.
Here are some suggestions to assist you in personalizing your calendar:
Themed calendar: Choose a theme that resonates with your teen, such as their favorite movie, band, or hobby. Incorporate related images, quotes, or symbols into the design and fill the compartments with corresponding surprises.
Photo-filled calendar: Print out small photos of your teen's favorite memories, friends, or places they love. Attach them to each compartment for a sentimental touch that will make them smile every day.
Color-coded calendar: If your teen has a favorite color or loves a specific color palette, incorporate it throughout the calendar. From the base to the decorations, keeping a consistent color scheme adds a visually appealing and cohesive look.
Advent Calendar Display and Setup Ideas
Let's discuss various methods to set up and display your DIY Advent calendar in your home now that it is complete.
Here are some suggestions:
Wall display: Hang your Advent calendar on a prominent wall in your teen's room or a common area in your home. This way, they can easily access it every day while adding a festive touch to the space.
Tabletop display: If you prefer a more compact display, place your Advent calendar on a tabletop or shelf. You can prop it up against a wall or use a small easel to showcase it.
Hanging display: Use twine or ribbons to hang your Advent calendar on a string, creating a charming and whimsical display. Hang it across a mantel, above a doorway, or along a staircase for a festive look.
Interactive display: Create an interactive display by incorporating additional elements like small ornaments or mini decorations. Each day, your teen can add a new ornament to a small tree or a decorative display, gradually building up their own unique holiday scene.
Final Thoughts on Creating A DIY Advent Calendar
Making a DIY Advent calendar for your teen as the holiday season draws near can be a great way to add a personal touch and make the countdown to Christmas even more exciting.
The act of creating the calendar and adding surprises will undoubtedly make your teen's Christmas season joyful and exciting, whether you go with a standard design or get inventive with original ideas.
It's important to keep in mind that the calendar should be tailored to your teen's interests and preferences.
By completing this, you'll produce an Advent calendar that they will treasure for many years.
So grab your DIY materials, let your imagination go wild, and have fun creating a unique Advent calendar for your fantastic teen.
Happy Christmas and happy crafting!
If you'd rather purchase an Advent Calendar already made for you, here are some awesome choices.