Cool gifts for teenage boys 2021
Buying presents for teen boys can be difficult, but it doesn't have to be.
Past the point of toys and mundane stuff.
Yet not quite adults.
Cash is still king, but if you're looking for something else, try these.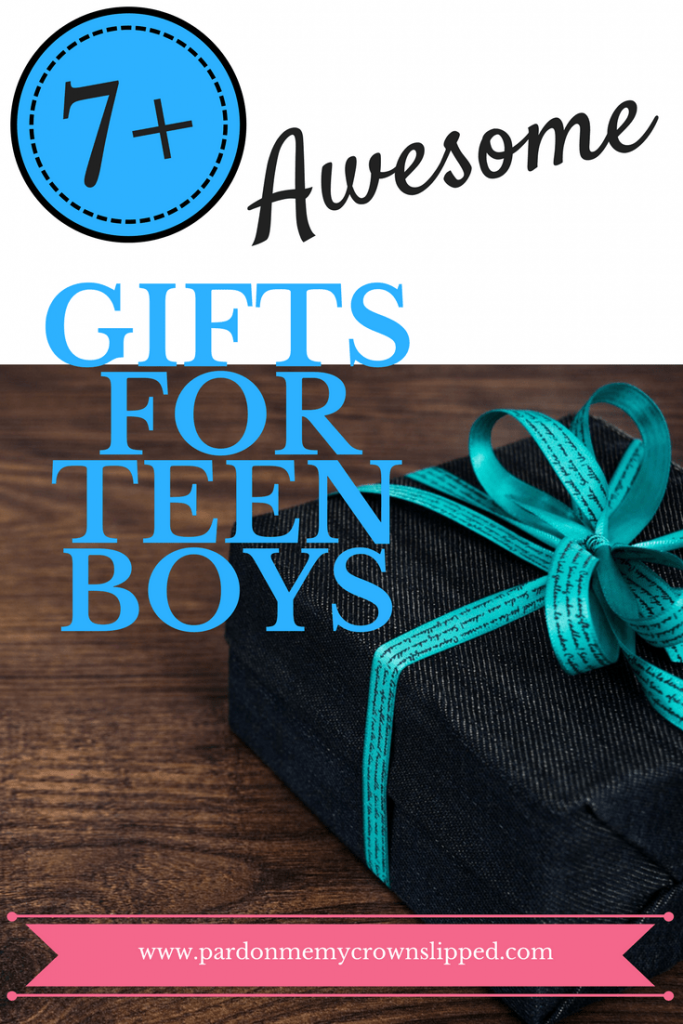 This post contains affiliate links. I will earn a commission at no additional charge to you if you make a purchase using my links. Click here to see my full disclosure policy.
Elecstars Touch Bedside Lamp, Night Light with Bluetooth Speaker, Dimmable Table Lamp with Smart Touch Control, Best Gift for Men Women Teens Kids Children Sleeping Aid

The Manual to Manhood: How to Cook the Perfect Steak, Change a Tire, Impress a Girl & 97 Other Skills You Need to Survive

Marky Sparky Doinkit Darts, Kids Magnetic Dart Board

Capture the Flag REDUX: The Original Glow-in-The-Dark Outdoor Game for Birthday Parties, Youth Groups and Team Building – a Unique Gift for Teen Boys & Girls

Wireless Bluetooth Beanie,Unisex Outdoor Sport Knit Hat with Stereo Speakers & Microphone

How Not to Be a Dick: An Everyday Etiquette Guide

Premium Quality Camping Hammock, Lightweight Parachute Fabric Travel Bed Mosquito Net Outdoor Hammock For Indoor, Camping, Hiking, Backpacking, Backyard

The Driving Book: Everything New Drivers Need to Know but Don't Know to Ask

1. Gift Cards to Do "Stuff"
While this may seem like a cop-out on the shopping side and not a need, I disagree.
Now is the time they are going out with friends and maybe beginning to date.
So outings they can go on with their friends without dipping into their parent's pockets is good.
What's in your local area that teen boys like to do?
Movies out, Redbox movies in or getting fast food. Mini-golf. Roller skating. Ice Skating.
When in doubt what teen doesn't love one of these…
2. Life Straw Water Bottle for teen boy adventurers
LifeStraw Go Water Filter Bottle with 2-Stage Integrated Filter Straw for Hiking, Backpacking, and Travel, Blue

This water bottle is not inexpensive, but having safe water is priceless.
If your teen boy likes to hike, camp, or play sports this is great because you can refill on the go without worrying about the quality of the water at its source.
I know that no matter where they fill up it's all good.
3. Sleeping Bags make a great gift for teen boys
Done right, this gift can last a lifetime.
Whether your family camps or your kids get involved in scouts or goes on sleepovers, or tents in the backyard.
Or heads off on a road trip with his girlfriend at 21.
A good sleeping bag is an awesome thing to have.
And the Wiggles one won't last, neither will Toy Story.
Not to mention, he will not want to snuggle with his girlfriend inside The Wiggles sleeping bag.
Then again, on those occasions, anything will do 😉
<

We also have another one by Northface bought back around 1995. It's still perfect.
Grab one of these to go with the sleeping bag for a great theme gift.
Coghlan's Single Wide Rectangular Mosquito Net, White

Coleman Cooler Quad Portable Camping Chair, Blue

Jetboil Zip Cooking System (Black)

Outdoorsman Lab Inflatable Sleeping Pad – Ultralight, Compact Inflating Pads – Portable Bed Mat for Travel, Hiking, Backpacking – Folding Air Mattress for Sleep Bag, Camping Accessories (Green)

4. Try a wood-burning kit for the teen boy hobbyist
Walnut Hollow Creative Versa Tool with Versa-Temp Variable Temperature Control & 11 Woodburning Points (Tips)

We have this one.
For teens who like to do hands-on projects.
With lots of online tutorials and ideas on Pinterest, this is a great set for making gifts or learning a trade.
Does your teen have an entrepreneurial spirit?
This would be a fabulous way to turn a hobby into a business.
Just look at all the ideas on Pinterest if you search for "woodburning ideas".
BEAUTIFUL!
5. Spotify for your music-loving teen
Another fun teen indulgence, adults too.
In case you've been living under a rock, Spotify is a monthly music subscription.
I don't get any commission for referring you to Spotify, we just like it.
Download music.
Listen anywhere.
No ads.
Enjoy non-stop music.
Make your own playlists.
Play any song.
Unlimited skips.
Listen offline.
At this time, you can get a free 30-day trial, $9.99 per month afterward.
Student subscriptions are only $4.99 per month.
They even have a family plan for $14.99 with individual accounts.
6. A blog makes a cool gift for the teen who's a writer or budding entrepreneur
So this one is a whole different kind of gift.
Some teens might be more interested in a Vlog (video blog, a YouTube Channel).
You know those crazy guys they watch that are playing video games. 🙄
But if you have someone who likes to write or wants to try their hand at internet marketing.
This book on writing mechanics and this one about writing by Stephen King are two of my favorites.
On Writing Well: The Classic Guide to Writing Nonfiction

On Writing: 10th Anniversary Edition: A Memoir of the Craft

I don't have a tutorial yet, but I do have a list of all the tools, some free, some paid that I use for this blog.
To find out more go to my Start a Blog tab by clicking HERE.
7. Cards Against Humanity is a popular teen gift for boys
Cards Against Humanity

If you know this game, I'm gonna take some hits for including it in a teen gift list.
If you don't know this game, it's awesome.
It's for adults.
The language is outrageous.
But oh, so hilarious.
It's like Apples to Apples only nasty.
Good nasty.
I have given this game out to adults four times.
I recommend you check it out well before you buy.
You can find videos of people playing on YouTube.
Here are Nicole Richie, Derek & Julianne Hough playing on The Ellen Show.
So while controversial to get for your teen, be honest with yourself.
Most kids are hearing this language every day, at school, on social media, and in movies.
Younger than you think.
Riding the bus will grow hair on your chest.
With most things, I'm not typically a fan of "since they are exposed anyway so what",
BUT…language is pretty free-flowing in our house.
Though I wouldn't say we are vulgar necessarily with the context.
While our son does own this game, our younger two haven't seen it.
Yet, they do ride the bus so 🤨
These amazing blankets
provide a great night's sleep for anyone with trouble falling asleep or staying asleep.
Teens these days are plagued with more stress than we ever were.
Whether anxiety, ADHD or just not getting restful sleep these blankets
do the trick.
If your son looks anything like mine he's growing hair on his face, but it comes in uneven patches all over his face and neck.
This electric razor helps him keep up and stay looking neat.
10. Dispatch Breakout Games
This is seriously so cool! I want one.
The subject of some of the adventures is mature, such as a murder mystery, so it may be better for older kids, but it was just too cool not to include in this list.
If it's mysteries and puzzles that get your tween excited, try this gift box from Dispatch Breakout Games.
The adventure is delivered directly to your door, every month.
Open the box to find physical clues that lead you to the web and back to the real world to unravel a mysterious crime.
Want a game that keeps on giving a gift over and over?
Sign up for multiple months and save big. After your first storyline, they automatically send you the next one.
Check out these posts for more gift ideas:
RELATED