It's hard to believe teens will ever think they're too old for trick or treat, some never do. But if you're looking for Halloween ideas for teens that go beyond going house to house for candy, read on.
Usually, it all starts that Halloween when we first become moms, we can't wait to dress up our little pumpkins, as well, little pumpkins.
We dress them up and push them in strollers while they sleep all just to show them off and score some candy for ourselves.
Candy, which by the way, lives under your bed every year from Halloween bedtime until you, gain 5 pounds because you binge on it every night once they go to sleep, and finally throw it away sometime around Thanksgiving.
Just me? Okay then.
Soon comes the time when we nudge them up to strangers' doors asking for candy…
WTF when you really think about that by the way…😨
All the while reminding them to "only take one", say "Trick or Treat" and "Thank You".
Soon it's a bunch of your little minions going around while you herd them away from teens dressed as scary shit before they won't sleep at night while you binge on their candy.
They walk around and stumble over costumes and each other still trying to get more than one, but at least they remember to say "Thank You" as they drop their bags and their costume props and ask to go to the bathroom again.
And you grumble as you curse the cool costumes kids in warm weather states get to wear while your fairy princess and cowboy wear seven layers of clothing under their costume and you make them wear a winter hat between houses that are more than 30 feet apart.
After years filled with costumes that are itchy and fall apart before you leave the house.
Long after the babies in strollers that don't care and just around the time all the eye rolls begin you wonder what to do when your kids are too old for trick or treat or at least once they finally decide that.
I think kids of any age should go if they want to but eventually, many of them just decide they're too old for trick or treat anymore. At 15 and 17 my youngest two still enjoy it, but my oldest stopped before then.
When it's time for the next phase of what to do for Halloween, try one of these Halloween ideas for teens and have a ball – monster ball that is!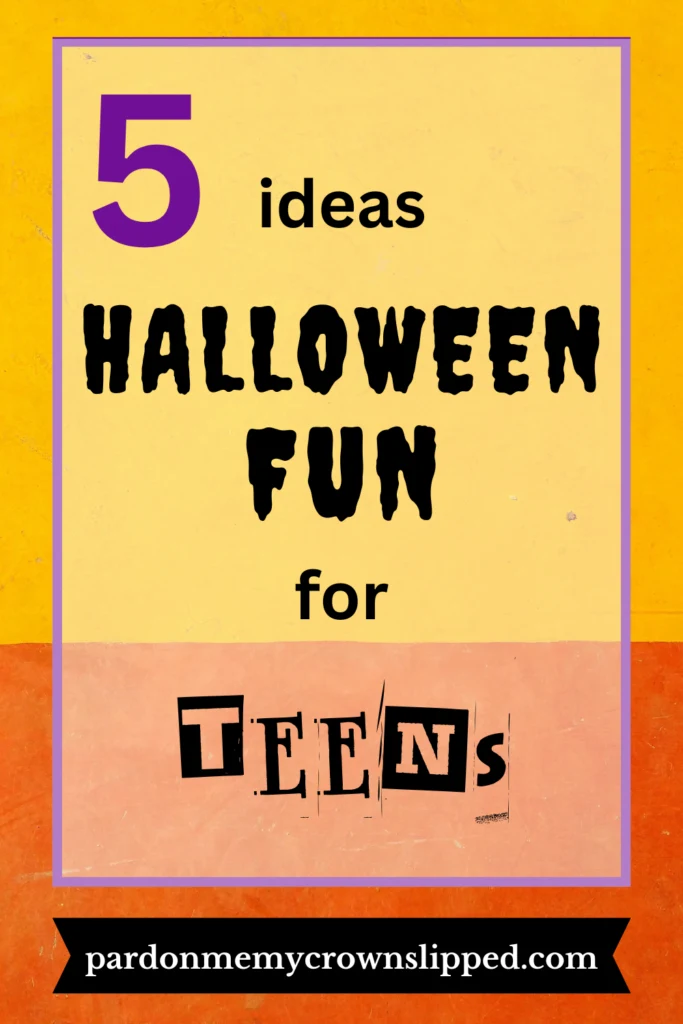 This post contains affiliate links. I will earn a commission at no additional charge to you if you make a purchase using my links. Click here to see my full disclosure policy.
Host A Costume Party a.k.a Monster Ball
A party is a great Halloween idea for teens. This way the kids still get to dress up but you're home and it's warm there.
This makes costume choices so much easier and waaay more fun. No layers, no choosing based on the weather. No complaining about wearing coats over their costumes.
While we haven't dressed up too many times as adults when we did it was fun.
I remember the time we went as pirates, and I got my husband to wear eyeliner. OH. MY. GOD. …. let's just say I barely made it through dinner at the restaurant.😏
Halloween Party Decorations
For some amazing Halloween decoration ideas, like the creep on the ceiling above, visit Magz House
Make shimmery glass bottle potion decorations using this video via Pinterest
Halloween Party Foods
No get-together is complete without all the perfect party foods especially when teens are involved.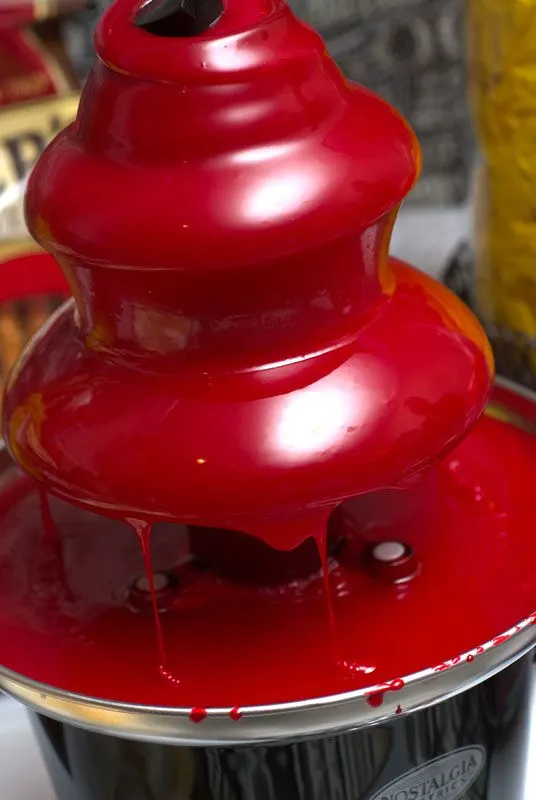 Try this "Blood" Fondue Fountain for a creepy decoration you can eat, instructions are available at Sugar and Spice by Celeste.
Use regular foods to create creepy versions. Color pasta to look like snakes, drinks, and frostings to resemble blood and more.
Charcuterie boards using foods that can resemble body parts.
Use labels to "get in your guests' heads." Bacon can become scabs, dips can be brains – get creative, or turn to my Halloween Pinterest Board for more ideas.
Serve Halloween Themed Drinks
Drinks can be labeled as potions or brews. Most cocktails and punches have non-alcohol versions for teens to enjoy.
Try:
Kids Halloween Drinks from HaloJ
Vampire Floats from Living Lorcuto includes a video
Jack o'lantern Halloween Punch from Hunny I'm Home
Witches Brew from Sugar and Soul
Halloween Party Games and Entertainment
Keep your guests having fun with some of these Halloween party activity ideas.
Halloween Costume Fashion Show
Have prizes for the best costume or just have a fun fashion show.
Halloween Photo Booth
Use fun backdrops and props for the best Halloween photos.
Scary Scavenger Hunt
I have a whole post on different types of scavenger hunts you can do. Find your favorite and give it a scary twist.
For more game ideas try these:
Halloween Music
No Monster Ball is complete without the Monster Mash and other fun Halloween-themed songs. Create a playlist or find one on Spotify or Amazon Music.
Have a dance contest or do karaoke.
Decorate Your Yard for Halloween and Hand Out Candy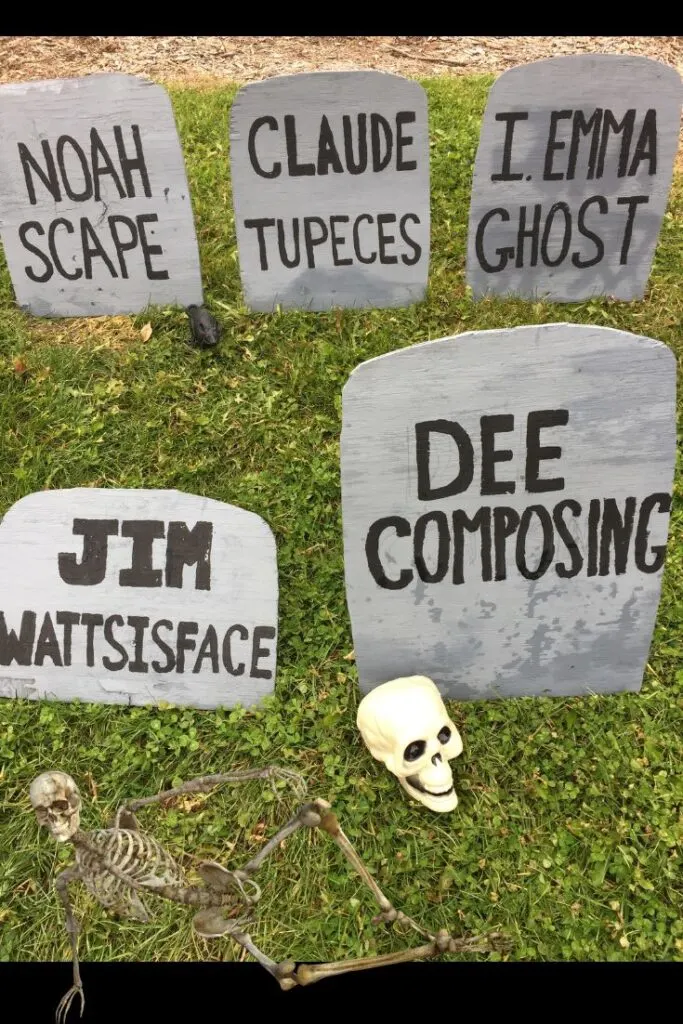 I have always wanted to do this.
I say it every year but we have yet to do it.
Though in my defense we are still doing the trick-or-treat thing. Maybe this year I can convince them.
When I was a kid, I had a friend whose parents did this every year.
They filled the yard with decorations, the awesome homemade kind. Then they would both dress up.
One year I remember her mom dressed as a witch. She filled a huge cauldron with candy and had it in the front yard.
To get candy, you had to go get it, and there she was stirring the pot. I knew it was her, knew her mom well, but it was still scary. Her mom was kinda scary anyway, lol.
Another year, the dad was dressed like a dummy sitting next to the front step, you just thought he was fake. When you came to knock he would grab your ankle. We never saw it coming.
This is one Halloween idea for teens they can really get into. There are so many creative people out there that it's easy to find what works for your yard and skill level. Go as simple or as crazy as you want with this one.
Create some creepy silhouette cutouts to put in your yard or on the porch with this tutorial from Barberella Home
Foam Board Coffin – learn how to make one from Manning Makes Stuff
Make DIY Tombstones by checking out this tutorial at eHow.
Dress up in a scary costume, play spooky music, and add a fog machine to be sure you have the best trick-or-treat house on the street.
For an epic post of some of the greatest DIY Halloween decorations for inside and out go see Stephy at Prudent Penny Pincher.
Go to A Haunted House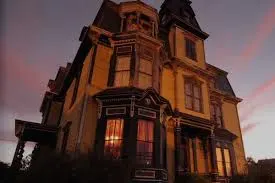 I hate scary things. Hate scary movies, all of it.
But if you like that sort of thing and your kids won't sleep with you for the next 10 years. Try this one.
There are places that are set up just for Halloween with scary corn mazes, haunted houses, or buildings. Sometimes local high schools do them as fundraisers.
We actually have a haunted house in the next city over that does tours year-round, including Halloween. This is the house shown above.
You couldn't pay me to do this. Pretty sure I would cry. For real, actually, cry😱😭
I won't go and you can't make me.
But people looove this stuff.
Find Ghost Tours in a city near you with Let's Roam.
Scary Movies
As I said before, I hate scary movies. Or at least horror movies.
Silence of the Lambs …sure, but all the old ones, 70's versions of Texas Chainsaw Massacre, Friday the 13th, no just no.
I used to almost cry at sleepovers when my friends wanted to watch.
We'd always get, 1 funny movie, 1 romantic movie, and 1 scary movie…lucky for me they wanted to watch the scary one last and I would roll over and go to sleep.
Forget the newer ones, Annabelle, The Ring, …WTF, creepy-ass kids and dolls keeping me awake for years.
I can't even watch the commercials.
Only you know your kids to know what you think they can handle.
Our boys would be fine with most movies and shows, even when younger than now, but my daughter, no way.
So if that kind of scary is too scary, then there are plenty to choose from to still make it fun.
Most kids have seen Hocus Pocus since it's on about a million times a year during Halloween but at least once a season is always fun. The Halloweentown movies and Charlie Brown are always thrown in for nostalgia's sake.
For milder shows but still getting into the spirit, how about Goosebump shows or even The Ghost Whisperer which is available on Hulu and Amazon Prime? Though it's quite a few seasons. It could be fun to watch for the whole month.
Try picking some favorites from your younger days.
Beetlejuice or Ghostbusters.
I know there have been quite a few remakes of Steven King's movies, but what about the older versions of Carrie or It. Maybe Christine.
Often watching the corny way older movies makes it a bit less scary and can at times be funny.
Maybe scary that is supposed to be funny like Abbott and Costello Meet the Mummy (or the Werewolf, Dracula, Frankenstein).
The Ghost and Mr. Chicken was an all-time favorite too.
You might have to dig a bit to find these. Though most are probably available on Amazon Prime for a rental fee.
Creature Double Feature was a show that was always on every Saturday afternoon when I was a kid.
Now those I enjoyed, were in black and white, had terrible props, and were 50s science fiction types.
There's always Psycho or The Birds if you're into real classics.
Even Jaws now that the summer is over and you won't be back in the water until next year.
51 Best Flippin' Cheerleading Movies and TV Shows (includes scary ones too)
If you need some ideas for hosting a movie party, they're included in this post.
Halloween Theme Craft Party
This idea could be paint or any other type of craft party with a Halloween twist.
Serve Halloween-themed drinks and snacks mentioned above.
Paint Party – get ideas from Step by Step Painting
Fabric crafts – 50 plus ideas from Modge Podge Rocks
Circuit crafts – Lidi Out Loud has great Halloween craft ideas for Cricuit
Printable Wall Sayings for Halloween – DIY Bunker
T-Shirts- Make a tie-dye skull with I Love to Create
Baking/Cooking Party – For this fun party you could even invite a guest baker to teach a class on how to decorate Halloween cookies.
Have your tweens or teens decided they're too old for trick or treat? What do you do instead? Comment below.