My husband and I have been together since the beginning of our senior year in high school. That's 29 years in case you wanted to know. 😉
Here's us back then going to the Senior Prom in 1989
We've had our ups and downs, and not just my hair
We definitely don't have this marriage thing all figured out.
This post contains affiliate links. I will earn a commission at no additional charge to you if you make a purchase using my links. Click here to see my full disclosure policy.
But we do know you've got to nurture your marriage and yourself every day.
The Surrendered Wife: A Practical Guide To Finding Intimacy, Passion and Peace

The 5 Love Languages: The Secret to Love that Lasts

TABLETOPICS Couples: Questions to Start Great Conversations

Fun and Romantic Game for Couples: Date Night Box Set with Conversation Starters, Flirty Games and Cool Dares – Choose from Talk, Flirt or Dare Cards for 3 Games in 1 – Includes 150 Gaming Cards

Marpac Dohm Classic White Noise Sound Machine, White

One day raising kids and jobs will be behind us and it will be just us. 7 years and 5 months, but who's counting. 😜
If we want to still enjoy being together, our relationship can't be set aside for later. It doesn't work that way.
So we still keep learning and growing to keep it all going.
Here's us on our wedding day, September 8th, 1995.
Here we are a few weeks ago on vacation at Acadia National Park.
In honor of our 22nd wedding anniversary today…
>>>Crazy busy? Not creative? Try this amazing bundle done for you from The Dating Divas. Click Here or on the pic below.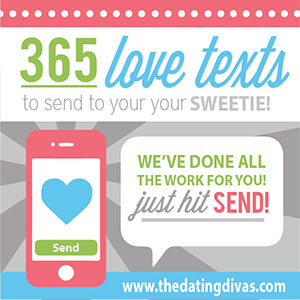 Here are mine. I'm not as gifted as The Dating Divas but here you go.
Some are sweet. A few are romantic. They might make you blush. And the last few get down and dirty.
Texts for your spouse that are keeping it sweet
1. Missing you.
2. Hope you have a great day
3. Every day, I choose you
4. I'm sorry
5. Thanks for taking care of me
6. I'm so proud of you
7. I got us a sitter, so we've got a date
8. Hi, Handsome!
9. I Love You
Texts for your spouse that are getting warmer
10. Hey Lover
11. Last night was amazing. Can I get a repeat?
12. You're so sexy, this girl is on fire
13. I can't wait to have your hands on me
14. I'm hot just thinking about you
15. I can't wait to get my hands on you
16. You're in my thoughts…the inappropriate ones
Texts for your spouse that are Too Hot to Handle
17. I'm naked, how fast can you get here?
18. I put on fresh sheets, wanna make 'em dirty again?
19. Can I have you for breakfast in bed today?
20. I dreamt that I was your sex slave last night, it was hot – very hot
21. I love the way you make me wet when I fantasize about you
22. Some rough hot sex & no thinking would be nice right now
X-Rated Texts for your spouse that are No Peeking
Just kidding, I kept the really good, I mean bad, * wink, wink, ones for my husband since I'm not willing to go quite that far on the blog.😳 If you're really interested in those…Pinterest is a good place to search.