Welcome to a world of dark charm and Gothic grace as we delve into the art of hosting the ultimate Wednesday Addams Party.
Channeling the enigmatic spirit of the iconic character, Wednesday Addams, this guide is your passport to a soirée that celebrates the beauty in all things eerie.
Whether you're a fan of the original Addams Family or simply captivated by Wednesday's intriguing persona, we've curated tips, decorations, and ideas to help you craft a gathering that perfectly embodies her essence.
Maybe this is for a birthday celebration or perhaps Halloween, either way, you're sure to be inspired by some ideas here.
Prepare to step into a realm where shadows dance, candles flicker, and the macabre meets style, all in honor of the mysterious Wednesday Addams.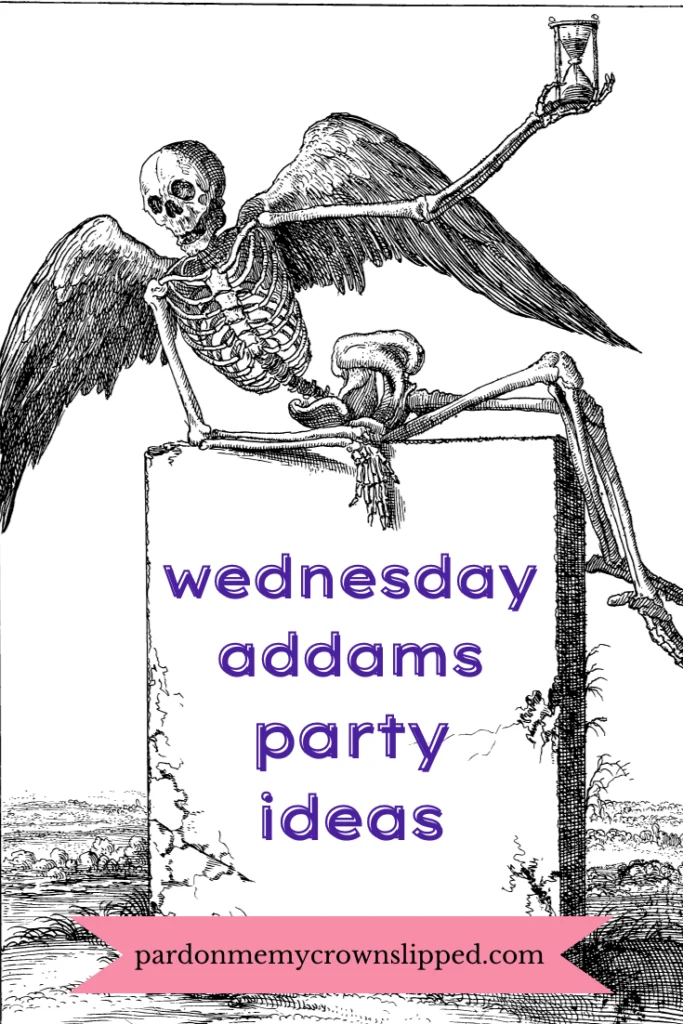 Setting the Mood – Wednesday Addams Party Decorations and Ambiance
Transform your home into a gothic realm to achieve the ideal Wednesday Addams ambiance.
Choose a black and white color scheme with hints of deep red or purple for added drama.
To create a spooky atmosphere in your windows, hang black lace curtains and cover furniture and room corners with cobwebs.
To create an eerie atmosphere, add some candelabras with a vintage theme and dimly lit candles. For an added element of spookiness, scatter fake bats and spiders throughout the space.
Set up a fog machine to make things extra creepy.
Don't forget to build the mood for the party with some ominous background music.
Dress Code – Embracing the Wednesday Addams Style
Adopting Wednesday Addams' distinctive look will encourage your guests to embrace their inner Wednesday Addams.
The gothic, monochrome theme of the party should be reflected in the dress code. Think about knee-high socks, collared shirts, and black gowns.
Consider adding a white collar or a black ribbon to complete the Wednesday Addams appearance for those who want to go one step further.
Encourage imaginative interpretations and allow your visitors to incorporate their individual styles into the topic.
Food and Drink Ideas for a Wednesday Addams-Themed Party
Be bold and unorthodox when choosing food and beverages for a Wednesday Addams-themed party. Black-colored appetizers such as popcorn with charcoal flavoring, squid ink spaghetti, and black bean dip should be offered.
Offer chocolate-covered strawberries with edible spiderweb decorations or black velvet cupcakes as a sweet treat.
Consider serving "Witch's Brew" mocktails, which are created with dark juices, like cherry or grape, and vibrant garnishes.
Don't forget to add creative and eerie names to the food and drinks you serve to further the theme. In addition to satisfying your guests' palates, these inventive culinary concoctions will give the party a sense of mystery.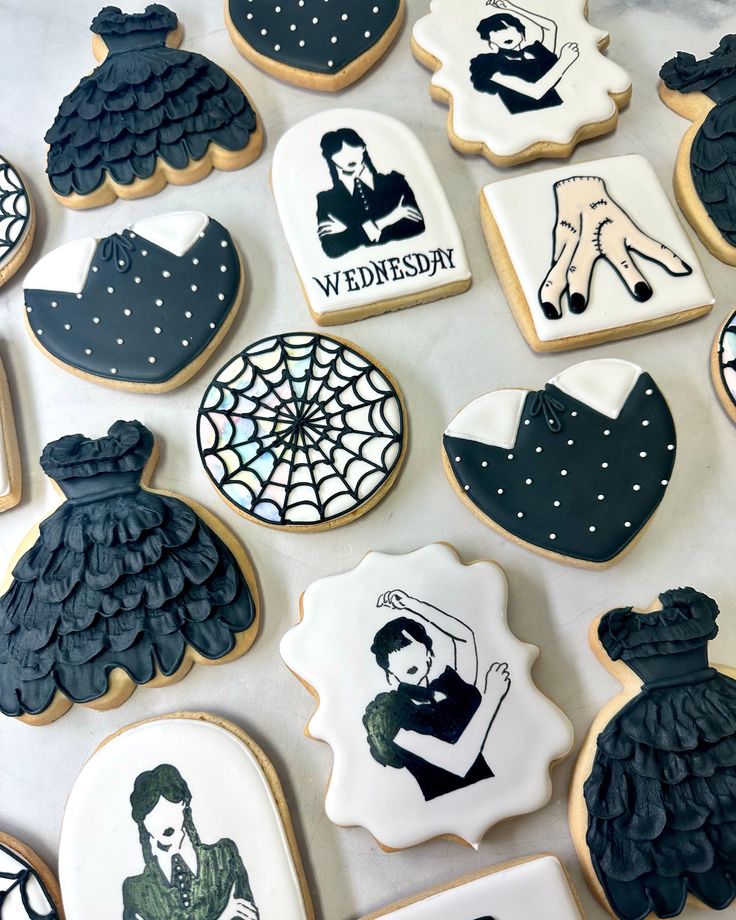 Spooky and Fun Activities for the Party
Without some frightening and entertaining activities to keep your guests interested, no Wednesday Addams party is complete.
If people are willing to dabble in the paranormal, set up a fortune-telling station with tarot cards or a Ouija board.
Plan a murder mystery game where participants must investigate a fictitious crime in the Addams Family fashion.
Scavenger hunts are always a good time, check out a whole list of ideas here.
Set up a DIY potion-making station where guests may mix up their own eerie concoctions using colorful liquids and dry ice for a more lighthearted pastime.
As always a photo backdrop and props are lots of fun for parties.
These activities can keep your guests interested and up the ante on the celebration.
Playlist – Creating the Perfect Eerie Atmosphere
Any party, especially one with a Wednesday Addams theme, benefits greatly from music to establish the tone.
Stream the soundtrack on Spotify, from the Netflix series, Wednesday, starring Jenna Ortega.
Or make a playlist that includes gothic rock music, haunting melodies, and ominous classical music. Include well-known tunes like "This Is Halloween" from The Nightmare Before Christmas, "Superstition" by Stevie Wonder, and Donovan's "Season of the Witch"
Include the theme tune from the first Addams Family TV show to bring back some fond memories. The mix of these carefully chosen songs will immerse your visitors in Wednesday Addams' magical and sinister realm.
Creating a playlist that embodies the Wednesday Addams party theme is all about embracing dark and moody vibes with a hint of playfulness.
Here's a curated playlist for your Wednesday Addams party:
Vic Mizzy or Andrew Gold- "Addams Family Theme Song"
Siouxsie and the Banshees – "Spellbound"
Bauhaus – "Bela Lugosi's Dead"
The Cure – "Lullaby"
Joy Division – "Dead Souls"
Portishead – "Sour Times"
Danny Elfman – "This Is Halloween"
Duran Duran – "Come Undone"
Eurythmics – "Sweet Dreams (Are Made of This)"
Sneaker Pimps – "6 Underground"
Radiohead – "Burn The Witch"
The Sisters of Mercy – "Lucretia My Reflection"
She Wants Revenge – "Tear You Apart"
The Cult – "She Sells Sanctuary"
Yeah Yeah Yeahs – "Heads Will Roll"
Dead Man's Bones – "My Body's a Zombie for You"
Ladytron – "Ghosts"
The Horrors – "Still Life"
New Order – "Blue Monday"
The Cramps – "Human Fly"
Nick Cave & The Bad Seeds – "Red Right Hand"
Stevie Wonder – "Superstition"
Donovan – "Season of the Witch"
These songs encompass a blend of dark wave, gothic rock, alternative, and electronic genres, creating a perfect atmosphere for your Wednesday Addams-themed party.
Enjoy the eerie tunes and let the party begin!
⚠️ Always prioritize age-appropriate and content-conscious song choices for a younger audience.
Wednesday Addams Party Favors and Goody Bags
Prepare party favors and goody bags so that your guests can take a little bit of the Wednesday Addams party home with them.
Small black bags should be filled with frightening snacks like black licorice, gummy worms, and miniature chocolate skulls.
Add further touches of gloom by including tiny items like miniature Ouija boards, keychains with skeletons, or imitation spiders.
To add a personal touch, include customized notes that contain Wednesday Addams quotes.
These party goodies will not only serve as a memento of the good times they had at your celebration, but they will also let guests feel fully immersed in the Wednesday Addams world.
Wednesday Addams Invitations and RSVPs
Be imaginative with your invitations when inviting people to your Wednesday Addams party. Create ominous invites in black and white using Gothic fonts.
You should use witty and enigmatic phrases like "Join us for an evening of darkness and delight" or "You have been summoned to embrace your inner darkness."
Send a tiny black coffin along with the RSVP to push your visitors to respond.
The tone of the celebration will be set by these distinctive invitations and RSVPs, which will heighten interest among your attendees.
Final Thoughts on Hosting a Wednesday Addams Party
Throw an extravagant Wednesday Addams party to unleash your inner Wednesday Addams.
By creating a frightening atmosphere with eerie décor, promoting a Wednesday Addams-inspired dress code, and planning creepy and entertaining activities, you can embrace the darkness, the macabre, and the unusual.
Entice your visitors with a menu of sinister and unusual foods and beverages, and create the ideal spooky atmosphere with music that has been meticulously chosen.
Party gifts and goody bags that exemplify the Wednesday Addams experience can be given to your guests as party treats.
You can create a spectacular and one-of-a-kind event that will leave your guests wanting more by embracing the dark and celebrating the unusual.
So go ahead and throw the party of a lifetime by letting your inner Wednesday Addams out.
More Party Themes