Welcome to a visual journey into the delightfully macabre world of Wednesday Addams cakes!
If you're planning a gathering inspired by the enigmatic and darkly charming Wednesday Addams, look no further.
This gallery of photos is designed to transport you to the realm of gothic elegance, offering an array of cake designs that capture the essence of the iconic character.
Whether you're drawn to her mysterious allure or captivated by her unique style, these cakes will surely inspire your own creative vision for a Wednesday Addams-themed affair.
So, dim the lights, light some candles, and let's delve into the shadows of cake artistry.
This post contains affiliate links. I will earn a commission at no additional charge to you if you make a purchase using my links. Click here to see my full disclosure policy.
Wednesday Addams Cake
This captivating round black cake is adorned with a delicate spiderweb on top, elegantly accentuated by skirting and candles arranged in a candelabra fashion, embodying the mysterious allure of Wednesday Addams.
Wednesday Addams Torte
This Wednesday Addams torte consists of black buttercream frosting with a drip design. Adorned with this adorable Wednesday fondant figure, any girl would be excited to have it for her birthday cake.
Wednesday Addams Birthday Cake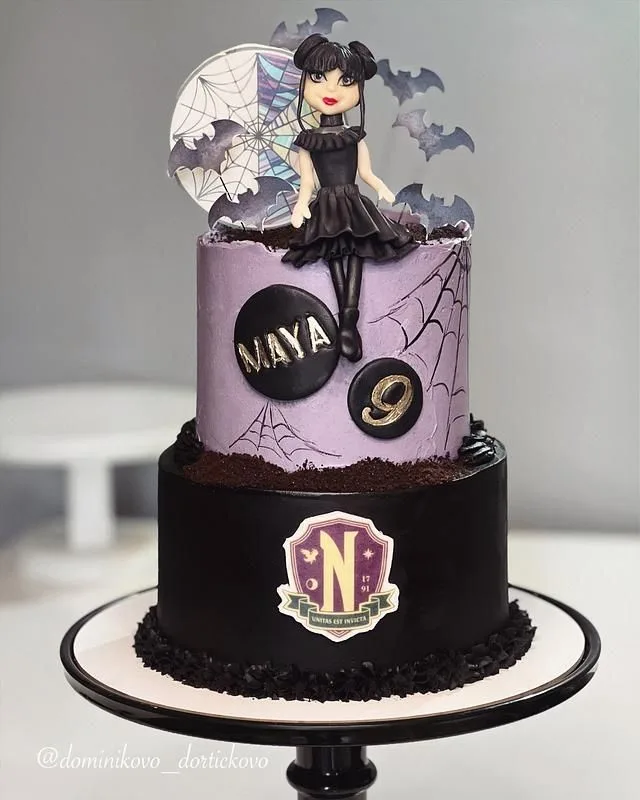 This two-layer cake features the stained glass Wednesday Addams cake topper from the series as well as an adorable fondant replica of Wednesday herself.
Wednesday Addams Purple Layer Cake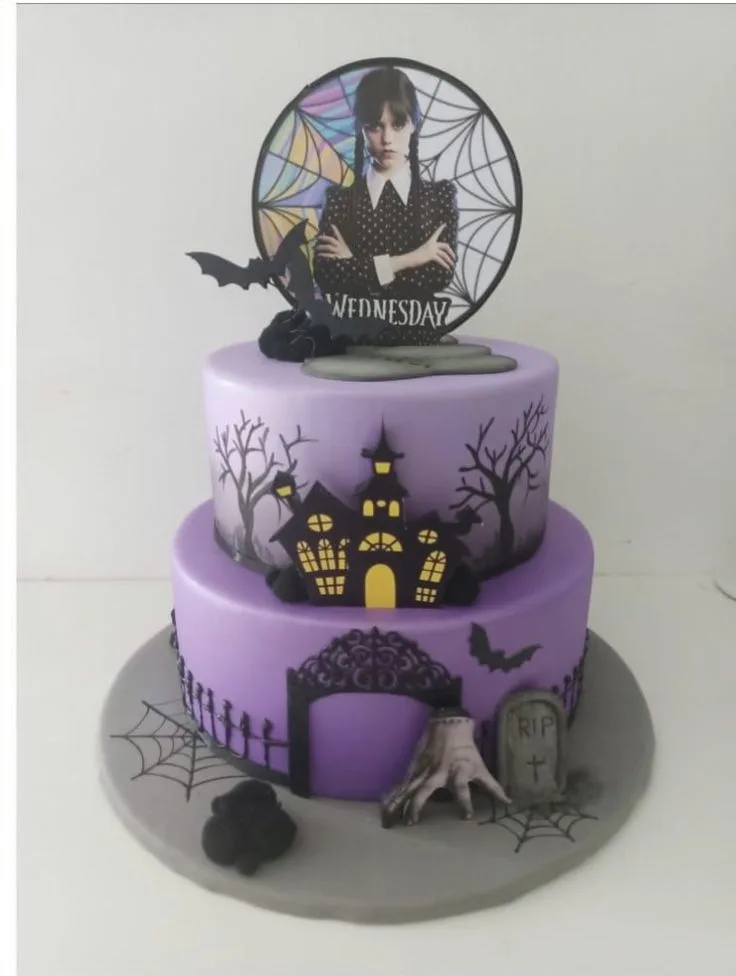 Another cake topper appears on this two-layer purple ombre cake. With a spooky addition of Nevermore Academy and of course, Thing.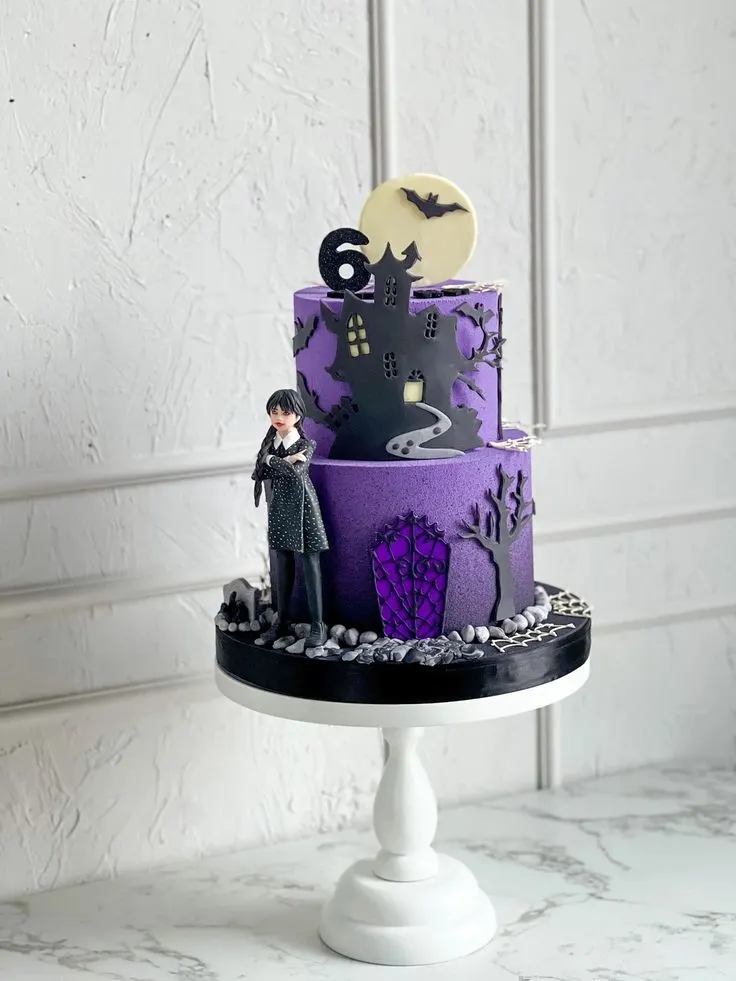 Victorian Styled Wednesday Cake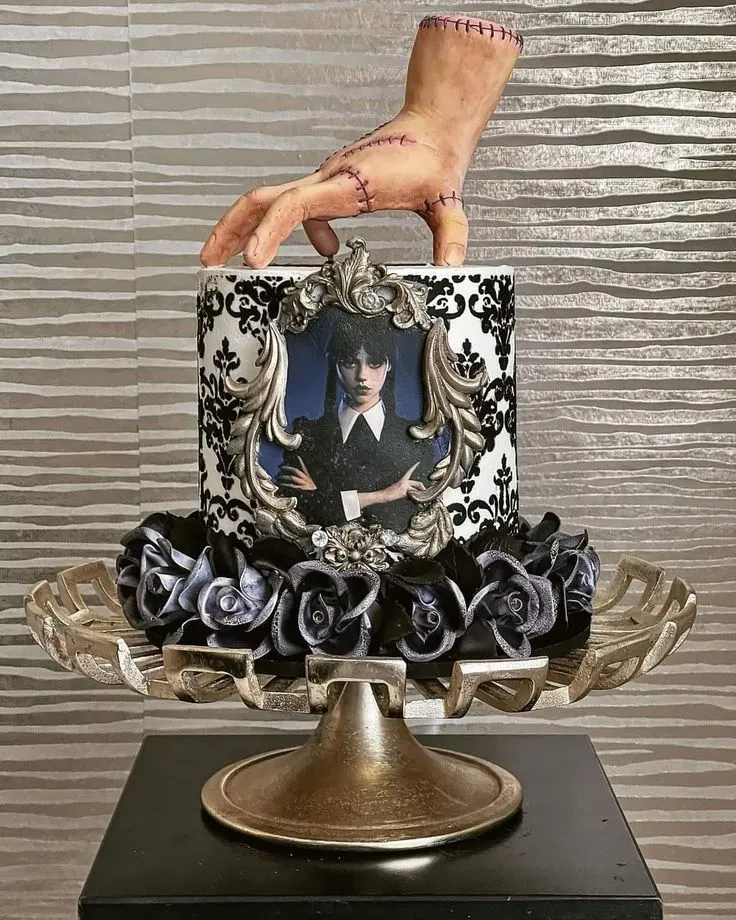 A Victorian-themed cake embellished with intricate design elements and featuring a portrait of Wednesday would make an exquisite choice for a birthday celebration.
Thing Cake
This cake focuses on Wednesday's beloved sidekick, Thing.
Wednesday's Dress Cake
This design takes her simple polka dot dress and creates a simple yet elegant cake.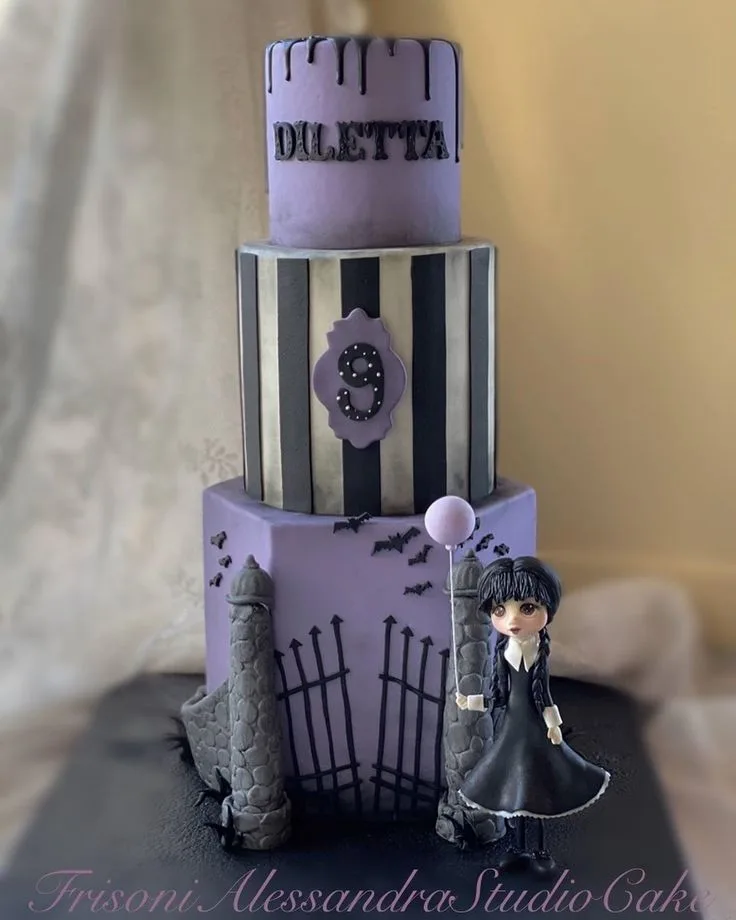 Melancholy Wednesday Cakes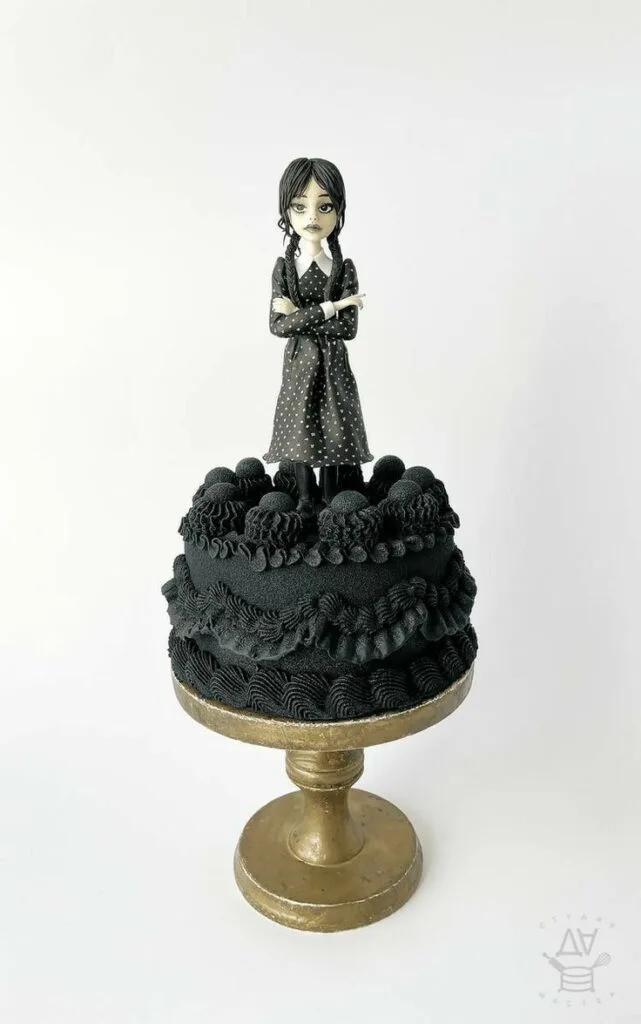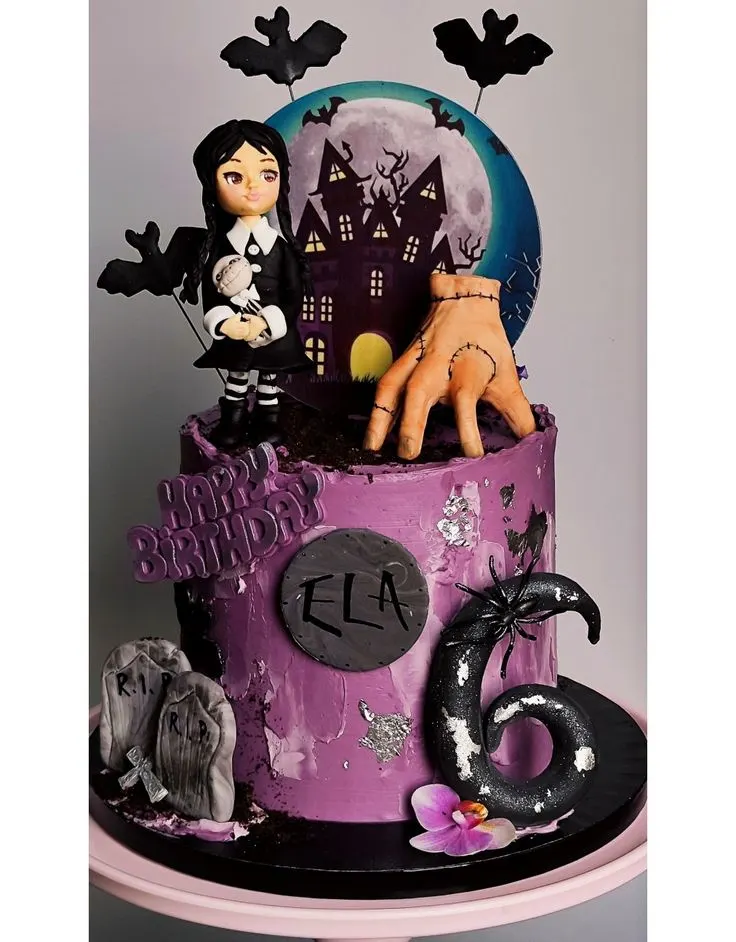 Wednesday Addams Dance Cakes
Drawing inspiration from the widely recognized "Wednesday dance," this cake pays homage to Jenna Ortega, who choreographed the iconic number.
This cake features another dancing Wednesday incorporating a visually unique texture.
This delightful creation portrays a youthful rendition of Wednesday, her face radiating a charming appeal that would particularly resonate with younger girls, complemented by a whimsical dress made of delicate tulle.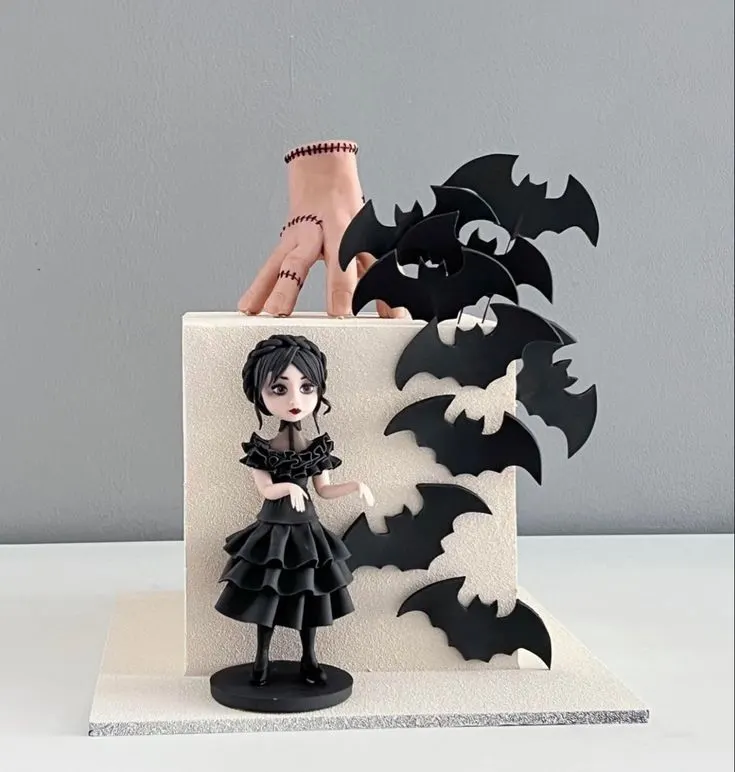 Wednesday Cakes Featuring Enid
These cakes eloquently depict the intriguing dynamic and contrast in personalities between Wednesday and her roommate Enid, showcasing a fascinating blend of dark allure and vibrant eccentricity.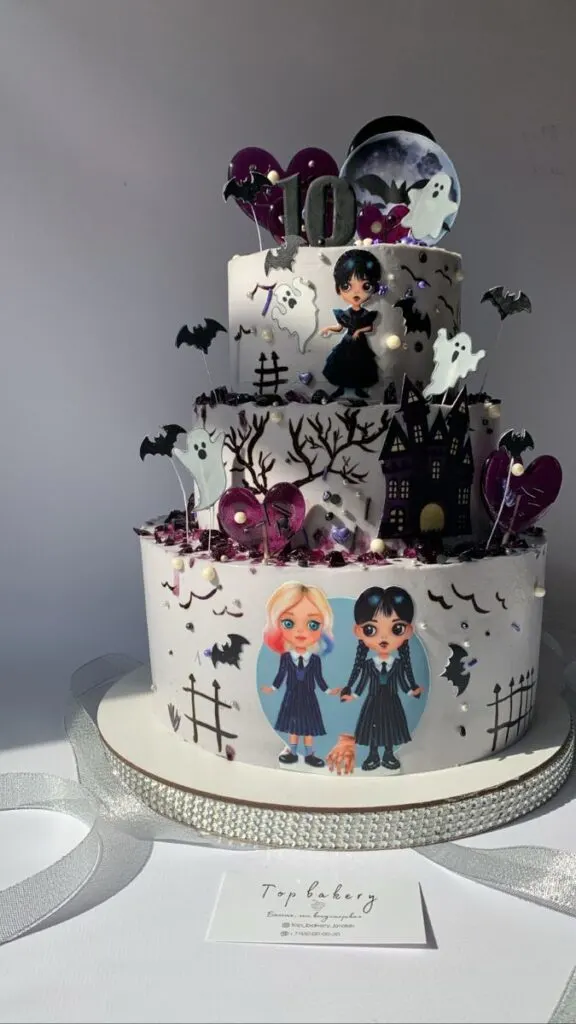 Wednesday Addams Cupcakes
These beautiful purple confections adorn a simple black rose, embracing Wednesday's essence and adding a touch of eerie elegance to every bite.
Wednesday Cupcake Toppers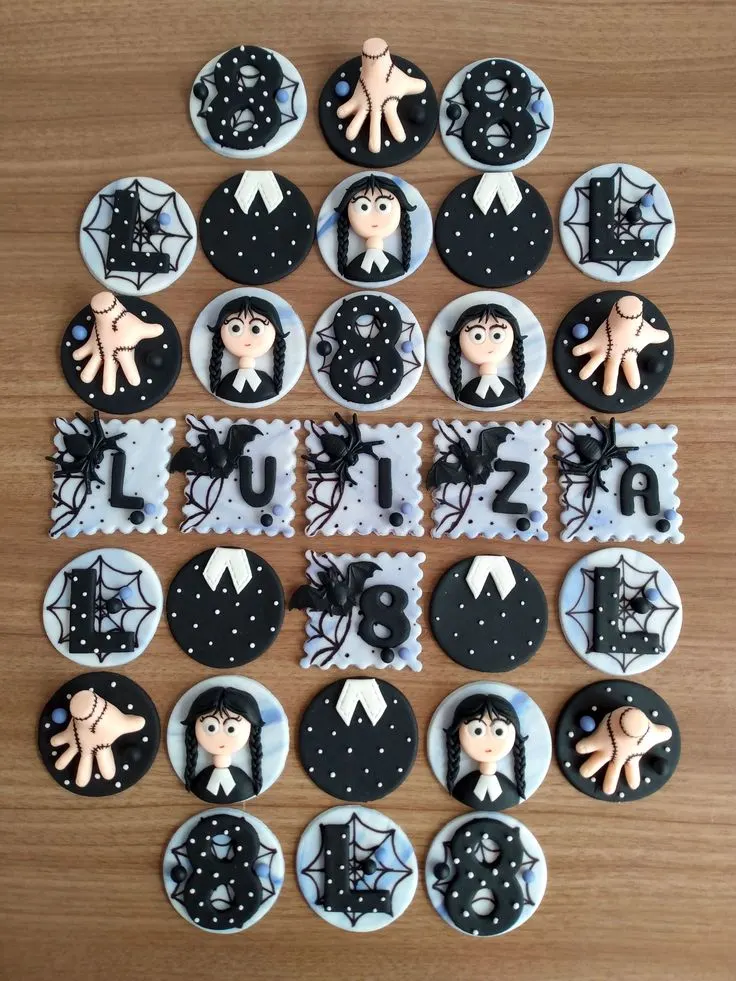 These fondant toppers are a perfect addition to cupcakes.
Wednesday Addams Cake Pops
Watch these gorgeous cake pops being made by Ana Unforgedible Art LLC on Facebook.
In this visual exploration of Wednesday Addams-inspired cakes, we've unearthed a captivating array of confectionery creations that celebrate the mysterious spirit of this beloved character.
Each cake is a testament to the artistry and imagination that can bring the darkly charming world of Wednesday Addams to life in a deliciously eerie form.
From intricately designed details to the use of monochromatic palettes, these cakes showcase the creativity and inspiration that can fuel your own Wednesday Addams-themed gathering.
So, take these hauntingly beautiful visuals as a muse for your own event, and let your creativity bloom in the shadows of Wednesday's world.
Embrace the darkness and create an unforgettable soirée that even Morticia would approve of.
For Wednesday party ideas: Hosting the Ultimate Wednesday Addams Party: Celebrate in Eerie Elegance
More Cakes You Might Enjoy