I started this journey of looking at black cakes when researching Wednesday Addams cakes. From there, I fell down the rabbit hole of looking at some of the most amazing creations.
I'm not a baker or decorator, but I am genuinely in awe of these fantastic creations. I hope you enjoy them.
If I have shown one of your cakes and didn't offer proper credit, know that it was unintentional and I would surely love to give credit where it is due, so please let me know. Enjoy.
This post contains affiliate links. I will earn a commission at no additional charge to you if you make a purchase using my links. Click here to see my full disclosure policy.
Black Cake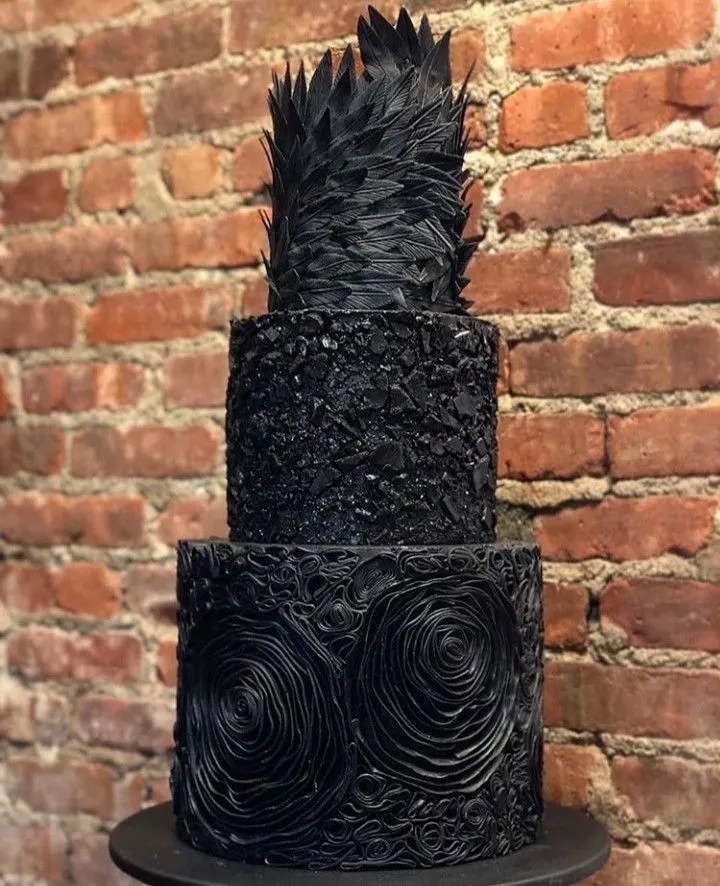 This cake would be perfect for a wedding or birthday. It reminds me of the '20s and Schitt's Creek all at once, caw, caw. And I mean this in a good way. 😉
Black Cakes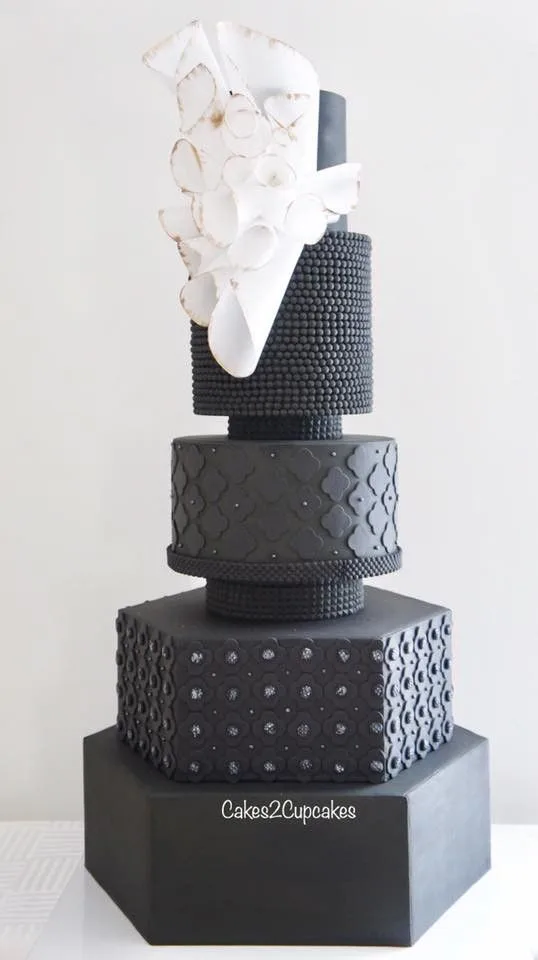 This elegant geometric cake design is perfect for a wedding or large birthday gathering.
Black and Gold Cake
This cake would work for many occasions – birthdays, weddings, or even a New Year's Eve celebration.
Black and White Cake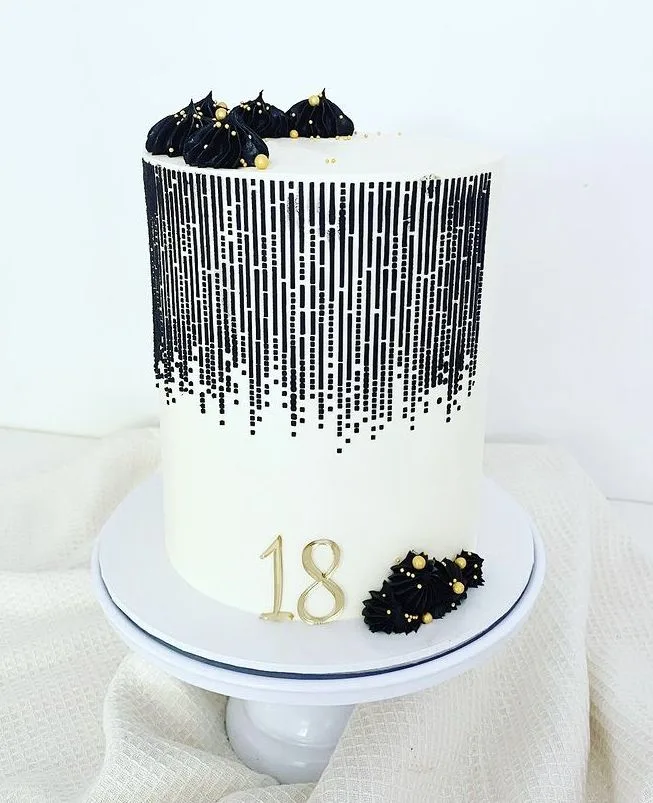 This black-and-white creation reminds me of city skyscrapers. It would work nicely for birthdays, retirements, or a black-tie affair.
Black White Gold Marble Cake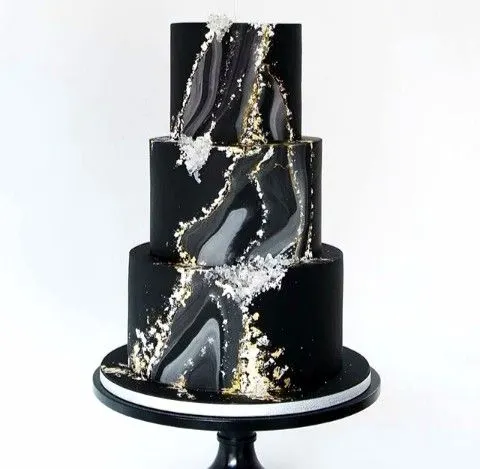 A luxurious three-layer cake boasting a stunning exterior reminiscent of marble, blending the timeless elegance of black and white with hints of golden opulence.
Elegant Black Cake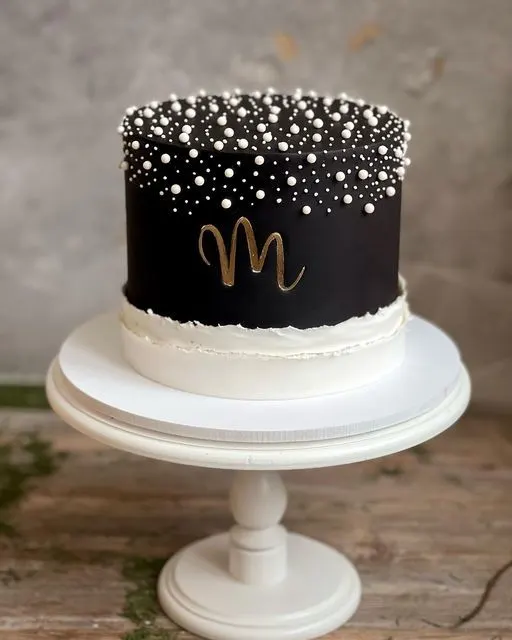 This simple black cake holds its own with the beautiful addition of pearls and a monogram.
Black Floral Butterfly Cake
See this gorgeous Black Velvet cake from all sides over on IG.
Black Wedding Cake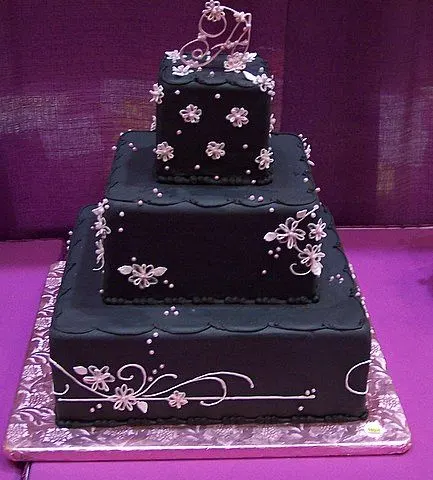 This three-layer cake is just one gift box upon another just begging to be opened.
Red and Black Cake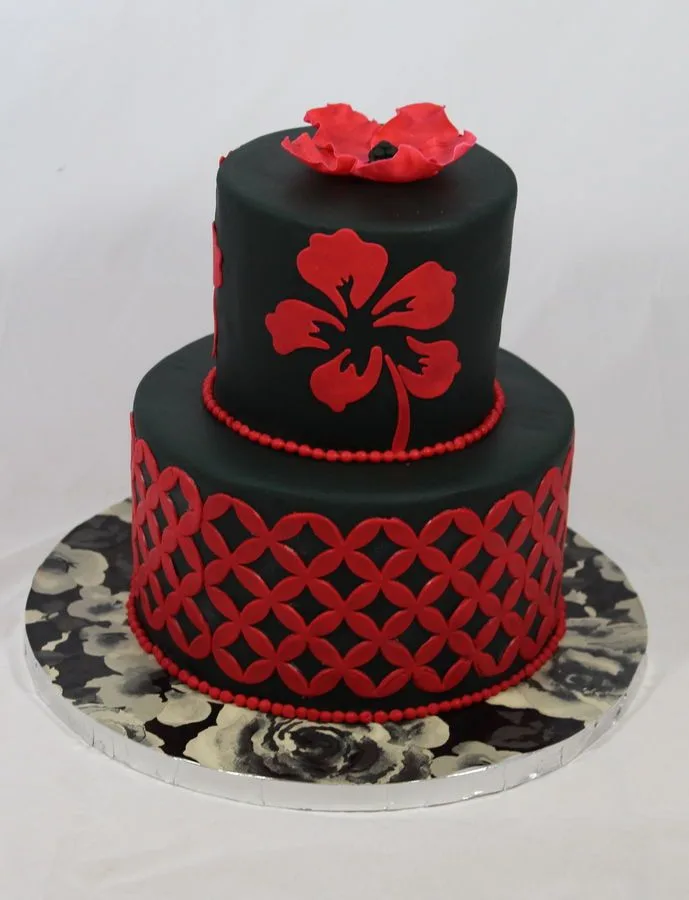 This captivating cake features two round layers, with the bottom layer showcasing an intricate lattice-like design, accentuated by a vibrant red Hawaiian flower, adding a touch of exotic elegance.
Black and Gold Birthday Cake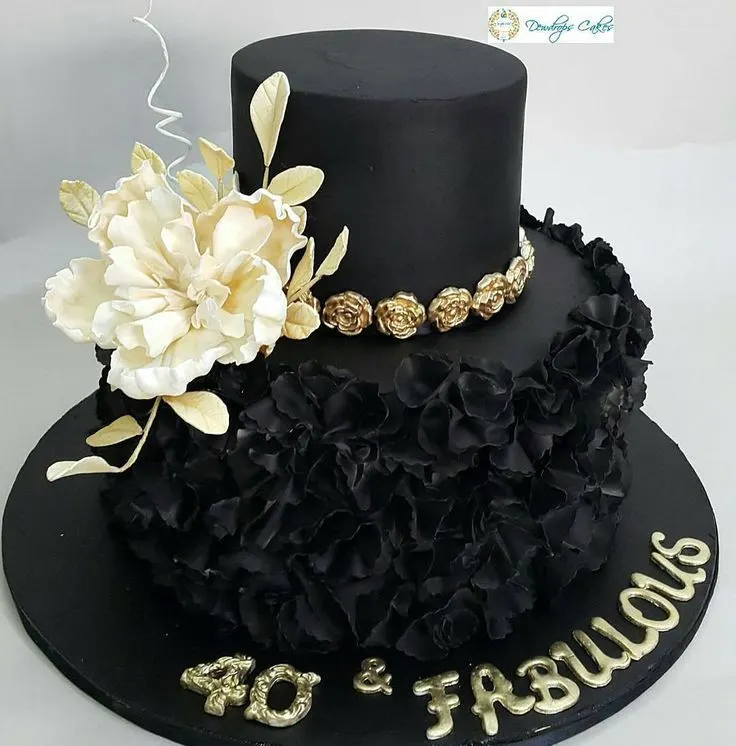 This 40 and fabulous cake shows its class with the ruffled layer accented with the gold rosette belt reminding me of a dress.
Elegant Black and White Cake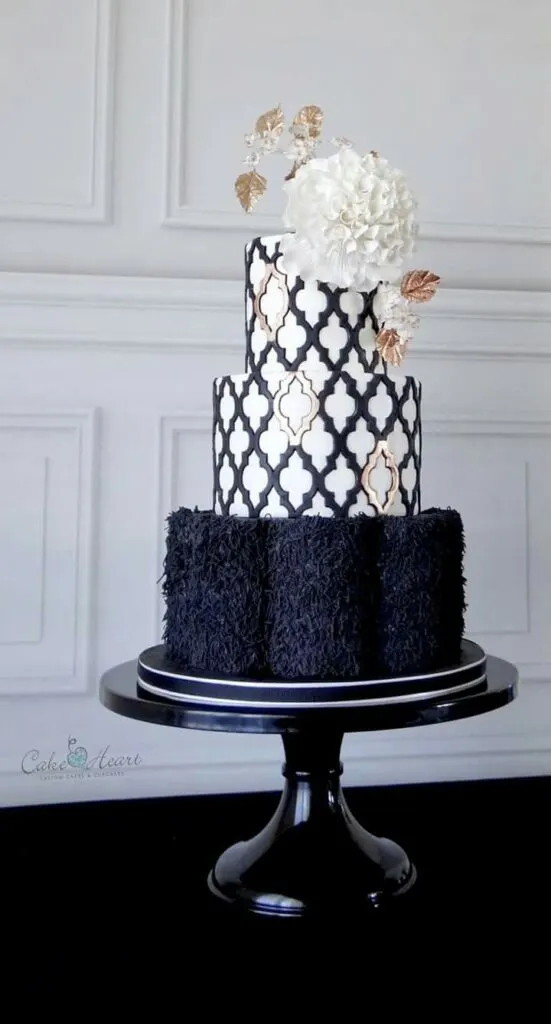 This three-layer cake harmoniously blends a textured layer with an intricately detailed quatrefoil design, resulting in a visually captivating and uniquely styled masterpiece.
Black and White Wedding Cake
An elegant towering confection adorned with contrasting black and white layers, promising a visual feast and a symphony of flavors.
Black and Gold Cakes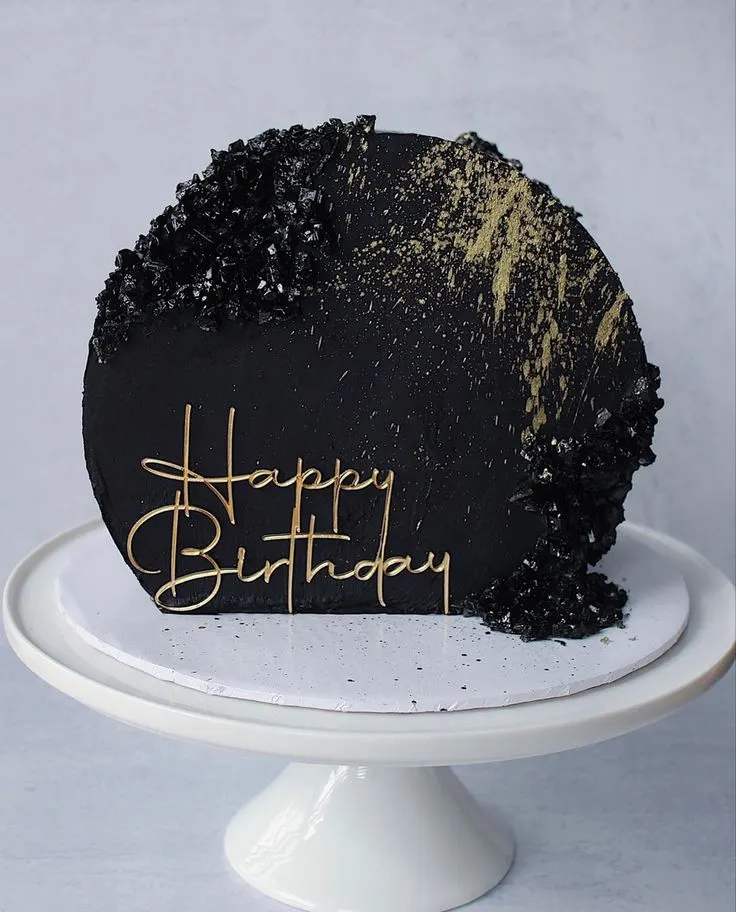 This arch cake shows off it's dignified design looking like black onyx with gold flecks.
Black and Gold Cake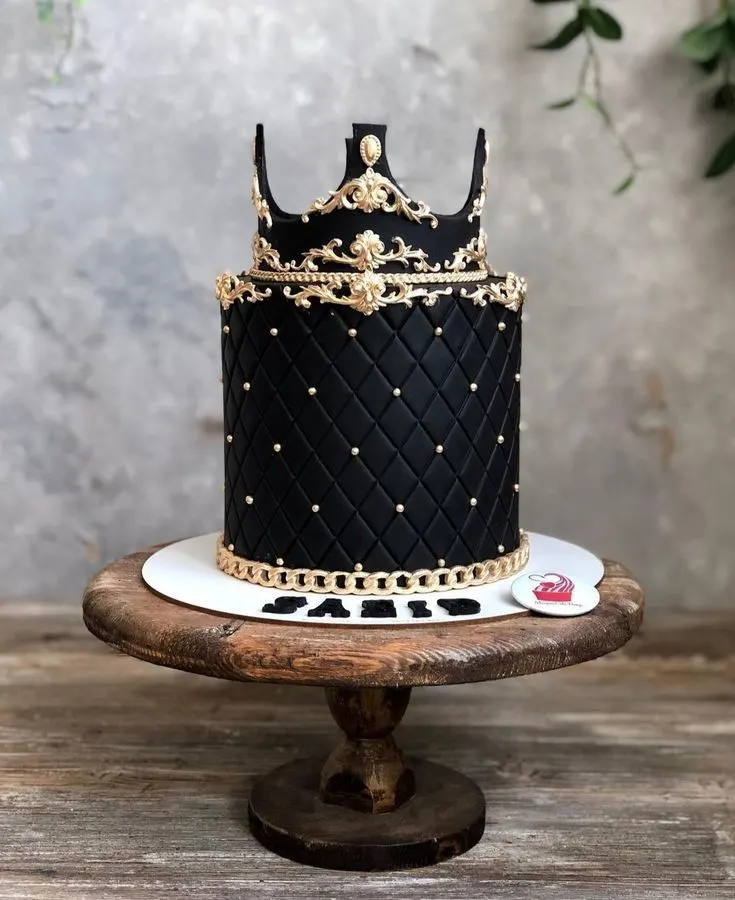 This classic design is fit for any queen … or king.
Black and Purple Birdcage Cake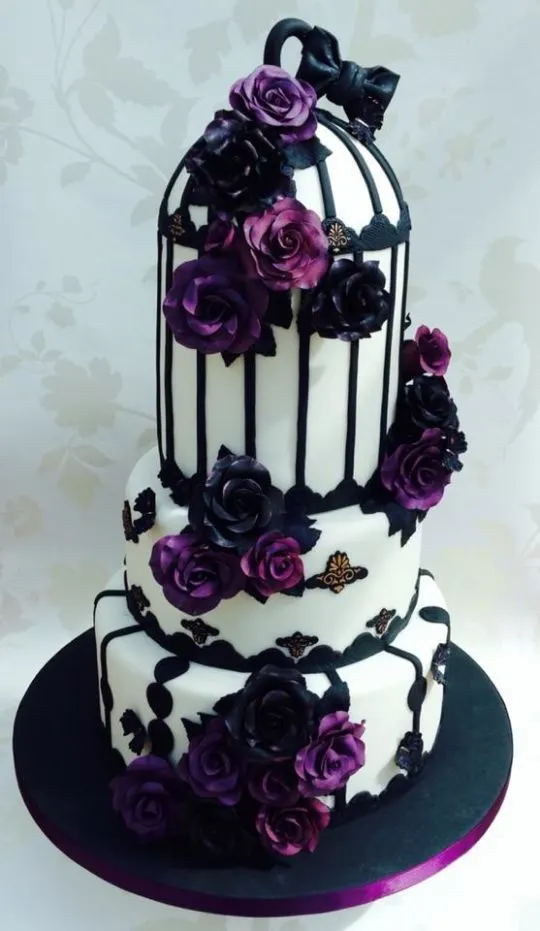 This sophisticated cake, featuring a birdcage design in black against a pristine white canvas, is adorned with delicate purple flowers, adding a touch of enchantment to its aesthetic allure.
Black and Gold Cake For Him
This simple design is perfect for milestone birthdays.
Black and Gold Men's Birthday Cake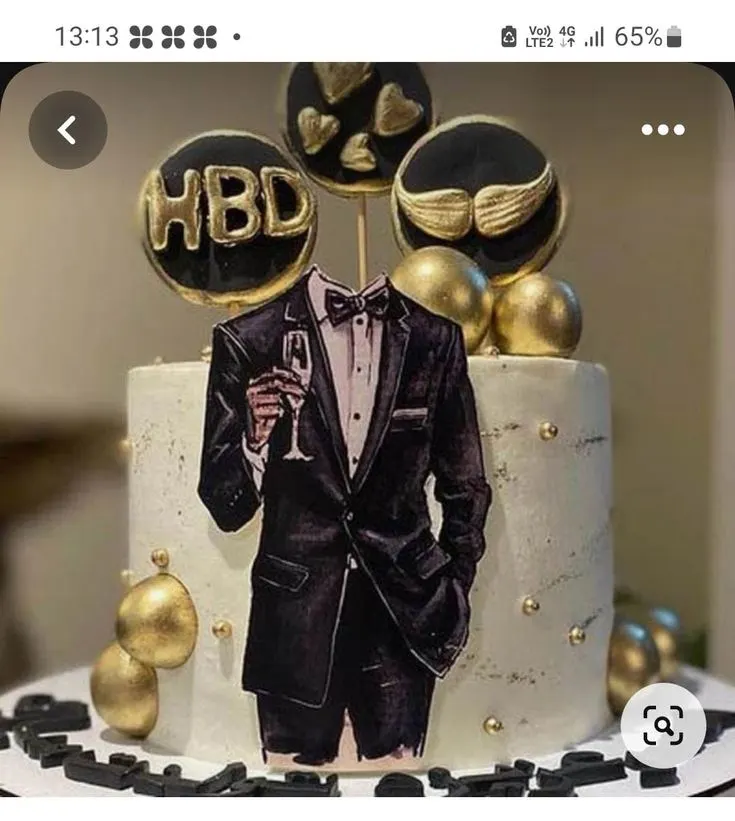 This super cute cake is perfect for a gentleman's birthday, Though somehow even without a face, he looks to be a scallywag, sort of DiCaprio in Django Unchained
Red and Black Wedding Cake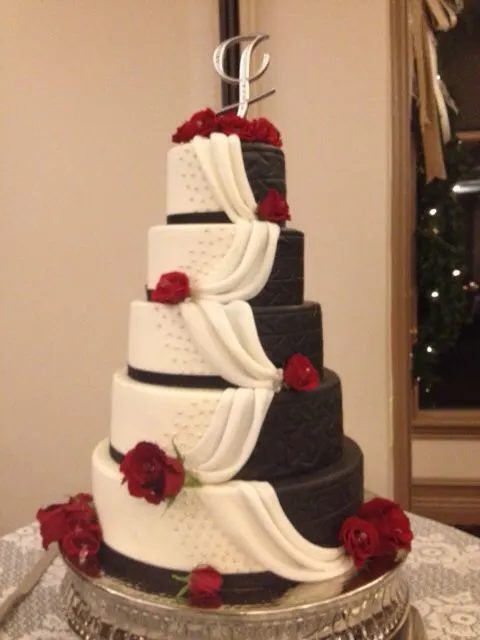 This wedding cake with its draped fondant makes for a stylish cake.
White Black and Red Cake
This cake with its stark black and red embellishments is breathtaking.
Red Gray and Black Cake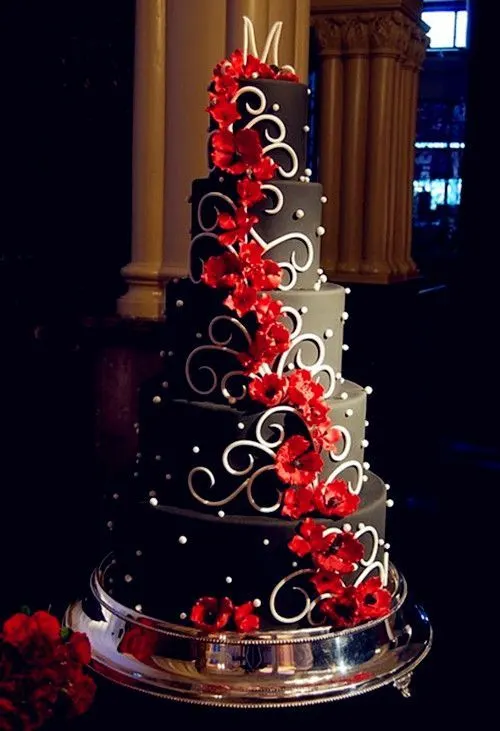 This charming creation makes for an impressive wedding cake.
Simple Black and Gold Birthday Cake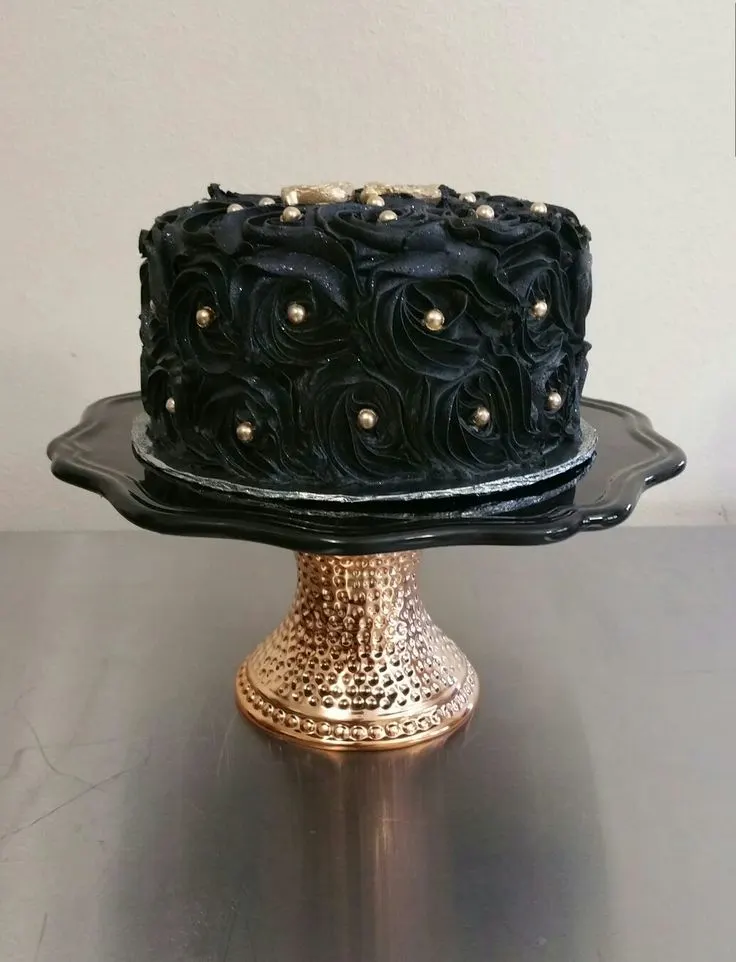 Simple yet refined is the vibe of this cake.
1920's White and Black Cake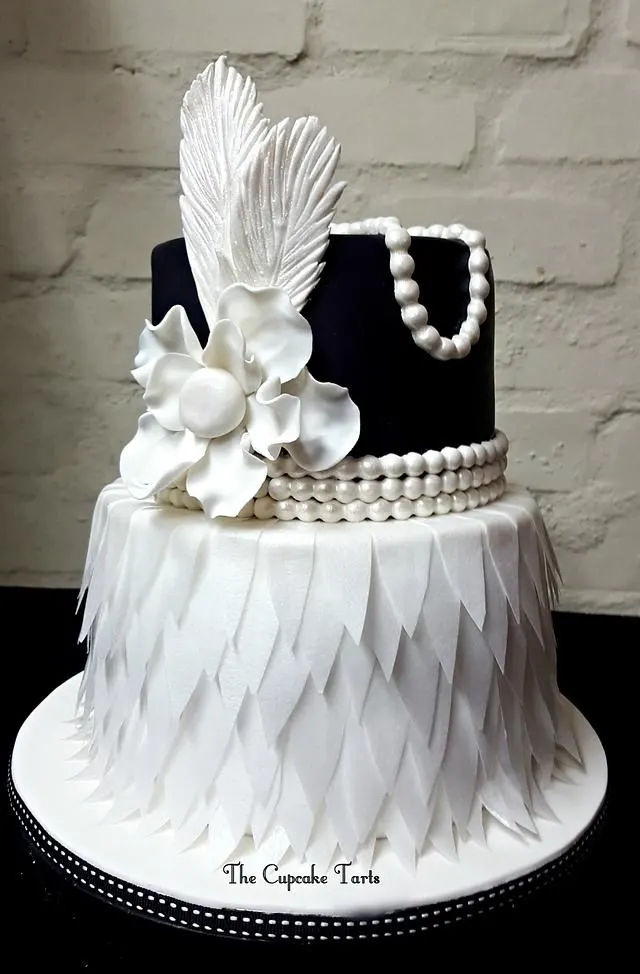 This Roaring 20's inspired cake might just be my favorite of the whole bunch.
Black Birthday Cake
Sentiment from the topper aside, this gorgeous cake says it all.
Black and Hot Pink Cake
This whimsical design would make a perfect birthday cake.
White and Black Cake
Any bride or birthday girl would be happy with this festive, yet elegant cake.
Purple and Black Halloween Cake
This cute cake is perfect for Halloween.
Chanel Cake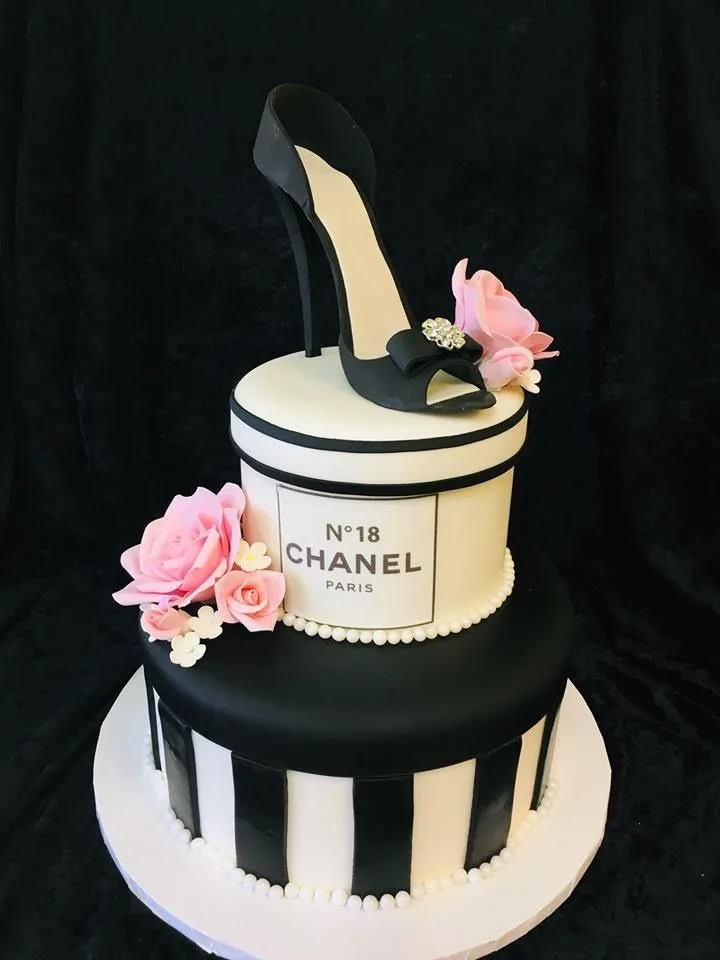 Who can resist such a simple, classy design?
Black and Pink Butterfly Cake
Beautiful butterflies adorn this lovely confection.
Black and Peach Cake
Painted almost in abstract, a beautiful cake for a birthday or wedding.
Black Floral Cake
The light flowers in contrast to the black make for a lovely creation.
Purple and Black Goth Cake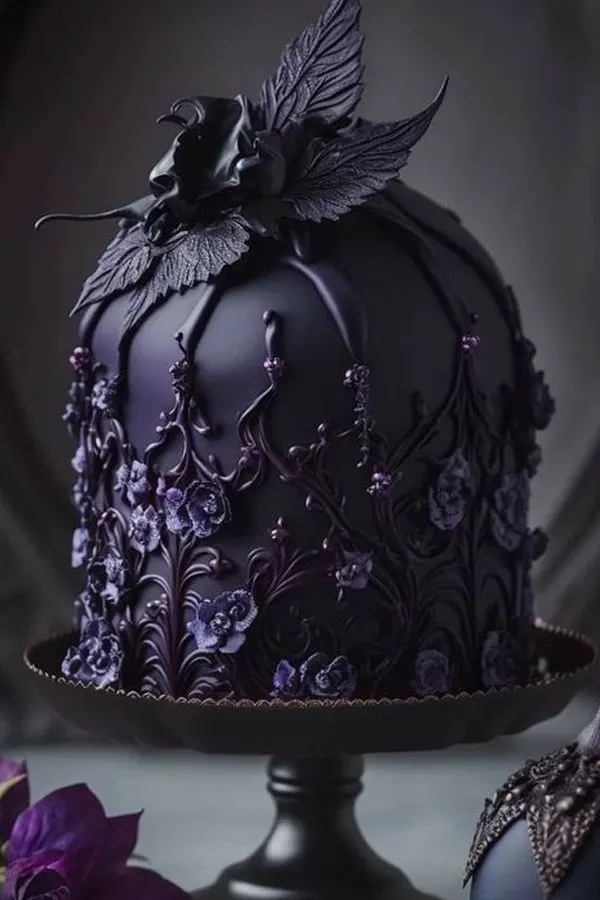 This purple and black floral cake is just stunning.
Black and Purple Cake
This gorgeous cake would be lovely for a goth wedding or a 40th birthday cake.
Beetlejuice Black Cake
Whether for Halloween or a Beetlejuice party, this takes the cake.
Black Drip Cake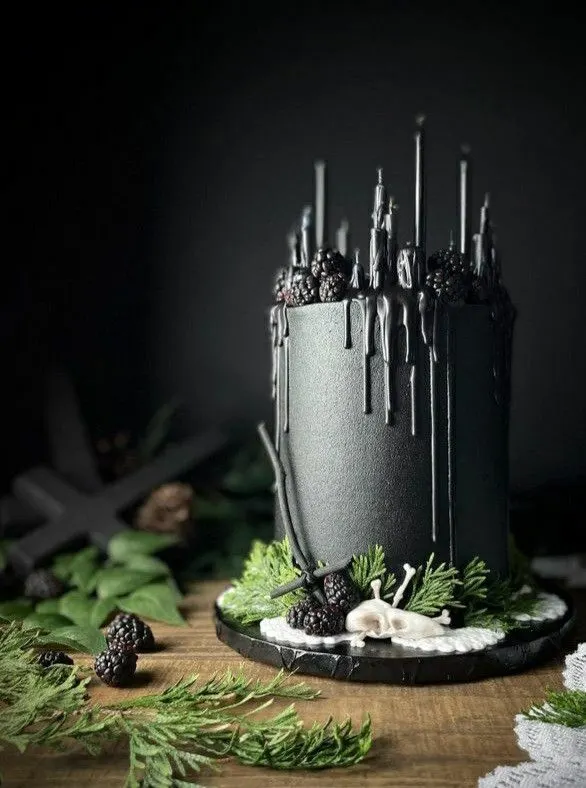 A perfect cake for a gothic theme.
Pink and Black Cake
This adorable creation would be a refreshing twist for a Halloween party.
Other Cake Posts You Might Like
I hope you enjoyed this collection of black cakes. I know I enjoyed putting them together for you. I hope you found inspiration or at the very least delight in these gorgeous and elegant cakes.