It's been a tough few weeks around here.
Our beautiful, sweet dog Mae passed away. Death is never easy, but when it's an unexpected loss it's hard to know what to do next. When your beloved pet dies it's difficult for everyone, kids and adults alike.
If you're a pet owner here to find out how to cope, I'm so sorry for the loss of your furry (or not so furry) friend.
Mae was part of our family for the past 2 1/2 years but boy it seemed like a lifetime.
I know everyone says they had the best dog, and they're right, but Mae was truly a delight. Since we got her when she was already six we were well past the chewing and housetraining stages.
She was a perfect fit for our family.
She came into our lives at a difficult time. When we were neck-deep in caring for my grandmother who had dementia, Mae lit things up. She lived with us for 6 months before my grandmother passed and Grandma didn't even know she lived here. LOL
Mae patiently wore costumes and had her nails painted.
Sooo many song parodies in her honor. "oops Mae farted again…I'm not that innocent" "furry bottom, fleas, fleas, paws with the fur…Mer"
She was a constant companion of adventures, fort–building, and all things relating to food.
The unconditional love and emotional support a pet gives are absolutely one of this world's blessings. And pet loss, is truly one of the worst.
Endlessly enduring modeling sessions choreographed by our daughter who has hundreds of photos in our phones, cameras, and many gracing Instagram under @lab_of_my_life on Instagram.
When she first came she was overweight but would politely sit away from the table. We fixed that, terrible beggar she became. 🤦‍♀️
No matter if you wanted to nap or play she was your girl.
She even had a language all her own.
Remember the Smurfs and how everything was turned into a "smurf" word? It was like that.
When she first arrived she wiggled and was likened to a mermaid. Funny, since at the time we didn't know how unlab-like she was towards the water.
After that, she somehow became "Mermie" so everything was prefaced with "Merm". As in midnight shemermagains, mermalicious, and mermiepotamus.
And she knew it too. When you spoke to her or about her she would answer in grunting piggie noises back and forth like a true conversation.
Even though she was almost nine, we never expected her to go so soon.
She was diagnosed with Lyme disease last year. She showed no obvious symptoms and since we did flea and tick treatments year-round and also gave her the vaccine we assume she got it before we adopted her.
With everything we know now based on her last week, we think Lyme Disease ruined her kidneys.
We thought she would turn around and I spent her last days sleeping next to her, giving her water by hand and singing to her while petting her and telling her how very special she was.
I will forever remember her by singing "I want a mermiepotamus for Christmas, only a mermiepotamus will do…"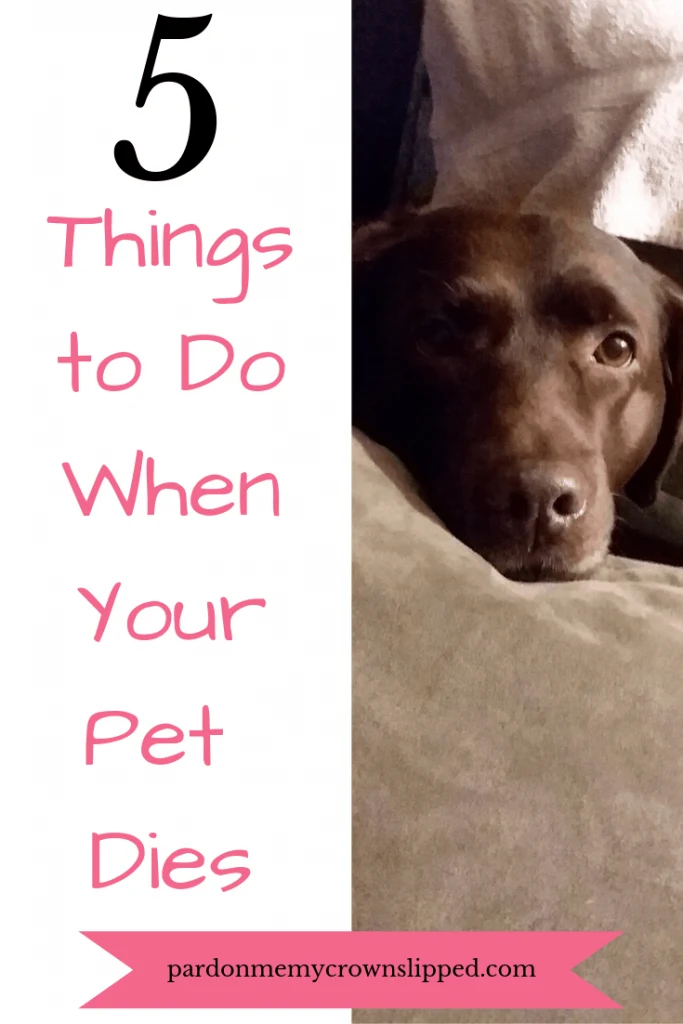 This post contains affiliate links. I will earn a commission at no additional charge to you if you make a purchase using my links. Click here to see my full disclosure policy.
#1 Grieve as You Need When Your Pet Dies
Allow yourself time to come to terms with the death of your pet.
Your home will feel different. You will forget it all happened and then remember again.
Let yourself cry or yell. Talk to friends and family.
Let each person grieve in their own way. Some kids may want to be alone, others may want to stay close to you.
Pet grieving is unique. People who don't enjoy having pets don't understand. Find other animal lovers to talk to about your feelings.
#2 Remember Your Pet
Decide where you would like your pet to be buried. Whether at home, at a pet cemetery, or cremated, there is no wrong decision, it's a very personal one. Some crematoriums or animal care centers also offer clay paw prints.
Look at pictures, make a video slide show, or draw a picture of your pet.
Consider writing an obituary, poem, or story to read aloud with a personal memorial service in the yard to say goodbye.
Make a video, as we did, and post it on social media.
We chose to cremate her and have her ashes in a beautiful keepsake box. Each of us will decide on a personal keepsake to have a part of her with us.
# 3 Don't Rush to Get a New Pet
While you may want to fill the emptiness and silence take your time. The grief process takes as long as it takes.
Again, this is extremely personal as to when is the right time. Family members may struggle with feeling they are dishonoring the pet that passed away by getting a new dog or cat right away.
No matter how close you were to your pet, you may want one sooner than you think. The kids all talked about getting a new dog within hours of Mae's death. And trust me, we couldn't have loved or been missing anyone more.
But we know how happy she made us and how happy we made her. So knowing we could have this bond again is addictive.
Things to consider when you think you're ready.
Is your heart ready to accept a pet that isn't the one you lost?
Is your lifestyle able to handle a different pet?
Are you ready for new bad habits to break?
Is everyone in the house on board?
I found just looking at pets who so desperately need homes made me feel good. Imagining each one in our home helped fill a bit of a void. But we're still taking it slow.
If it's too soon to open your home on a permanent basis, spend time volunteering at a local shelter or fostering a pet for a short while. How about becoming a pet sitter or dog walker?
#4 Take Care of Yourself to Move On.
It's hard to accept that life goes on after death. But as doggies know so well, life is meant to be lived. If you work at home as I do, it's particularly lonely all of a sudden.
Find excuses to get outside. If you normally walked your pet, don't give up that daily dose of physical activity. Find a friend or loved one who needs to get out too, or a neighbor's dog who needs to walk.
If you're feeling down, reach out to friends and family, an online support group, or a therapist if you find you can't cope.
#5 Do Something in Memory of Your Pet
Plant a tree or donate to a shelter or The Humane Society. Some shelters have fundraisers that sell brick pavers in your pet's name.
Paw Print Pet Memorial Stone – Features a Photo Frame and Sympathy Poem – Indoor Outdoor Dog or Cat for Garden Backyard Marker Grave Tombstone – Loss of Pet Gift – Loss of Dog Gift

Goodbye, Friend: Healing Wisdom for Anyone Who Has Ever Lost a Pet

Eternally Loved No longer by my side,forever in my heart carved locket cremation Urn necklace for mom & dad (Dad)

Stainless Steel Pet Paw Cylinder Pendant Cremation Urn Keychain Memorial Keepsake Ashes Jewelry

Chicken Soup for the Pet Lover's Soul: Stories About Pets as Teachers, Healers, Heroes and Friends (Chicken Soup for the Soul)

The Rainbow Bridge: A Visit to Pet Paradise

Finally, when your pet dies it can seem like you'll be hurting forever. And in some ways, you will. But there's always room for furry friends in our hearts when we're pet lovers.