Welcome to Day 8 of 30 Days of Printables.
Yesterday's new printable was to help keep you from forgetting when to pay a bill.
Current subscribers can also find it in the Exclusive Resource Library.
Not a subscriber yet? Want to be one? Click HERE.
No?…that's okay…no need to sign up you can get FREE direct links to all 30 printables.
Today's all-new FREE printable is a

Teen Job Interview Checklist.

Use this quick checklist to prepare for a job interview.
I listed it for teens since I also have a post here on whether your teen is ready for a job. Really the checklist can be used by anyone on the job hunt.
or this FREE printable pack
To make it easy peasy for you too…here's a list of the new printables…
Day 1…30-Day Challenge Conquer It Grid
Day 2...Mother's Day Wish List
Day 3...To-Do Lists
Day 4…Weekly Menu Planners
Day 5…Chore Charts
Day 6…Grocery Lists
Day 7…Bill Reminder
Get today's Teen Job Interview Checklist …by clicking on the images below…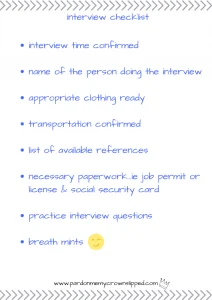 Come back tomorrow for Day 8 of the 30 Days of Printables for another great printable to go along with the teens and jobs theme.
This post contains affiliate links. I will earn a commission at no additional charge to you if you make a purchase using my links. Click here to see my full disclosure policy.