Photo by Andrea Davis on Unsplash
Are you looking for cool bedroom ideas for teenage guys?
If so, you have come to the right place!
A teenager's bedroom should be a place where they can relax and express themselves. It should also be a space that is functional and organized. We will help you create a cool and stylish teenage boys' room.
Many boys who are almost adults tend to have a greater focus on life in general and can be more interested in "grown-up" pursuits, while still quietly, or not so quietly hanging on to childhood.
77 Outdoor Toys for Teens to Have Fun All Summer Long
No longer a little boy but not quite an adult, teen boys can be challenging.
The trick is in knowing what they are interested in and keeping their passions in mind when decorating their room.
This post contains affiliate links. I will earn a commission at no additional charge to you if you make a purchase using my links. Click here to see my full disclosure policy.
What are teenage guys into?
Mostly their ideas when it comes to their room are pretty simple.
A desire for privacy

Cool factor
How can you tell what is age-appropriate for a teen's bedroom?
Well, there are some key giveaways aside from simply asking your teenage son or knowing him well enough to make an educated guess.
For example, if he is applying for college or university, he may very well want to decorate his bedroom as if it were a small studio.
This means that you will likely be finding him more grown-up and functional pieces like desks and other storage units (closet space is always important).
The Best Way to Begin is with the End in Mind
Teenagers' bedrooms should be a place to unwind and relax from daily stress.
An oasis of calm provides the perfect space for teens to escape, dream of things to come, and get to know themselves before launching out into the world.
However, everyone needs to be realistic about what can be done. The space can only fit so much. And the budget will most likely have limits.
Never fear, tricked-out spaces any guy can get excited about can still be achieved with some creative ideas that turn a childhood room into the perfect teen bedroom.
Guys want a space they can hang out with friends, play video games and hopefully 🤞get some studying done.
His room should reflect his tastes while still having fun!
A combination of timeless pieces and items with a modern look is a great way to give him the room he wants and a room he can continue to grow into as his interests change.
Create a Bedroom Design Plan
Decide on Budget
I recommend starting here first.
Will it be only a simple bedroom makeover like new paint color, teen bedding, and cool accessories or will there be construction involved?
Are major purchases like a new bedroom really necessary?
Be upfront with him right away. Let him know what you are willing and not willing to do.
For example, "Yes, we can change the wall color, bedding, and some new accessories. No, we cannot afford a new piece of furniture right now."
What are the current room design challenges?
Is it a small space?
Does the furniture need to be updated or repaired?
Is there room for a larger bed?
Has the carpet seen better days?
Is more storage needed or is it just poorly organized?
Will his friends have a place to sleep or hang out?
Is there a spot good for studying?
What does he like about the room? Not like?
Likely, the makeover coincides with a perfect opportunity to let go of some items from younger days.
Decluttering clothes and things is always a smart idea to undertake on a regular basis, but with big changes now it's more likely that fast decision-making about getting rid of stuff happens.
Consider packing away a few items or hanging on to at least a few so you don't regret getting rid of too much too quickly.
Your Teenager's Personality
Does he already have a theme in mind or the way he wants the room to feel?
Start there but if not or more inspiration is needed, look into his hobbies and interests to determine his personal style.
Is he interested in adventure? Music? Pop Culture?
Is he a creative sort with his mind on art? A sports fan? Or more focused on studies?
Does he like neutral masculine colors like navy blue or gray, or more earthy like greens and browns?
What about patterns? Does he like geometric designs, stripes, or plaid?
What vibe does he want the room to have? Will the room feel upbeat and fun or calming for sleep and studying?
For more teenage boy bedroom ideas:
Go to the library or bookstore and browse magazines for young adults and modern design books for cool bedroom ideas.
Buy a few home decorating magazines and encourage him to cut out pages of his idea of a perfect bedroom.
Use Pinterest

to search for teen boy bedroom ideas.

Create a Pinterest board for his room and save ideas to it to access when shopping.
Go shopping only with the intent to get decor ideas.
Take pictures with your phone so you can remember the sizes and costs of items along with which stores they came from.
Before doing any buying, first "shop" in your own house.
You and your teen might be surprised what can be repurposed. Be creative and open to unusual ideas.
An armoire can create more closet space.
A tired headboard can be updated with a coat of paint or covered with fabric to match the new bedroom theme.
An old desk might just need a bit of paint or stain and a cool chair.

Finding pre-loved items from online sellers or thrift stores can be had for significant savings. And

treasure hunting is fun

!
Color Schemes for Cool Bedrooms
Choosing colors for teenage boys' bedrooms shouldn't be difficult. Boys are pretty easygoing when it comes to decorating. Most don't care much at all. Still going over some ideas is a good idea. Color choice may come after choosing a design or theme direction.
Muted colors add a sense of calm to the bedroom, ideal for sleeping and studying.
For teenage boys who prefer bright and bold colors or very dark colors consider using them only as an accent wall, especially in smaller rooms, with either paint or some type of bold design.
White walls or other neutral palettes allow for more creativity with choices in bedding, artwork, and other accessories.
Consider choosing furniture first. Simply because some colors won't look as good if you are choosing furniture that has a distinctive color.
Decorate simply with a color or two, and choose colors that work best in low light. These include soft grays, light mochas, and tan. A cool grey monochromatic color scheme
Flooring for Teen Bedrooms
If removing carpeting, flooring that can be easily cleaned and keep the dust down is ideal for bedrooms, especially for people with allergies.
Adding unique throw rugs to adolescent bedrooms is a fantastic method to add a distinctive and interesting design without breaking the bank and provides a bit of warmth to the look and feel of the bedroom.
If the rug becomes stained or your tastes alter, simply replace it.
Teenage Bedroom Furniture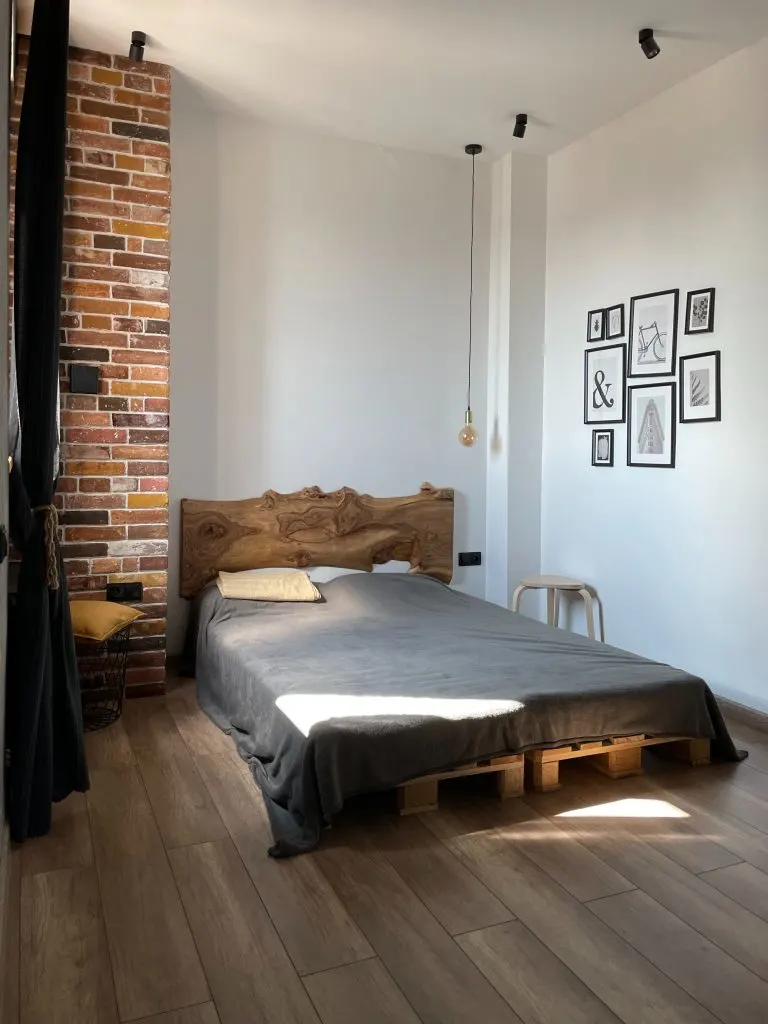 When choosing furniture consider picking timeless items that have classic lines. By avoiding overly trendy styles your son will be able to use and appreciate the pieces for years to come. Choose sturdy pieces over inferior quality ones.
Traditional woodgrains, all-white furniture, all-black, or even navy will set the tone of the room.
Beds and Headboards
The teenage years are a great time to switch to a full or even queen-size bed if the room has enough space and the budget allows since it will also require the purchase of a new mattress.
For boys, a larger bed works well for their growing bodies. As he matures and moves out it will be the most important piece of furniture he'll need to start his apartment.
If he chooses not to take it, you'll have a lovely new piece for guests.
Nowadays, so many teenagers choose to just have a headboard. There are a variety of styles to choose from. Simply attach it to a metal frame, or platform, or hang it on the wall as a statement piece, like this one.
Even use pallets as the base, like featured in the photo above.
Even still attractive platform beds with no headboard at all is another option.
Usually, boys at this age don't necessarily want bunk beds. However, they do want the extra sleeping space to have buddies stay over.
A loft bed is a great solution for small rooms to provide not only an entertaining space but a more mature look to their room.
Some have a bed on the upper level with a futon-style couch below.
Great for lounging or studying. And will easily convert into a sleeping space for friends.
If you choose one with just an upper bed there will be available floor space underneath to accommodate a bureau or desk.
Clothes Storage
A bureau with mature designs and classic lines will help achieve an older look and feel to the bedroom.
Many boys choose not to have a traditional bureau. Often they like to be able to see their clothes all at once.
Even boys need room for an ever-expanding wardrobe, thus a need for plenty of clever storage.
Utilizing the closet properly is especially important in smaller bedrooms. If you have a particularly messy teenage guy, this is helpful to keep it contained.
If it's a decent size room but there isn't enough room in the closet, there are a few options.
Create one using metal bars, or pipes for a more industrial look. Or purchase one that's premade. You can get them with regular feet, wheels, or even covers.
Teens love these. They come in woodgrain, white and black. Use them with bins to hold items but still keep a clean, organized look. These units also work well for books, TVs, and displaying memorabilia.
Study Area
A separate study space is the best way to provide your teen with somewhere to focus on their school work. If they don't want to sit there and do assignments, at least they have a location to keep everything tidy so that they can be productive.
Ideally, the space should include:
A desk or work surface
A chair that is comfy enough for extended periods of sitting without being excessively soft allowing teens to fall asleep
Shelving for books, awards, or childhood momentos
Drawers or containers for keeping supplies organized
A bulletin board for posting important reminders
Access to outlets to recharge phones and computers
Media Center
A way to house all manner of entertainment is also a good idea. Whether it's incorporated with the desk or a separate piece of furniture will depend upon the space available. Monitors, gaming systems, and their various accessories will need a home.
Options are to have something low across from beanbags or sofa. If it's desk height, having a chair that accommodates both being able to both game and study is ideal. We have this chair.
A long counter or even hollow door can be a great option to create two stations, one for gaming, and one for studying. Like the photo above. This also works well if you have kids sharing a room for them to have their own separate desk space.
Cool Ideas for Seating
A small couch or a loveseat is a great addition for teens who like to chill out and read, draw or listen to music. This is also a perfect place for guests to sleep.
If the space is too small to accommodate one, a comfy armchair is the best choice if he wants a reading spot in his bedroom. Try a chair like this one, that opens to a bed.
Make it comfortable and inviting with cushions, throw pillows, and comfy blankets.
Giant beanbags like this one that convert to a full-size bed are another great option.
Once you have all the larger pieces, try out multiple layouts, on paper even. Just placement can make all the difference. Be creative and open, beds don't have to go flat against a wall and loveseats can flank the end of the bed.
Bedding for Teenage Boys' Bedrooms
Bedding of all sorts and styles can be found.
They should be coordinated with the color scheme, however, if the wall colors are relatively neutral, the bedding can offer a way to bring quirky designs and themes to the room.
For teenage boys who want simple, less distracting elements, fabrics can offer ways to add to the design of the room through the use of texture instead of print.
Comfort is key in a bedroom, so choose fabrics that are soft. Consider reading reviews before buying to find out how well they hold up after use and washing.
Teen Boys Bedroom Ideas for Decor Accent Pieces and Accessories
This is where to really have some fun with your teen's room and tie your design ideas together.
Using bright colors when choosing accessories adds to the overall look of the room.
Use colors, patterns, and textures when picking small tables, lampshades, or pillows.
These allow his personality to shine through without having to redesign a room if new colors or patterns become favorites.
Lighting
A teenager's bedroom should have multiple lighting possibilities, it is essential for creating mood.
Soft, warm lighting evokes a relaxing feel while the opposite is true for bright lights that are ideal for studying or reading. Task lighting saves eye strain and makes getting things done easier.
For larger projects have ceiling lights or floor lamps.
Use LED lights around mirrors or around the perimeter of the room near the ceiling to add to the vibe. Color can be changed depending on the time or mood of the day.
From the Window to the Wall
Curtains or blinds are necessary unless the windows have built-in shutters.
Blackout curtains are great ideas to help teens who have trouble sleeping.
Be sure to hang a piece of wall art, frame a favorite quote, or shop for a cool new mirror. Even guys want to be sure they look their best.
Perhaps hanging something that represents his aspirations or interests. Is he a painter? Does he draw? Or take photographs?
Choose a creation of his own and display it. Maybe he would like to have the creative freedom to paint graffiti or a mural as a feature wall. Removeable options like the one above are great if you're not artistic but want the look. They come in all sorts of styles.
Unique ways of creating shelving using industrial pipes or skateboards can tie the theme or design style.
Additional Storage Space For Teen Rooms
Under the bed, bins can give unused space a purpose. Use them to tuck away out-of-season clothing, sports gear, or "stuff".
Final Thoughts on Cool Bedroom Ideas for Teenage Guys
So, there you have it!
Creating a space for your teenager can be a fun and rewarding project.
With these cool bedroom ideas for teenage guys, he'll surely enjoy chillin' in this room!
I hope you like these teen room ideas and that you are inspired to create a bedroom oasis your teen will enjoy spending time in.
What are you waiting for? Get started today!
What kind of design did you choose for your son's bedroom? Let us know in the comments below!
RELATED READING:
Mature Teenage Girl Bedroom Ideas: Dreamy Spaces She'll Surely Love