What is Gua Sha?
Gua sha is a traditional Chinese medicine practice in which a tool is used to scrape people's skin in order to produce light petechiae.
Practitioners believe that gua sha releases unhealthy bodily matter from blood stasis within sore, tired, stiff, or injured muscle areas to stimulate new oxygenated blood flow to the areas, thus promoting metabolic cell repair, regeneration, healing, and recovery.
This post contains affiliate links. I will earn a commission at no additional charge to you if you make a purchase using my links. Click here to see my full disclosure policy.
What Tools Are Used In Gua Sha?
How to use a jade face roller is a new concept to many people, but it's been used for centuries in China.
The facial roller was originally created as a way to stimulate the lymphatic system and improve skin elasticity, but the benefits go much deeper than that.
A Gua Sha is a flat tool, made of semi-precious stone, that is used to massage the face.
Read on to find out how to choose the right type of facial massage tool for best results based on what you need.
Does Facial Rolling Really Work On Your Face?
It's a question that many people are asking, and the answer is yes – but not in the way you might think.
Stone rollers don't just help to improve your appearance; they also provide a range of other benefits for your skin like reducing excess fluid and tension trapped in the loose connective tissue
There may be a link between regular facial massage and firmer skin.
A few small studies found that massaging facial muscles for 1 minute twice a day increased levels of proteins in that tissue after 10 days, compared to skin that did not receive this treatment.
While it may improve skin tightness temporarily, more information is needed to prove lasting results.
The first thing to understand about rollers is that there are different types available.
So, before you buy one, it's important to figure out what you need from your roller and choose the right one for you.
How To Choose the Right Stone Roller for You
What about jade vs rose quartz facial roller?
There is no definitive answer to this question as each person's needs will be different. However, here are some general benefits of each type of semi-precious stone roller that may help you make your decision:
Natural stone rollers combine the health benefits of a massaging tool with the healing powers of a gemstone.
Both types have the same health benefits. For example, some of the benefits include stimulating blood circulation, reducing puffiness, softening fine lines, and providing a mild toning effect.
Jade has calming, grounding properties that help to promote a sense of well-being as it provides an energy boost that allows you to focus on your needs without feeling overwhelmed. It is also known as one of the best stones for de-stressing to release negative energy.
Rose quartz is known for its ability to promote self-love and forgiveness, while also providing a sense of calm and peace. It is a stone of unconditional love and the perfect choice for those who need some self-love or inner peace.
If you're looking to improve the appearance of your skin, a general-purpose jade roller is a good option.
So, if you are looking for a stone roller that will help you to relax and feel good about yourself, then rose quartz would be the better option.
If you need a stone roller that will provide energy and help you to focus on your goals, then jade rolling would be the better choice. Ultimately, it is a personal preference.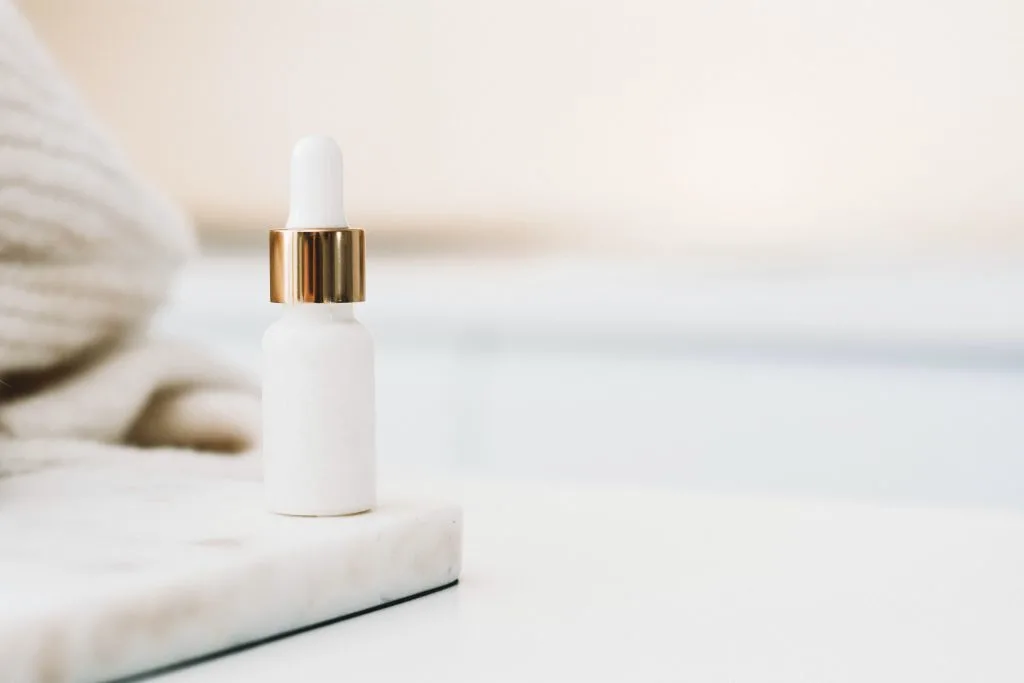 How to Use A Jade Face Roller in Your Daily Routine
How often should you use a facial roller or stone on your face?
For best results, use twice a day, once in the morning and once in the evening after washing your face.
However, you can use the stone roller as many times as you want, whenever your face needs a moment of soothing calmness.
Treat yourself with a weekly skincare routine of face masks followed up with the roller.
What skincare products should I put on my face before using the stone roller?
You should choose oil or serum that is right for your skin type.
What to think about when choosing a face serum or oil:
The type of skin you have, ie. dry, normal, oily, combination, sensitive.
The time of year and how it affects your skin.
Skin care concerns like puffiness, dark circles, dark spots, or wrinkles.
The most frequently used facial oils for gua sha are rosehip oil, argan oil, grapeseed oil, or an oil blend like this. You can also add essential oil to the carrier depending on your skincare needs.
Choose a vitamin c serum if you have anti-aging issues.
Related: Best Facial Oil for Gua Sha: 15 Beauty Oils to Try Today
How To Use A Jade Face Roller and Gua Sha Stone
Step 1: Make sure that start with clean skin that is free from makeup.
Step 2: Apply facial oil or your favorite serum. A sheet mask is a fantastic idea before using the roller. After the allowed time, massage in the components using the tools.
Step 3: Using the larger roller, start with the bones between your neck and shoulders. Then apply gentle pressure in an upward motion.
Step 4: Use very light pressure and the smaller roller for your eye area.
Step 5: Using the gua sha stone, working in an upward & outward direction, gently apply pressure & glide the curved side of the stone across your face.
Step 6: Work upwards from the neck, from the center of the chin outwards across the jawline, from the nose across the cheeks, and from the brows across the forehead to the hairline.
Step 7: Repeat three times for each section of skin on both sides of the body.
Step 8: Finish with the roller in gentle circles over forehead wrinkles to smooth them.
Step: 9: Wash the roller heads after each use. See below for more in-depth details.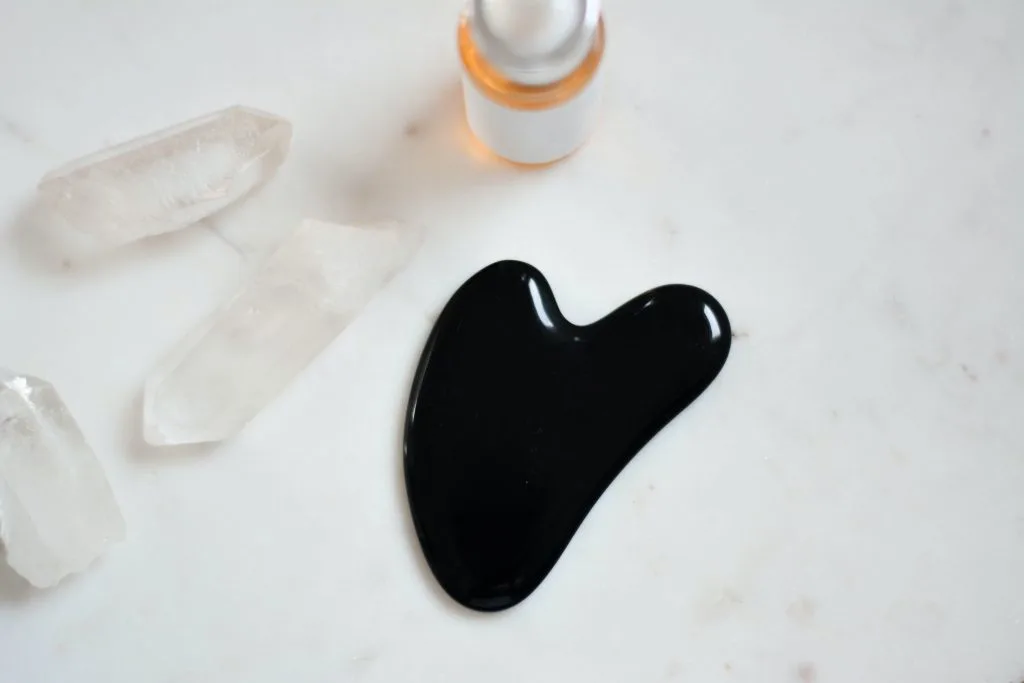 Taking Care of Your Roller (and Stone)
Should I keep my roller in the fridge?
The cooling effect of the stone will lower swelling by shrinking blood vessels. It also just feels really amazing on tired skin.
Be sure to dry thoroughly and place in a clean bag. Then wrap it in a cloth, and place it in a container to avoid damage to the roller.
How do you sanitize a facial stone and roller?
It's a good idea to gently wash them after each use to remove any excess oils or serums. Give it a deep clean about once a week.
Clean the roller and stone using warm water and a gentle soap like your face wash.
For a deeper clean, soak the roller and gua sha stone in a bowl of warm soapy water for a few minutes. This will help wash away stubborn product buildup or dirt.
To avoid damage, be careful not to use very hot water or any chemicals to wash them.
After you've washed the rollers and stone, gently pat it dry and lay it flat on a clean, dry towel to prevent rusting.
Have you tried a gua sha or facial roller yet?
Let me know in the comments what you think.