For DIY craft-loving girls who are also into tween girl bedroom decor ideas, this post is for you.
Tweens and teens love bedroom decor more than ever.
Or at least the stores reflect this trend.
Everywhere you look stores both online and locally are filled with decor ideas getting girls started early on loving home design and making her room a haven that reflects her style.
If your daughter is anything like mine, she's always looking to do something different in her bedroom.
Whether it's rearranging the decor on her walls or changing around the doodads on her bureau, it's pretty frequent.
Though I can't say the apple falls far from the tree.
When I was her age I was constantly rearranging the furniture in my room.
I would draw a floor plan, map out the changes and get to work.
For me, this was a fun Saturday.
I probably should have become an interior designer or home stager.
Though my real love is organizing, so that would have been a great career for me.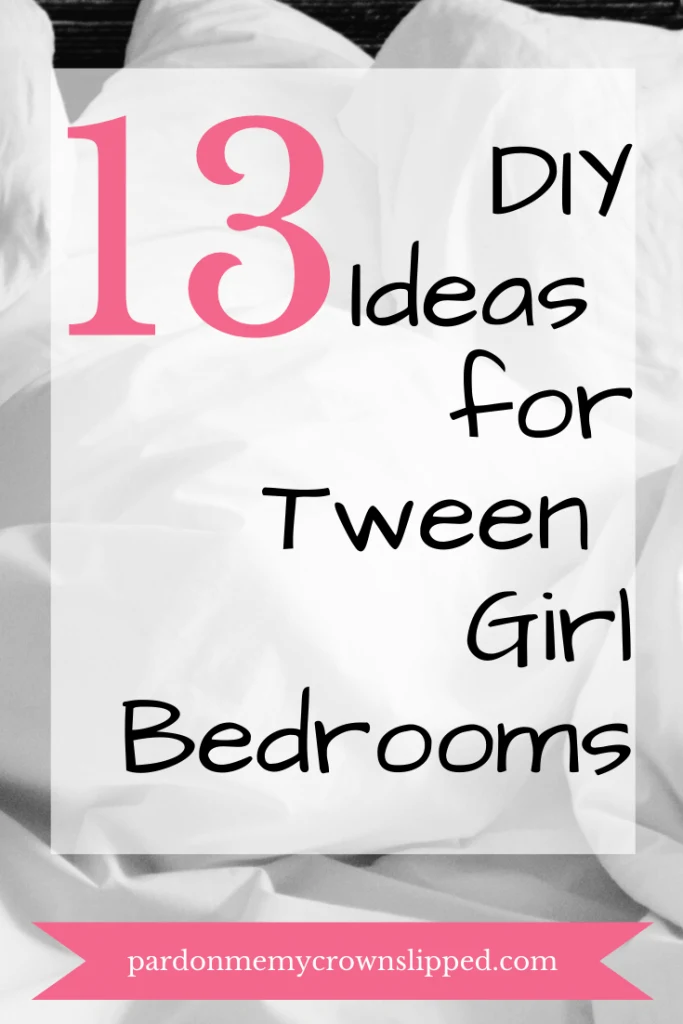 This post contains affiliate links. I will earn a commission at no additional charge to you if you make a purchase using my links. Click here to see my full disclosure policy.
Tween Girl Bedroom Decor Ideas for Craft Lovers
I like that my teen likes to create new looks with what she already has without always wanting new things.
She also enjoys crafts so blending the two is natural.
She can shape and create what she wants from things she finds around the house.
We kicked ourselves recently for not taking pictures (including steps along the way) to feature some of her ideas and creations here on the blog.
For this reason, I've rounded up ideas from my fellow bloggers to inspire you and your tween with these bedroom ideas for tween girls.
For the Mermaid Lover
This crafty blogger shows you how to make your name with sequins for that mermaid look.
For more mermaids try this idea…
For Tween Girls Who Love Unicorns
Party with Unicorns devotes a whole article to designing a bedroom for girls who love unicorns.
And also has this cute unicorn wall art…
This adorable design is for more than just tweens or teens. Perfect for plant lovers.
For tween girls still into dress up or as described, for sleeping…
Isn't this button art craft adorable… would be great in any tween room. Use an outline of any theme they're into to create this one.
For Tweens and Teens into the Bohemian Look
Girls who love jewelry always need a place to put it.
For Tween's Who Love Nature
Bright and Bold
This cool tween bedroom decor idea could be used with any favorite saying or their name.
Put a Cork In It
Use as wall art, a headboard, or both!
Cute and trendy for photos, hanging jewelry, or just as neat tween girl bedroom decor.
Lovely Tween Bedroom Makeover From Scratch
If you're looking to start from scratch with a bedroom makeover try this beautiful tween bedroom makeover.
Here are some more cool ideas to add to her space… no crafting required!
Cocoselected Warm White Twinkling Fairy Lights USB Powered,33ft 100 Micro LEDs String Twinkle Lights with Remote Control Teen Girls Bedroom Decor Kids Night Light

Sunm Boutique Popular Ombre Mandala Tapestries Hippie Bohemian Mandala Tapestry Wall Hanging Throw Indian Mandala Wall Tapestry for Bedroom Dorm Decor Wall Hanging (59.1

Prepac Kurv Floating Desk, White

YttBuy Be A Pineapple Wall Decal -Removable Sticker – with Hawaiian Tropical Pineapple Design – Pineapple Decor -Teen Girl Bedroom Decor, Vinyl Art Decoration (Gold)

BedShelfie The Original Bedside Shelf – 9 Colors / 4 Sizes – AS SEEN ON Business Insider (Slide Style, White)

Trivenee Tex Pillowcase Embroidered Funny Inspirational Quote Throw Pillow Cover Decorative Pillowcase for Couch Sofa Gift for Graduation Teen Boys Girls Christmas (Stay Weird(Natural), 12

Pink Felt Letter Board 10×10 inches – Changeable Message Board Includes Pink Felt Flower, 335 White Letters & Emojis, 126 Shiny Gold Letters & Emojis, Wall Hanging Hook, Oak Frame, Canvas Bag

If your tween or teen is into crafting try these…
DIY Locker Accessories and Decor Ideas: 17 Easy Tips for Personalizing Your Locker
For bedroom makeover ideas:
Mature Teenage Girl Bedroom Ideas: Dreamy Spaces She's Sure to Love