Caregivers offer a unique challenge to the gift list.
People in this category above all others do not need more stuff to take care of.
Like parents tripping over too many toys, for the caregiver, less is more.
A splurge of indulgence is fun and uplifting, but most caregivers I know just really need to feel taken care of since they give so much of themselves away.
If you're thinking, no s**t, I'm the caregiver, print or send this to someone who's looking for ideas for you.
Particularly those no good relatives, who really should be helping you anyway.
Most people have their holiday shopping well on its way. If you haven't don't worry I'm here to help.
Not the holidays? ….Thank those people anyway. Like NOW.
If someone on your list is a caregiver, we've got you covered.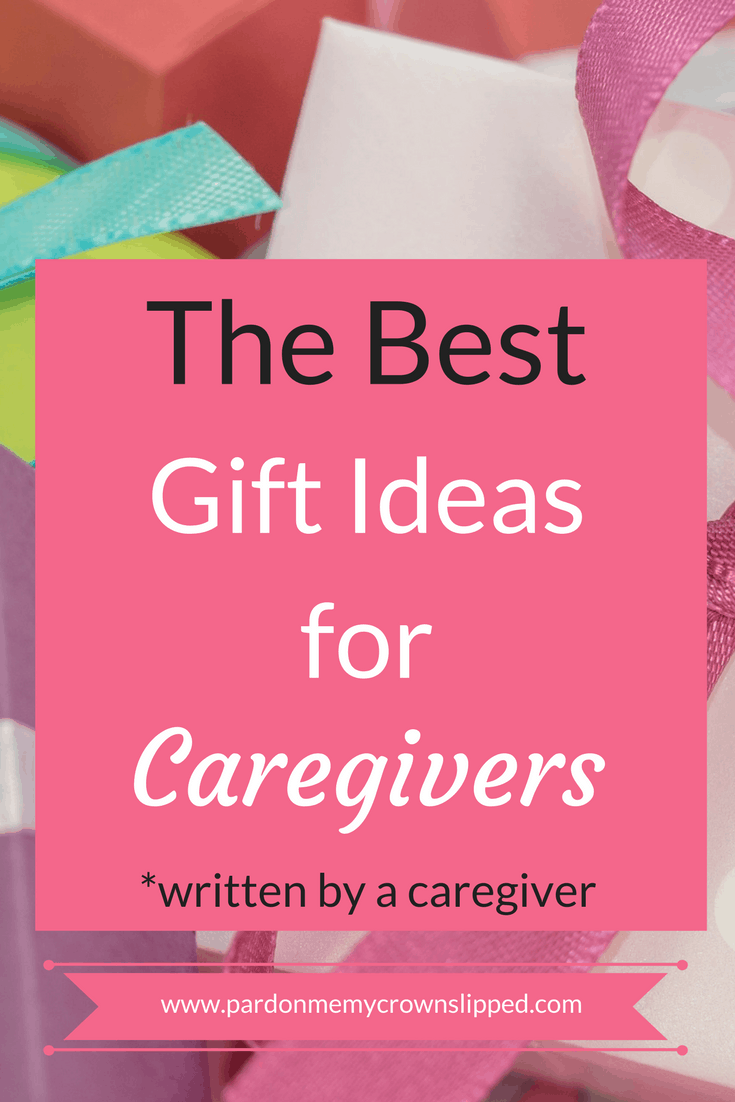 Here are my favorite gifts to receive as a caregiver…
#1 Food
This could be for anyone since well everyone needs to eat.
It does follow the we "don't need more stuff" theme.
It's homemade, therefore from the heart, and inexpensive.
Let's not forget a time saver.
This hits the gift giving jackpot in my book.
#2 Gift Cards
This seems like a cop-out on the surface.
However, caregivers couldn't be a better fit for a gift card.
We have no time, like at all.
Often we also carry a financial burden for caregiving.
We suffer a loss of income because we have to provide care.
Some people get paid to caregive, however, most do it for free and some pay out of pocket for our loved one's expenses too.
Grocery and store cards can be used for needs.
Cards that can be used online, like Amazon or Walmart are even better because shipping to our homes saves us time too.
Whether it's grocery delivery service or automatic delivery of their household supplies it really is not only a time saver but something less for them to have to think about.

Let's face it, if we can get out, we really don't want to shop for boring stuff like toilet paper.
Take out certificates are huge time savers and sanity savers on tough days.
#3 Service Gift Certificates
This kicks it up a notch.
Whether for our hair, nails or a massage, a certificate to take care of ourselves is the ultimate gift.
Why, because it gives us permission to do something for ourselves. Crazy but true.
If we get a store card, it is great and helpful but our instinct is to use it for food or some other need.
We struggle to see taking care of ourselves as a need.
#4 Gift of Time
THE ULTIMATE GIFT
Your time is priceless to caregivers.
Caregiving is a 24/7/365 job.
There is no such thing as too much help.
Many caregivers have difficulty finding and asking for help.
Offering specific help in the form of service makes them know you are willing.
Any household task from cooking, to cleaning, to home maintenance will be appreciated.
Offers to sit with the person they care for so they can utilize those personal gift certificates is invaluable.
Make up personalized coupons or certificates so they have something to open.
It does no good to get a gift certificate to treat yourself if you can't leave the house.
They may have a million ideas of where to go, but can't if no one can cover them at home.
For this gift, you must follow up to be sure they take you up on it.
Unfortunately, they may not ask. Let me rephrase that…they will not ask.
Saying "When would you like me to come so you can go to the hairdresser?" or "I have Tuesday or Thursday at 10 available to come and mow the lawn. Which is better?", will help them so much more than, "Call me when you need me."
Trust me they won't.
If you're looking for more on gift giving…